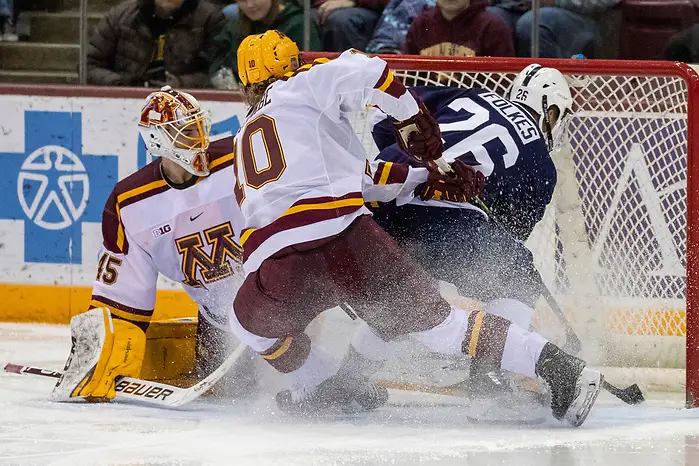 When Wisconsin won its first game this season with an 11-goal performance and followed that up with a sweep of Minnesota Duluth in which the Badgers outscored the Bulldogs 9-3, there was a lot of talk about a high-powered offense and what a fast start could mean to a season.
After all, the Badgers had welcomed a freshman class that included forwards Cole Caufield and Alex Turcotte, players who put up impressive numbers for the U.S. National Team Development Program – 126 career goals for Caufield, 46 for Turcotte – and each player made significant contributions to Wisconsin's promising start.
By the end of October, Caufield had eight goals. Turcotte scored three in his first four games, and their classmate Owen Lindmark had three in his first three games.
Fast-forward to the fourth week of the season, though, when Penn State swept Wisconsin, limiting the Badgers to three goals on the weekend. After the 6-1 loss the first night, Wisconsin coach Tony Granato said of the Nittany Lions, "They're a mature team. A lot of upperclassmen in their lineup. They played like an experienced team that was ready for this game."
Mature.
Experienced.
Penn State has three freshmen forwards that play regularly, but the Nittany Lions have 13 skaters that have seen 10 or more games this season plus senior goaltender Peyton Jones. The Badgers have 14 freshman and sophomores who have played 11 or more games this season with sophomore Daniel Lebedeff having emerged as the starter in net.
The Nittany Lions are 6-2-0 in Big Ten play, the Badgers 2-5-1-1.
"I do know that that is one constant that's really happened in hockey over the last decade, that younger teams have struggled and older teams are doing much better," said Minnesota coach Bob Motzko. "There are some exceptions, but that's how it is."
Motzko's team is the greenest in the Big Ten with eight freshman and seven sophomore skaters that have played 10 or more games – and nine underclassmen who have played every game this season.
The youthful rosters have led to rocky first halves for both the Badgers and the Golden Gophers. Wisconsin is 2-3-1 in its last six games; Minnesota is 1-4-1.
Granato said that his team has been stymied by slow starts in recent games. In their last four, the Badgers have been outscored 5-1 in first periods.
"It's just been frustrating for the players and frustrating for us as coaches to watch where you just don't come out of the gate and have a lot of energy into your game," said Granato. "You're sitting back and watching and waiting. There's teams that play that style of hockey and be patient, but we can't play that way."
In Minnesota, Motzko said that the coaching staff working on keeping an even keel.
"We've got 19 freshmen and sophomores, and almost all of them play," said Motzko. "We're trying to stay off the yo-yo, and it's kind of been an every-other-week ordeal for us. We have a real strong week and then we have our foot off the gas and we've had three just terrible Friday games."
One of those Friday games was actually a Thursday – the 9-3 Thanksgiving Day loss to visiting North Dakota in which the Badgers gave up four second-period goals. The following night, though, Minnesota played far better in a 3-2 loss, pressing in the third period to tie the game but coming up short.
"We've had moments when we've been a really solid hockey team and we've had weekends where's we've been very solid," said Motzko. "We've had moments in games, but consistency in a long stretch has been our struggle. We as a staff are trying to stay off the roller coaster."
In spite of being the largest class on the ice, the eight Minnesota skaters have 11 of the Gophers' 41 total goals among them. Junior Scott Reedy and sophomores Sampo Ranta and Sammy Walker account for 17 of the team's total goals. This, Motzko said, is where any experience can be an advantage.
Motzko said he's confident that all of the Gophers will improve as the season progresses, but he's especially eager to see the kind of magic that a midseason break can work, turning rookies into more capable freshmen.
"We're in dire need of that and I subscribe to that wholeheartedly that a lot of hockey players," said Motzko. "The common denominators that have great second halves all have the ability. Every good player goes through a slump or a downturn, but they all come through it. Sometimes a little break helps."
The Badgers will take a true break at midseason with nearly a month away from D-1 play. This weekend, Wisconsin will play its final two games of the first half when the Badgers travel to Michigan State. Wisconsin will play a New Year's Day exhibition game against the U.S. Under-18 Team and plays its next games that count at home against Ohio State Jan. 10-11.
Minnesota travels to Ohio State this weekend, takes a couple of weeks off, and then hosts the Mariucci Classic Dec. 28-29. Motzko is excited for the all-Minnesota slate – Bemidji State, St. Cloud State, and Minnesota State – and is looking forward to what the second half may bring.
"We've got good hockey players," said Motzko. "I really don't believe we're going to stay where we are. I wish I could sprinkle some dust and we could get there quicker, but I've been through this before. I like our team. I like our guys. They're really a good group to be around. I see hope in there. I see there's pieces that can turn this. The future's going to be fine."
Flirting with rankings
Michigan State made an appearance in USCHO Men's Division I Poll for the week of Nov. 25, entering at No. 20.
After being swept on the road by Ohio State, the Spartans dropped out of the rankings again.
That single appearance marked something significant for Michigan State. It was the first time since 2013 that the Spartans had made a poll appearance.
"It's a nice thing," said coach Danton Cole. "I didn't realize it had been that long, so I guess it's good in that sense. We try not to have external validity. Internal is more important and then the computer poll [the PairWise Rankings] is the most important. I thought the progress we were making in the computer poll was real good. It's nice that people are recognizing that we're doing some good things.
"Right now, our interim goal is to be in that discussion. Our long term – which hopefully we get to sooner rather than later – is to be there all the time and be disappointed when we're not in the top 15."
Goalies finishing strong
This has been said before but it bears repeating: Michigan State's John Lethemon and Penn State's Peyton Jones are defining what it means to have career seasons, both playing their best hockey by far in this senior seasons.
Lethemon is 17th nationally in goals-against (2.02) and sixth in save percentage (.940). His previous best GAA was 2.88 his sophomore year and he posted his previous career-best .905 SV% las season.
Jones's 2.40 GAA is slightly better than his once-best 2.60 from his rookie season, but his .920 save percentage eclipses the numbers he posted in his first three season. Jones has the seventh-best win percentage in the country.
Jones also has two assists this season, tying his point total for his freshman season but two shy of his career-high four assists in his sophomore season. He's also recorded his first two career penalties, two minutes for interference against Sacred Heart Oct. 12 and two for tripping against Wisconsin on Halloween night.