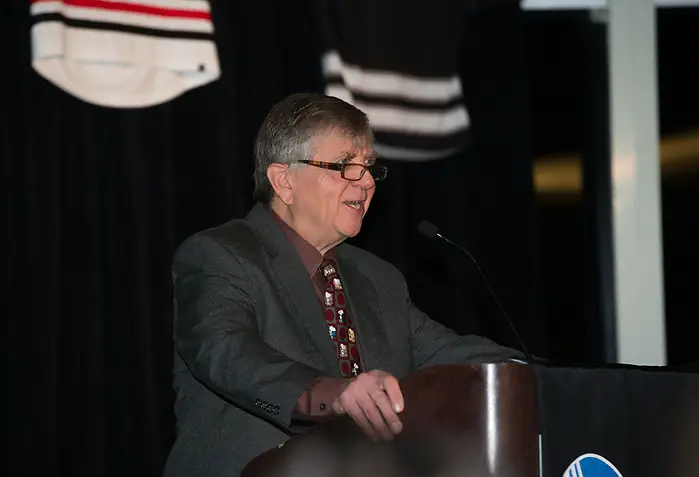 There is a legacy associated with the 25-year tenure of commissioner Joe Bertagna that still, believe it or not, isn't finished.
Bertagna, the longest-tenured commissioner in the league's history by far, still has five active months of college hockey play to cement his mark on the league. Come July 1, the league's athletic directors will have a successor in place. But as for the current job, Bertagna, doesn't feel like what he is doing is complete.
"I think it is three columns," said Bertagna. "One is to do the things that come across at this time. I have worked on a future schedule for 2021-22. I'm about to start the tournament handbook and I've had discussion about [playing at] Fenway [Park] in the future. Those are the day-to-day things.
"Then I've got to put together a manual or a notebook that the person that comes in on day one has a resource that month by month identifies certain things that have to get done at that time."
From there, things aren't as clear for the veteran commissioner.
"Finally, my own personal thing. I've got to keep an eye on the personal thing," said Bertagna, who will remain the executive director of the American Hockey Coaches Association. "On July 1, I don't have an office to go to. I'll have the AHCA thing. But I've got to line up some projects. I've had a lot of conversations with people, but I've got to follow up with those people."
As for the current league season, Bertagna feels positive. Last weekend in Belfast was an extreme success, Hockey East's fifth where they send two teams to the Friendship Four. Northeastern's success winning the tournament is a feather in the cap for Hockey East, but the overall attendance, which included a pre-sale capacity crowd for the title game, was crucial in not just the success of this season, but also the future of the event going forward.
"There's an incredible consistency for the people over there," said Bertagna. "From Robert Fitzpatrick (CEO of Odyssey Trust, which puts on the tournament) to Steve [Thorton] and Shane Johnson, to the media people, to the people at city hall. They just don't have any turnover.
"So when you get over there, people know what to do."
The event next year won't include a Hockey East team for the first time in five years. Instead the tournament has been opened to Atlantic Hockey, which will send three teams while ECAC will send one.
For Bertagna, though there was a sense of personal value, having a new league involved he understands will further grow this event.
"Next year is a bit of an aberration," said Bertagna. "Every time we look at a given year, we have four schools to choose from. There are six that you can't choose from because of the [NCAA rule] that you can't [travel abroad more than once every four years].
"Some of the teams don't go if they have a heavy travel schedule. So some school don't want to [go to Belfast]. Other schools it might be financial because they do have to pay the plane tickets.
"I don't think there's a lack of interest. It was just timing."
But Atlantic Hockey, which is rumored to send three teams in 2021, adds more teams to the table that can fill the field of this tournament. That should add to the longevity of this event.
"From an ECAC and Hockey East standpoint, we liked having it our event," said Bertagna. "But I know, Steve Hagwell (ECAC commissioner) and I are such fans of the event that we would put aside any parochial desires to dominate the field so that we expand the resources of the teams to stabilize the event even more.
"The host wouldn't mind getting a Michigan and a Minnesota. But those teams, their payday at home is so great that they don't travel often unless they are getting a guarantee and expenses. That's what the spirit of this is all about."
Back on the home front, administrating Hockey East hasn't been a piece of cake. We are two weeks removed from a night where seven major penalties were assessed, which makes one wonder if there is rougher than usual play going on between the boards in Hockey East games.
Bertagna dutifully recalled and acknowledged those games and plays. He also discussed the difficulties associated with major penalties and the potential for supplemental discipline that could arise.
"One of my pet peeves is how supplemental discipline is used," said Bertagna, who for a number of years who on the NCAA rules committee and for the past few was the chair. "It goes back 20-30 years where the NCAA encouraged the league to have something in place, that was meant to be for things that the rule book didn't directly address, like someone swings their stick at somebody's head or there was a multi-player fight.
"It's developed into something, that in my opinion, is a tactic. Coaches are submitting things to get guys kicked out of games, where you look at it and say, 'Yeah, it looks like the ref missed that.' Or if a guy does something that was five and a game but he did it in the last 10 seconds of a game, then he didn't suffer anything there."
Bertagna sees one of the biggest problems being not just the number of fouls coaches are calling attention to, but also how individual coaches might be overusing the system as a tactic as opposed to a correction of the way the game is officiated on the ice.
"There are a lot of clips being sent in because there are a lot of rough situations," said Bertagna. "But there are two issues. Is the play getting rougher? Or more of a point, are we overusing supplemental discipline?
"I think it gives the referees a little bit of an out knowing that these plays are going to get reviewed. They can look at it in real time, they can look at it in the booth. But they also know they can under-call it knowing the commissioners will review. That's not a perfect way to do it.
Bertagna sees the on-ice officials tasked with making the most harsh call so that his league – and others – don't need to provide a more harsh penalty.
"I think that [supplemental discipline] gives the referees an out," Bertagna said. "If you miss a call on a guy in the third period and say 'Let discipline handle it.' If you can do it right, the guy gets five and a game and misses the rest of the third period.
"Now we look at it and he didn't get anything and we have to suspend him a whole game. The coaches are saying that they may not appreciate it at the time, but if they had called it I would have my player a lot more available than I do missing a whole game."
One of Bertagna's continue frustration is dangerous hits. He acknowledges that they continue to exist in the league on a frustratingly often basis, but he can't solve that problem.
"You see someone take a run at someone and you say, 'What are they thinking?'" said Bertagna. "Forget the potential injury to the opponent. How do they think that would not be called?
"I don't know what else we can do but tell the referees to call those [hits] tight. If they're not calling those penalties in real time and waiting for the Monday morning review, then the message given in real time is not as strong as it could be."
As for the months ahead of Bertagna, he knows that while the end is near, the final days of his career are hardly numbered. He hopes to stay involved in the Friendship Four. His term as executive director of the AHCA has been extended. But he also wants to find things that will occupy most of his free time.
"I've been going about this all along thinking I won't be taking another full-time job," Bertagna said. "I'd be piecing together projects. That's the lifestyle that I'd be most comfortable doing.
"Everyone keeps on telling me, you'll wish this happened earlier. There will be plenty of things. Intellectually, I think there will be, but until I can touch them and see them and know what they are, it's a little stressful."
Which brings us to some of Bertagna's peers like Don Cahoon, Jack Parker and Dick Umile, all who has sailed off into retirement in a state of bliss.
"All the [retired] coaches, they all look great. Their wives don't look that great because they have them home all the time. But the coaches look great."
Suddenly the Eagles are screamin'
Boston College might be the early feel-good story for Hockey East. And I know, most want me to save any sympathy for when the Eagles face a down time.
BC, including the 2016-17 season, made seven straight NCAA tournaments, winning two. Prior to that, the Eagles made 10 of 12 tournaments, winning two more. A 19-year span netted the Eagles 16 NCAA bids, nine Frozen Fours and four national titles.
But for the last three seasons, BC has been NCAA absent. I know, average Hockey East fans, "Woe is me!"
That said, the tradition of winning has been an earmark of this Boston College program, and in recent weeks, it seems to have returned.
The Eagles were close to perfect in November, going 7-1-0. Their lone loss came on the first day, November 1, when they fell, 1-0, to New Hampshire. Beating Providence a night later stopped a four-game losing skid and began BC's current seven-game winning streak.
A strange home-and-home with South Bend, Ind.-based Notre Dame will highlight this week's docket for the Eagles. But two more wins on Friday and Sunday could go a long way to further cementing this a one of the nation's top hockey teams.
Celebrating trophy season
Sure the regular-season titles and post-season championships are the ones that teams want the most, but there is also a reason why teams play in-season tournaments.
Two Hockey East teams took home trophies last weekend. Northeastern earned the Friendship Four title, taking home the Belpot Trophy. The Huskies were part of the inaugural event, taking third place in 2015. But this time went to Belfast and captured the ultimate prize in the presence of Boston Mayor Martin Walsh.
UMass Lowell, the team that prevented Northeastern from winning the Belpot in 2015, captured a holiday tournament of its own, the co-hosted Turkey Leg Classic, an event that Lowell and Merrimack hosted together.
The River Hawks shut out Rensselaer 4-0 in Friday's opener, when Penn State knocked off Merrimack 7-0 to set up the final on Saturday in Lowell.
It was a back-and-forth game in which Penn State scored the tying goal to force overtime with 23.3 seconds left. But Chase Blackmun's overtime game-winner gave the River Hawks a tournament title.
Hats off to two Hockey East teams earning hardware at Thanksgiving. There will be more opportunities in the coming weeks as six total tournaments remain this year, three immediately after Christmas, involve Hockey East teams. Then there is the Beanpot in February, where Hockey East makes up three quarters of the field.