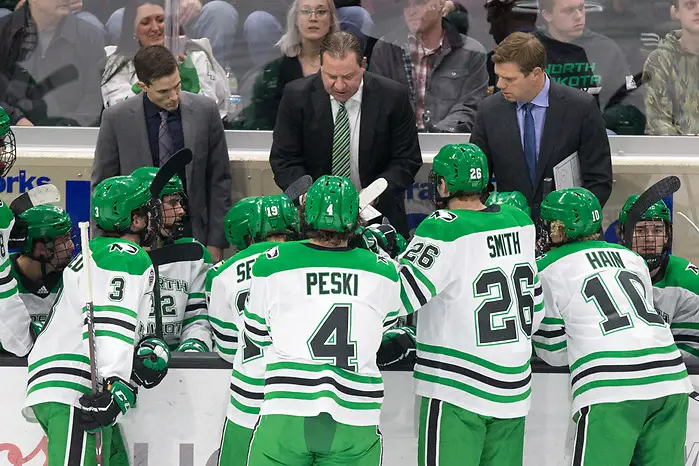 Having missed back-to-back NCAA tournaments for the first time since the mid-1990s, it's understandable that North Dakota doesn't want to get too far ahead of itself.
And yet, at 12-1-2 this season with the holiday break looming, not much isn't going the Fighting Hawks' way. They would have a No. 1 regional seed if this season's NCAA tournament started now instead of in March, and UND is fresh off a road sweep of longtime rival Minnesota.
The Hawks roared to a 9-3 win Thanksgiving night in Minneapolis, tying UND's single-game record for goals in the school's 289-game all-time series with the Golden Gophers. Eight different Hawks scored in the rout, with Jordan Kawaguchi finding the net twice.
Friday's rematch provided tougher sledding, but UND grinded out a 3-2 win that bumped the Hawks' winning streak to five games. They are also now unbeaten in their last 11 after two goals 6:44 apart in the second period from Kawaguchi and Jasper Weatherby put UND over the top. Adam Scheel made 23 saves in the winning effort, including seven saves in the third period.
In some ways, it's just as well that Friday's game didn't go quite the way that Thursday's did.
"We've learned a little bit from our team here on different ways to try to find (ways) to win games," UND coach Brad Berry told reporters during his weekly press conference Monday.
"I know last year we'd be on the other side of it, and this year it seems like we're finishing some plays now, like we did on the first night. On the second night, when it is a tight-checking game, a hard, physical game on a big rink like that, we're finding ways to come back.
"We're down a goal and we come back and take the lead, and then in the third, I watched the video and I thought, the last 10 minutes, we locked it down pretty good, and people say, 'Well, you know, they didn't get any scoring chances in the third period,'" Berry continued. "Well, I think we played good, sound, fundamental hockey to try to preserve a win, and by the way, the scoring chances, we outchanced them in the third period."
UND's current winning streak started Nov. 16 on the back end of a road series at another big rival, then-No. 2 Denver. The Hawks then swept a pair of tight games two weeks ago at home against St. Cloud State, 4-2 on Nov. 22 and 2-1 in overtime the following night.
Keeping the streak going this weekend could be a tough task, as UND hits the road again to face No. 17 Western Michigan. The Hawks get three weeks away after Saturday's series finale, though, and it's with that in mind that Berry wants his team to keep doing the things that have UND sitting pretty.
"That was the message after the (last) game in Minnesota," Berry said. "It was the message (on Monday) once we came together for practice again. We've got momentum that we're starting to build here a little bit, and you want to keep that going through here the last two games of the first half of the season and kind of put an exclamation point to it, but again, knowing that we're going into a pretty tough environment in Lawson Ice Arena where they play very well, they play hard and it's a tough place to pick up wins.
"There's a focus here this week and our guys know that, knowing that there's a little bit of light at the end of the tunnel for a little bit of a break to recuperate here."
UND sweeps awards, too
On a relatively quiet weekend around the NCHC, UND swept the conference's player of the week awards.
Kawaguchi was the NCHC's offensive player of the week after posting three goals and one assist against Minnesota, and Jacob Bernard-Docker earned top defenseman honors after collecting four points of his own.
Scheel stopped 41 of the 46 shots he saw on the weekend, and freshman forward Shane Pinto earned the top rookie nod after his two goals and three points against the Gophers moved him into a tie atop the NCHC's rookie scoring race.
Tough games for Miami, UMD
The NCHC's two other teams that played last weekend ran into difficult opponents.
Miami dropped a pair of non-conferences games at Connecticut, falling 6-4 Friday and dropping a tight 4-3 decision Saturday. MU led 3-1 after Friday's first period before struggling down the stretch, and UConn never trailed in Saturday's rematch.
No. 14 Minnesota Duluth also lost twice last weekend, falling at home to top-ranked Minnesota State. The visiting Mavericks scored four straight in Friday's 4-1 win at Amsoil Arena, and MSU won 3-1 Saturday in a game where Duluth outshot the Mavericks 38-24.
Miami hosts St. Cloud State this weekend, and UMD visits 18th-ranked Omaha.