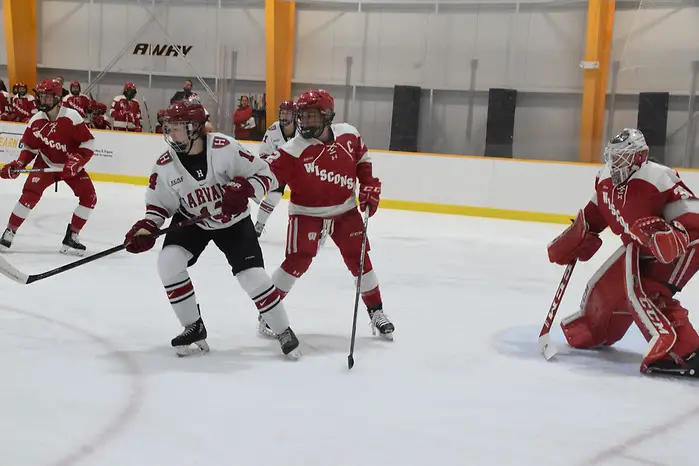 The Country Class in Nashville last weekend featured (1) Minnesota, (2) Wisconsin, (6) Boston College and Harvard playing the first Division I women's college hockey games in the state of Tennessee. The showcase was played in conjunction with a National Girls Hockey League youth tournament for tier 1 and tier 2 girls hockey teams across four divisions including 12U, 14U, 16U & 19U.
Not only did the weekend showcase some of the top teams in the country, but it also featured four of the most accomplished coaches in Division I women's hockey.
Wisconsin's Mark Johsnon is the all-time winningest coach in Division I history. HIs total currently sits at 510. He passed Harvard coach Katey Stone to take the title. She currently has 481 wins. Minnesota's Brad Frost (389) and Boston College's Katie Crowley (315) are also among the active leaders in overall wins.
While the showcase was about showing young girls what is possible and the level of play that happens in Division I hockey, making inroads into markets like Nashville is going to become an increasingly big part of recruiting for all teams. Wisconsin, Harvard and Boston College all have players on their rosters from non-traditional hockey markets like Texas, Florida and California. The future of women's college hockey will depend on coaches being able to identify and recruit women from these areas.
According to USA Hockey's latest membership reports, the Southeastern District – of which Tennessee is a part – trails only Minnesota and the Central District (IA, IL, KS, MO, NE and WI) in total players. There are 10,000 more players registered than five years ago
Of the more than 57,000 registered players in the Southeastern district, just 5,400 are girls and women. And only 300 of them are registered in Tennessee. The numbers are low, but they are also more than double the number of players from five years ago.
It has become increasingly difficult to find a Division I roster without players from non-traditional markets. From warm weather locations like Florida and California to emerging markets like Texas, Tennessee and Arizona, there are women from all over the map on Division I teams. But beyond those, there are also women from Michigan, Iowa, Ohio and Colorado – places that have a thriving men's and boys hockey history, but where women's hockey has not taken hold.
Beyond the thrill of playing some of the top teams in the country who they don't normally see in the run of league play during the season, the County Classic in Nashville was a way for the players to reach a new audience of young girls. There are signs of hockey's hold on Nashville all over town, but there are still few women and girls playing hockey in Tennessee.
For the collegiate players who come from areas of the country that haven't seen much growth in women's and girls hockey, the weekend was an opportunity to provide something they wish they'd have been able to see and take a part of when they were young and growing up in the sport.
"Just seeing the opportunity now that girls have to get involved with other girls and build friendships that they have is just awesome. For the kids here to watch us and see what it is and aspire to be us, it's one of the little things we can do just to give back and help them grow the game. Hopefully there were some young girls out here that were able to watch this weekend and decide now that they want to start hockey because they loved it so much," said Havard's Dominique Petrie, who is from Hermosa Beach, California.
Wisconsin's Abby Roque grew up in Sault Ste. Marie in Michigan's Upper Peninsula playing exclusively on boys teams.
"Where I'm from in Michigan, there were no girls playing hockey. I played boys hockey until I came to college. There was no girls hockey unless I wanted to move or play prep school," she said. "Growing up I never even really thought about (women's hockey). I didn't really see that was a path. I hadn't seen a game of women's hockey until I played in one. I hadn't seen
anything like that until I was actually at Wisconsin. Being able to show little girls here that they can do that is awesome. That's really what we're trying to do here."
Boston College's Delaney Belinskas, who is from Port Orange, Florida, had to leave the state and go to prep school in order to continue playing hockey. That's why seeing a team from her home rink in Florida playing in the youth tournament in Nashville was so incredible for her and really drove home the importance of playing in games like the ones these college players did last weekend.
The key to these showcases is introducing fans of all ages and genders to the caliber of hockey being played by the women in Division I. Johnson had a number of friends from across hockey come to the rink to check out the games this weekend and he said that to a person, they all told him how surprised they were by the level of play.
"Now they're probably going to see another (women's college hockey game)," he said. "It's a good way to showcase the college, Division I game in different areas. The fans that come out are being treated to some pretty special hockey."
Taking women's college hockey to new markets has been a focus of Johnson's for more than a decade. Two seasons ago, the Badgers played a similar showcase in the Washington DC suburbs. In 2015, they played Providence in San Jose, California. In 2013, they were joined by St. Cloud State, Boston University and Northeastern in Vail, Colorado. The Badgers also played in Ft. Meyers, Florida in 2008 and Long Beach, California in 2004.
"There are different ways that I can give back to the game," said Johnson. "It's a small community, but we can expand that community into areas not known for hockey. (With some of these showcases there have been) youth clinics with 100 young girls that come out and all of the sudden you've started somebody's dream of playing college hockey one day or getting involved in hockey themselves."
Harvard's Ali Peper, from Arvarda, Colorado, said she grew up dreaming of being an Olympian, but as she got older she saw that very few people actually realize that dream. Division I college hockey is a different dream, but one that can hit much closer to home with role models from a girls' city or state that are more accessible.
"If girls want to dream it, they have to see it," said Boston College's Cayla Barnes, who is from Eastvale, California. "I hope things like this continue to happen so that girls around the country, in places where hockey isn't the biggest sport in their state, can see it."
And Peper pointed out that playing at Harvard offers not just the ability to continue playing hockey at a high level, but also access to stellar academics and the opportunity to make a very different future for herself. That was an eye-opening realization for the forward
"You see the Olympic girls and you say you want to be that, and that's amazing for the people that can do that," she said. "We didn't have girls or women to look up to. It's so important to see role models and have something to aspire to…Knowing that's a route you can go and seeing people that are doing it would have been amazing."