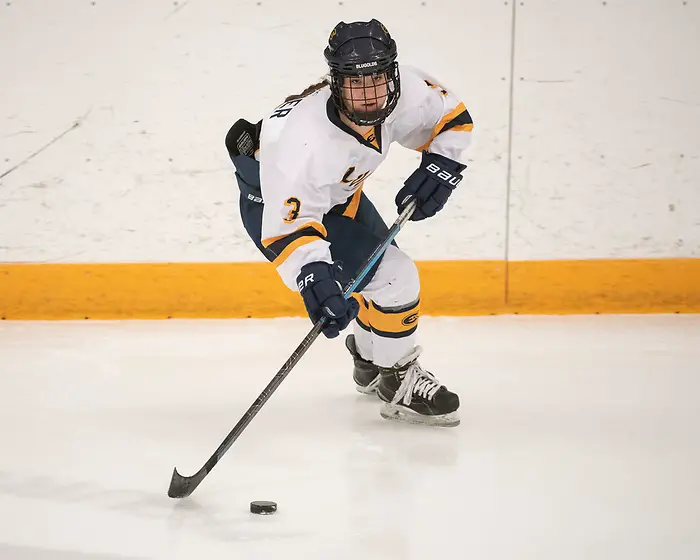 For coach Erik Strand and the players of the No. 5 Wisconsin-Eau Claire Blugolds, the weekends leading into and out of Thanksgiving were circled at the start of the year as make-or-break, with games against some of the top teams in women's D-III hockey. So far, at least, the Blugolds have come out unscathed, beating top 10 teams Wisconsin-River Falls, Hamline, and Elmira, and tying No. 10 St. Thomas. All of the games have been close, and except for the 4-3 win over Hamline, low scoring as well. Goalie Erin Connolly has been a big part of that success, posting a .938 save percentage and 1.11 goals-against. The team defense has been strong too. Against a high-flying Elmira team that has the second-best offense in the country, the Blugolds came out and shut them down, allowing only 10 shots, including only four shots over the last two periods when Elmira was trying to rally from a 1-0 and 2-0 deficit.
"Obviously Erin Connolly in goal has been phenomenal for us," said Strand. "She's done an unbelievable job. That game against River Falls was a classic WIAC game. Both teams had tremendous scoring opportunities. Erin, quite a few times, disguised a few mistakes that we made with spectacular saves. Against Elmira on Saturday I loved how our defense played. I mean, only allowing 10 shots against that team, that's a phenomenal team. It's the effort that we had in our D zone, and then once again anything that did get through, Erin was right there on the spot for us to stop whatever was being put at her. On top of that, I think our forwards have done a nice job of being absolutely relentless on our forecheck and their pursuit and attacks. The combination of the two typically is a recipe for putting up some wins."
Another thing that has helped Eau Claire get off to an 8-1-1 start is having experience in the lineup. The Blugolds have 15 freshmen on the team, but they have several seniors and juniors leading the way, inlcuding captain Elizabether Bauer, a forward who is the team's leading scorer, and Sami Meister, who anchors the back line.
"One of the great things I think that we've had this year, and I think that goes for all programs that are having success, is the leadership has been phenomenal," said Strand. "I mean, we have 15 freshmen on this team. For them to be up to speed as fast as they have gotten up to speed, you can only look at your returners for doing such an amazing job of being phenomenal examples for them to to follow. That by itself has made it possible for a lot of players to step in and help out. It makes me, as their coach, extremely proud, because that's not easy to do."
Several of those freshmen that have stepped up in the points category have done so in unfamiliar roles, such as Hallie Sheridan, who was a defenseman in high school but is now playing forward. So too have Emily Hart and Danielle Slominski.
"These players that are there logging the minutes that they're doing, I think they've been very good students of the game," explained Strand. "Obviously, they had the talent that we're looking for, we were bringing it in, but that transition, Sami Meister, for example, the way that she communicates with them, it's the entire process. They've just done an amazing job of buying into everything. Especially for the quality of player that we have, it'd be easy for them to say I know what I'm doing, but they've come in just hungry to learn. They want to be part of the success that we've enjoyed here in the last few years."
The blueprint for the Blugolds' success lies in the team's depth, as evidenced by the freshmen playing in different roles and the lack of any one player who is a dominant offensive force. Looking at the team's stats, there are a lot of players who are contributing in the goals and points column.
"That's our blueprint right there; I can look at our group and see all the players that have one, two or three points, maybe zero, and I'll tell you what, these women are scoring a lot in practice," said Strand. "It's just a question of when they're gonna be the ones that help contribute. When you look at our lineup, if you're prepping to play us, it's like, OK, who do you actually go shut down? You can say, OK, these players are higher on the points per night category for us, but that's not going to be the person that scores. I mean, last weekend against Elmira, Emily Bauer, I think she gets her first goal of the season and adds an assist in a 2-0 game. That depth is what our strength is. We aren't going to blow anybody away with our oh my gosh, this player, how do we stop this one person? It's an absolute six people at a time on the ice. I can't tell you what night what person is going to do what; I just know that we've got a great chance of somebody being on the score sheet for us."
Also helping has been the special teams play. The power play is currently ninth nationally, clicking at 24.49 percent, and the penalty kill is sixth, with a 96 percent success rate. Strand is hoping his players can continue with that success.
"The irony of that is going into our season, I think we'd practiced maybe five minutes on our power play. The penalty kill too, we had so much stuff to learn with being such a young group that those actually were two of the last things that we really started to focus on. We've had the good fortune of having some returners in key spots in power play and penalty kill, so they've made some very timely plays that have obviously been successful or have stopped success if on the PK. The players that are younger, sophomores or freshmen that have been put in those spots, they've just been so hungry to learn. They're able to mirror what success looks like really early for us. It's obviously something that we hope continues, because you know as well as I do that's the difference in postseason play, is whose special teams are clicking."
While Eau Claire is off this weekend, a rematch with No. 9 Hamline looms on Tuesday, Dec. 10, followed by a weekend series wtih Concordia (Minn.) to close out the first half.
"That's probably one of the most dangerous teams in the West," said Strand of Hamline. "In my mind it's not a question of if they'll ever figure it out, but when. Historically, we play them twice a year and they're always absolute battles. It's just a fun game to coach in and a fun game to play in. No doubt the pride and the expectation that that team has, that'll be, as far as I'm concerned, one of our biggest games of the season. If we're not ready to go, they could blow our doors off. I mean, that's a very dangerous team. With Concordia Minnesota, we talked about it this morning at practice. One of the things is the success that we've had right now, we'll see everybody's best game. It doesn't matter what their record is coming into it. I've got no doubt that they're going to be making that road trip over with a lot of excitement. I think any time you've got the opportunity to make a name for yourself, you're gonna take it."