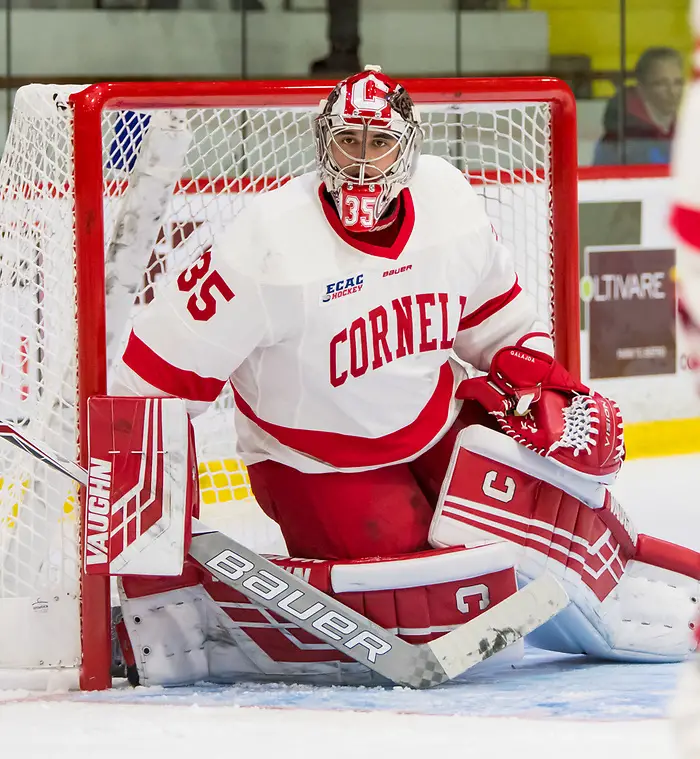 Jeff Malott and Brenden Locke staked No. 2 Cornell to a two-goal lead in the opening period and managed the remaining 40 minutes well enough to emerged with a 3-1 victory over rival No. 12 Harvard.
Check out Jeff Malott's goal, giving @CUBigRedHockey an early 1-0 lead at Harvard! Watch: https://t.co/ttp9FGElXL #YellCornell pic.twitter.com/maR9Vslw1M

— Cornell Video (@CornellVideo) December 7, 2019
Riding a two-goal lead, Travis Mitchell extended the advantage at the 5:07 mark of the second period. Harvard answered shortly thereafter on the power play as Nick Abruzzese tallied to cut the lead to 3-1.
But the third period was about Cornell goalie Matthew Galajda, who stopped 15 shots in the third to seal the victory.
The victory improves both Cornell and Galajda to a perfect 10-0-0 mark.
Scoreboard | Standings | PairWise Rankings | USCHO.com Poll
No. 1 Minnesota State 5, Lake Superior 1
Another team that remains hot is Minnesota State, which notched its eighth straight win, a 5-1 decision over Lake Superior.
Jared Spooner scored twice in the third period to help break open a 2-1 game. Jake Jaremko, Parker Tuomie and Dallas Gerads all added single goals.
🎥 Check out Parker Tuomie's goal off some pretty passing back in the second period! #HornsUp😈 pic.twitter.com/4KRAvVvQqF

— Minnesota State Hockey (@MavHockey) December 7, 2019
Dryden Mackey, on the same day he was named National Goaltender of the Month by the hockey commissioners, made 20 saves to earn the win.
No. 16 UMass Lowell 3, No. 15 Providence 2
The River Hawks rallied from two down to score the final three goals of the game for a road victory, 3-2.
Providence scored two goals in 90 seconds as Michael Callahan scored during a delayed penalty call and Greg Printz added a second goal during the ensuing power play. Both goals came before the game was eight-and-a-half minutes old.
Lowell began their rally late in the first when a penalty shot was awarded after a Friars player placed his hand on top of the puck in the crease. Kenny Hausinger fired a shot over the glove of Michael Lackey to cut the lead to 2-1.
Kenny Hausinger gets the #RiverHawks on the board with a penalty shot! #UnitedInBlue #HockeyEast pic.twitter.com/0ETPeQ49l2

— UMass Lowell Hockey (@RiverHawkHockey) December 7, 2019
Things remained that way until the third when Connor Sodergren and Charlie Levesque scored 71 seconds apart early  in the frame to give the River Hawks the 3-2 lead.
Goaltender Tyler Wall shut the door from there, making 15 saves in the third and 35 overall.
No. 20 Arizona State 4, No. 4 Denver 1
Johnny Walker's hat trick helped pace host Arizona State to a 4-1 upset victory over No. 4 Denver.
Walker scored twice in the opening period. After the Pioneers pulled within a goal at 10:34 of the third on a Jaakko Heikkinen goal, Walker completed the hat trick on the power play with 1:20 remaining. Brett Gruber added the final tally with 33 seconds left.
Evan DeBrouwer stopped 33 shots to earn the victory.
🔱DOWN GOES #4 @DU_Hockey! 🔱 pic.twitter.com/0A4vEb9Nyz

— Sun Devil Hockey (@SunDevilHockey) December 7, 2019
No. 10 Boston College 4, No. 9 Notre Dame 0
David Cotton and Logan Hutsko each notched a goal and an assist and Spencer Knight stopped all 26 shots he faced as the 10th-ranked Eagles blanked Catholics rival Notre Dame, 4-0.
The game is the opener of a home-and-home series. The two clubs will board planes and fly to South Bend for Sunday's back end of the series.
▶️ Round one against the ☘️ goes to the Eagles#WeAreBC🦅 pic.twitter.com/V0H36swS0G

— BC Hockey (@BCHockey) December 7, 2019
Julius Mattila and Patrick Giles also tallied goals for Boston College, which has now won eight straight games.