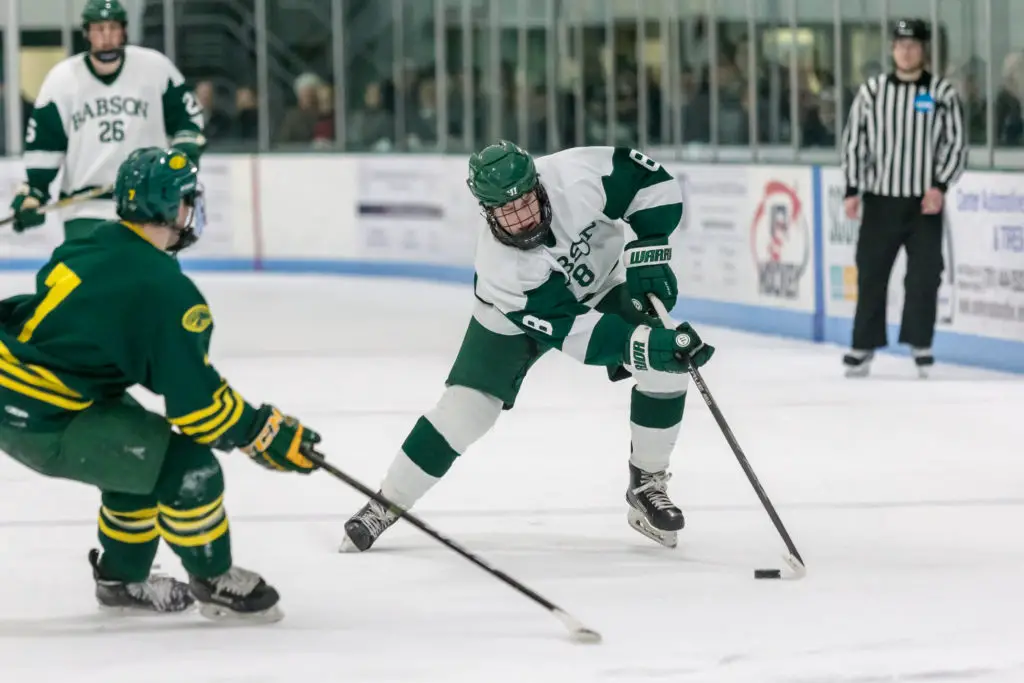 With all but ten games remaining on the docket this weekend, the first half of the season is all but in the books. So much has happened in the east over the last month and a half including big shifts in national rankings, dark horses asserting themselves in conference play and truly unbelievable individual performances from across the conferences and region. At this point of a very festive December, here is a look at just a few of the presents we have already received in the form of terrific hockey and a portent of things to come in the second half of the season.
The unbeatens, there are none
Yes, Virginia, there are no unbeaten teams! Following Wednesday night's road loss to Hobart, Trinity enters the break with a 7-1-0 record and the last of the unbeatens to fall. The Bantams certainly had a difficult task this week in facing a Hobart team unaccustomed to a two-game losing streak and playing at home in sending their first half off on a positive note. For the first time this season with Tedy Loughborough in goal, the Bantams surrendered more than one goal.
Salve Regina, Stevenson and Anna Maria are the only other teams carrying a single loss to date so the adage of anyone beating any other team on any given night has certainly been prevalent in the first half.
Zero-Point-Zero
Quite the opposite of Blutarski-esque, Norwich's Tom Aubrun is giving his team a chance to win every time he skates into the blue paint. Aubrun has a 0.90 goals-against average along with a .964 save percentage and four shutouts in his ten starts this season. He has surrendered two or less goals in all but one game this season for the 8-2-0 Cadets who have just a pair of 2-1 losses on their record including an overtime loss in the Primelink Tournament to Middlebury.
Goal a game
Through the first half of the season there are five players recording a goal per game or more for their teams and all five are playing in the east. Nikita Pintusov from New England College, Nick Gray from Stevenson, Donald Flynn from Wilkes, Nolan Redler from Massachusetts-Boston and Felix Brassard from Norwich all have greater than one goal per game averages for their teams with Pintusov leading the way at 16 goals in just 12 games played. Many think true goal scorers are far harder to find these days at any level of hockey but right now there are many on track for 20 goal seasons after a robust start in the first half.
It's not how you start the season…
After starting the season 2-3-0, Babson has closed out the first half going 5-0-1 including a pair of 6-0 shutout wins to close out their first half of play. In the six game unbeaten streak goaltenders Aidan Murphy and Brad Arvanitis have surrendered just four goals while the offense has picked up their game scoring 23 goals in that span. Special teams have been a big contributing factor to the Beavers success with the power play clicking at 37% and the penalty kill better than 93%. Ten different players have scored on the power play with Mike Egan and Nick Rosa leading the way with three apiece. Moving to 4-2-0 in the NEHC has Babson right back in the race of the ultra-competitive conference and they will open the second half of the season playing in the Middlebury Classic with a January 3 date with Manhattanville in Vermont.
Continuity Play
After finishing 16-8-2 under then head coach Brett Riley last season, the Wilkes Colonels have continued their growth and success as a program under new head coach and former assistant, Tyler Hynes. Wilkes sits atop the UCHC standings with a perfect 7-0-0 record and are 9-2-0 overall entering the break. Led by a dynamic group of forwards including Donald Flynn, Nick Fea, Tyson Araujo Tyler Barrow and Phil Erickson, Wilkes is scoring just under five goals per game and have scored two or less only twice this season. Flynn and Araujo lead the team in goals with 11 and eight respectively, but 15 different players have chipped in offensively for the deep and balanced squad. Wilkes has one non-conference game remaining before the break with a game next Tuesday at home against Bryn Athyn. They conclude an elongated home-and-home series with the Lions on January 7 before a road game at Cortland on January 14 and back to UCHC play with important games against Utica and Nazareth mid-month.
Independent & Strong
In just their second full season as a program, coach Dave McCauley has the Anna Maria AmCats playing very competitive hockey going 6-1-3 in their first ten games and closing out the first half with games against NEHC opponents this weekend. At 4-0-2 in their last six games, Anna Maria has been led by the dynamic duo of sophomores Jack Sitzman (9-9-18) and Sam Cyr-Ledoux (6-11-17) offensively and the emergence of goaltender Julius Huset in goal. Huset is 4-0-2 on the season with a 1.94 goals-against average and .934 save percentage. After tying Plymouth State 3-3 on the road last week, the AmCats close out their first half against two quality opponents in Johnson & Wales and New England College on the road looking to keep their unbeaten streak going past the holidays.
Yes, there was a lot to take in during the first half of play and the standings in each of the conferences are close so expect some fabulous finishes as has been the case historically over the last several seasons. Coaches may be looking for the Jolly Old Elf to bring some holiday magic to their teams for play starting in January, but every team will be looking to come out flying and with a critical focus to their game in the aptly numbered 2020 portion of the campaign.