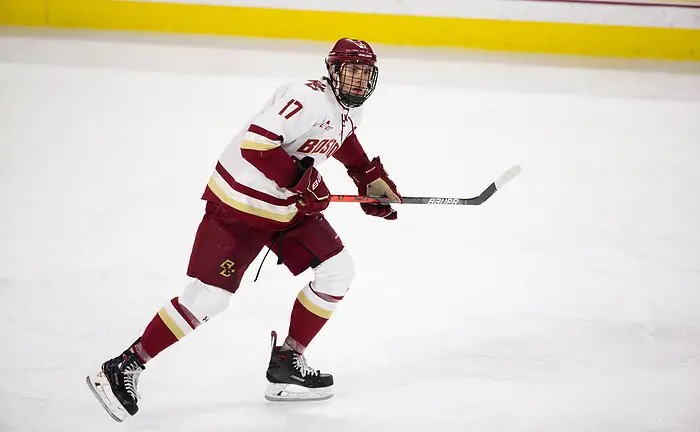 Legendary Boston College coach Jerry York doesn't pull any punches in talking about the last two seasons for his club.
"We had a couple of struggling years," admitted York.
The Eagles, though, enter the break having won nine straight games, including wins over Providence and Harvard and, most recently, a home-and-home series sweep of Notre Dame.
There are a number of factors that have helped this year's Eagles team put together a solid first half. But for York, one of the biggest has been the leadership of his captain, David Cotton.
"The way the eight seniors have led us, led by the captain David Cotton [has been a pleasant surprise]," said York. "He's become one of the best players in the country, but his leadership behind the scenes with us is great for me to watch."
On the ice, Cotton has continued his consistent play of a year ago when he scored 23 goals. This season, his eight goals and 14 assists places him atop the scoring leaders for the Eagles.
But his actions away from the ice have been a big catalyst for York and his staff.
"He taken the captaincy to heart," said York. "He's been an inspiration to a lot of our players here, how hard he works and how important it is to get BC hockey back to where it's been"
Returning to a national power isn't always an easy task, even for the most legendary of programs. You can look at teams that have had great success in winning national championships like Michigan and Minnesota, see some of their struggles this season, and understand nothing is guaranteed.
But for York, his club ability this season to play dominant hockey at times, gives him the understand this team has the potential to be elite.
A major part of BC's early success has not just been the upperclassmen (BC's top four scorers are juniors and seniors), but also the contributions from a highly-touted freshman class.
Leading the way has been netminder Spencer Knight.
Knight was already well known for his play internationally representing Team USA. Last summer, Knight became one of the highest-drafted goaltenders in recent years, selected 13th overall by the Florida Panthers.
Since arriving on campus, his play has backed up everything people knew prior to his arrival at BC.
He's had a remarkable start to his college career, but I don't think that surprises any of us," said York. "He's been a great player at every one of the age levels.
"But this was a jump for him and he's handling it very well. We have four senior defensemen in front of him which helps and two outstanding freshmen defensemen in Marshall [Warren] and Drew [Helleson]. But he's made a real difference not just playing defense, but handling the puck starting the offense. He has puck savvy."
There certainly is a lot of hockey left to play and one can't predict what the second half will bring (York admits he wishes his team didn't have to take a break right now). But this Eagles team has, over the last month or so, put itself in excellent position to make that return to greatness that York admits was absent.
"We're getting contributions from all four lines," said York. "We're rolling all four lines. The minutes [for top players] are down, which benefits us.
"We're playing at a high tempo. We haven't had this depth in a long time. Now that we have it, we'll use it to our advantage."
Mid-term grades
Yes, Merrimack and Northeastern still each have a single game remaining to play before we can officially close the book on the first half for Hockey East schools. That won't stop me from handing out my mid-term grades and also giving a little credit to those individuals who, at this point in the season, feel like they deserve a spot on an all-Hockey East team.
Boston College: A
Call it a "just what the doctor ordered" type of streak, but BC's nine-game winning streak to close the first half certainly helped boost BC's overall winning percentage. Now the challenge for the Eagles will be to carry all of that over into league play, where they have played just seven games to date (a 5-2-0 record). In fact, BC's only non-league games remaining are the two Beanpot games, so the Hockey East slate will take full focus once the Eagles return.
Boston University: C
Consistently inconsistent is the best way to describe Boston University's first half of the season. It was definitely nice to close out the semester with wins over two nationally-ranked opponents, Harvard and Northeastern. And even better to see the puck hop into the net consistently over those two game. BU dealt with a lot of injuries in the first half. But if healthy, this still is a dangerous club.
Connecticut: C+
It took a while for UConn to start playing its best hockey, but finishing with four straight wins and going 5-1-2 over its final eight games of the semester was a highlight for the Huskies. Home ice was kind to the Huskies, particularly down the stretch. That was the good news. The not-so-good news is that UConn has just six home games remaining this season. They must find a way to win games away from the XL Center if they want to make the Hockey East playoffs.
Maine: B-
I remember a high school English teacher once telling me that when a professor puts a minus at any grade besides an 'A,' that means that you need to improve. And Maine certainly still has a lot of room for improvement. The Black Bears felt like they were about to be the breakout team of 2019-20. But after a 7-3-2 start, Maine limped into the break going 1-5-1 over its last seven. You can only ride a goaltender so far, and Jeremy Swayman has done pretty much everything he can to carry this team. The Black Bears need to find offense.
Massachusetts: A
When you lose the Hobey Baker winner and arguably the league's best defensive defenseman – we're talking about Cale Makar and Mario Ferraro – it is excusable to not be all that competitive the season following. For UMass, though, everything has fallen back into place. The Minutemen have been more than competitive, posting 12 wins before the break. The biggest challenges, though, still lie ahead. Back to back weekend in January UMass will take on Denver and Boston College (three of those games are on the road). And there will still be games against Providence and UMass Lowell remaining. Those are the tilts that likely will define this season.
Merrimack: D
On back-to-back Saturdays recently, Merrimack beat Rensselaer and New Hampshire at home. That is basically where the highlights end for the Warriors from the first half of the season. The team won just four games in the first half and allowed opponents to score at an alarming rate at times (11 goals to Wisconsin, six to Lake Superior State, seven against Penn State). Certainly this is a young team with 17 new bodies on the roster, but at the end of the day, all teams are measured by wins and losses and right now this Merrimack team isn't getting the job done.
New Hampshire: C+
Good and bad. No easier way to sum up New Hampshire's first half. There were highlight wins against teams like Boston College and UMass, but then there was a frustrating sweep at rival Maine, a loss at Merrimack, a non-league loss to Bentley, just to name a few of the pitfalls. This team has plenty of potential, but they can't rely solely on their goaltender Mike Robinson. Scoring goals was far too much of a challenge in the first half, but there is definitely potential for UNH to be the spoiler in the second half.
Northeastern: A-
Stop me if you've heard this before. Northeastern is a very entertaining team to watch. That's the case yet again. They may not be winning with Hobey Baker finalists, but this Northeastern team is finding a way to get the job done. Yes, there was a three-game losing streak in the first half, but that was offset by a five-game winning streak that included the Belpot Trophy. Northeastern looks like they may have won the transfer goaltender award as Craig Pantano has been the best of the three, including BU's Sam Tucker and Providence's Michael Lackey.
Providence: B+
Who knew that Providence would be the team that, at the break, would have the leader for the Hobey Baker Award. Well, coach Nate Leaman likely did as he watched Jack Dugan as a rookie and knew the talent level on the nation's top playmaker. Providence, though, is so much more than Dugan. They have an excellent complement in Tyce Thompson, who plays on the second line but is so productive alongside Dugan on the power play. And Michael Lackey in net has been a more-than-apt replacement for Hayden Hawkey.
UMass Lowell: B+
The River Hawks were one of the more surprising first-half teams, finding ways to win some big games against Minnesota Duluth, Penn State and Providence. But what kept Lowell from earning an 'A' was some lost weekends against Colgate and UConn, taking a loss and tie against each of those two opponents. Lowell's freshman class has been excellent led by Matt Brown. But easily their best player is senior goaltender Tyler Wall, a five-time Hockey East defensive player of the week in the first half.
Vermont: D
If you're a Catamounts fan, frustration is the only feeling you have headed to the break. Vermont hasn't won since its second game of the season, a 2-0 win over St. Lawrence. There have been some good ties against Boston University and Arizona State, both on the road, but that's all she wrote for this club. The sad thing is this is a much-improved club from last year. They play with more tempo and are exciting to watch. But in the simplest way of saying it, they can't score. Vermont's goaltender Stefanos Lekkas remains elite but he can't be the only great player on this team. All that said, if pucks pop in the net, look for UVM to upset some very good teams in the second half.
Jim's first-half All-Hockey East Team
F: Jack Dugan, Providence
F: David Cotton, Boston College
F: Tyce Thompson, Providence
D: David Farrance, Boston University
D: Jesper Mattila, Boston College
G: Tyler Wall, UMass Lowell