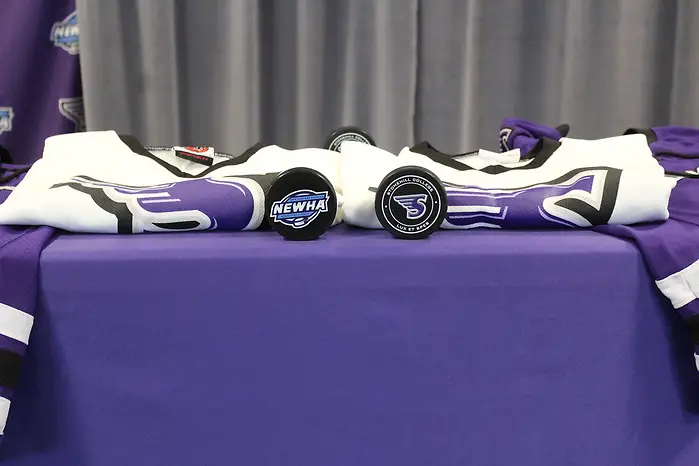 On Monday, Division II Stonehill College announced that they were adding women's hockey as a varsity sport. Stonehill was a natural fit for the New England Women's Hockey Alliance (NEWHA), who's member institutions Franklin Pierce, Post, Saint Anselm and St. Michael's all have men's teams that compete in the Northeast-10 conference against Stonehill's men's squad. 
"Members of our league are not strangers to Stonehill and Stonehill is not strangers to them," said NEWHA commissioner Bob DeGregorio. 
Additionally, Stonehill Director of Athletics Dean O'Keefe was involved with the addition of women's hockey as a varsity sport at Merrimack in 2015. That gives him a unique and useful background in what exactly is needed to be successful. All of that that, plus the existence of NEWHA, made this expansion about as serendipitous as is possible. 
NEWHA has been a major driver in the expansion of the championships level of women's collegiate hockey and was one of the major factors in Stonehill's decision to sponsor a new women's program. 
According to Grant Salzano, writing for the Ice Garden, "O'Keefe noted that 'Women's hockey has long been part of the school's 5-10 year plan to add compelling new academic and athletic programs to attract students.'"
Despite wanting to elevate their club program, there simply wasn't an obvious conference home for the Skyhawks. They weren't in a position to be play as an Independant. NEWHA was ideal, with a number of opponents they face in other sports and Stonehill, located just outside Boston, brings its own hockey culture, plus that of the city and its surrounding area, as the only member institution from Massachusetts. 
"I'm excited to see another fellow Northeast-10 Conference member take the step of adding women's ice hockey. One of our goals in forming the New England Women's Hockey Alliance was to help to promote future expansion of one of the fastest-growing collegiate sports. It is encouraging to see that investment begin to pay off so quickly," said Rachel Burleson, Franklin Pierce University Director of Athletics and NEWHA Executive Committee member. 
And NEWHA isn't done looking to expand. At a minimum, they will be looking to add at least one more program to even out their numbers and create a true quarterfinal in the conference tournament, which would bring the total to 43 teams. But it also wouldn't have to stop there. Even numbers are ideal, but beyond that, there's not a lot of limit to how big a conference could or should be. Hockey East is comprised of 10 teams while the ECAC has 12 member institutions.

There has been serious interest from one or two schools to join NEWHA already, said DeGregorio. 
"There could be some real good growth for this league in the next few years. The more opportunities that you create for women student athletes like this, the more it will grow. We're hoping, not just for NEWHA, but for the game overall to keep growing," he said. "Keep an eye on women's ice hockey because, particularly in this area, it can continue to grow. The sooner the better. I just love to see the sport continue to grow. The ideal goal is to grow the league and women's hockey. As long as I'm the commissioner, that will be the driving force of the league."  
The WCHA is also currently sitting at seven members and would likely prefer to even their ranks out, though it would likely need to be a Big Ten school adding women's hockey to convince that conference to expand at this point. 
DeGregorio figures the field will need to get up to 48 programs before the NCAA considers expanding the tournament. Not too long ago, the idea of that many schools supporting women's Division I or II ice hockey seemed impossible. 
Three seasons ago when North Dakota announced it was cutting it's women's hockey program, there were just 35 teams competing for the National Championship at this level and there were concerns about whether that would be a breaking point for the Division I/II game.  Instead, 32 months on, when they hit the ice two seasons from now, Stonehill will be the 42nd team that competes for the National Championship at this level.
Though the NCAA has shown themselves unwilling to be particularly thoughtful or reasonable in considering changes to the National College Ice Hockey pre-championship manual, continued expansion and the addition of programs should be enough to force them to consider expanding the women's tournament beyond eight teams. 
In 2001, when the first NCAA tournament was held, there were 26 programs and the tournament invited just four teams. By 2005, the field had expanded to eight teams because there were now 30 programs competing. In the 15 years since, the number of programs has expanded by nearly half and yet, the tournament itself has not changed. 
While it's not necessary to once again double the tournament field, a natural next step could involve anywhere from nine to 12 teams and could have a play-in game or first-round byes for top seeds. 
Whatever the new format, and with the pace at which major changes tend to happen at the NCAA level, this is a discussion that should be happening now.