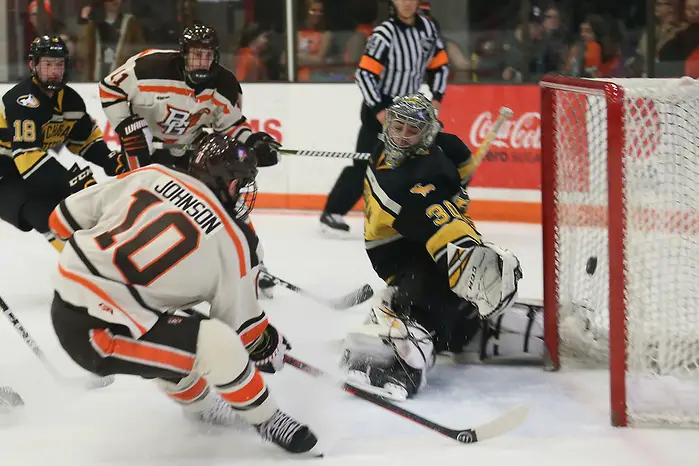 Max Johnson's goal 58 seconds into a 3-on-3 overtime period gave No. 16 Bowling Green two points on the night and five on the weekend in the WCHA standings, overtaking host No. 17 Michigan Tech, 3-2.
On a back-and-forth evening, Bowling Green jumped out to a 1-0 lead on Cameron Wright's goal at 3:27 of the second period. Raymon Bruce responded quickly for the Huskies, tallying at 10:10 to send the game to the third tied at 1.
Brian Halonen scored at 2:51 of the final period to give the hosts the lead only to have Taylor Schneider respond at 8:06, sending the game to overtime.
Neither team mustered many shots with Michigan Tech holding a 23-20 advantage through regulation, overtime and the early portions of 3-on-3.
Wisconsin 5, No. 8 Ohio State 2
Four second period goals helped propel Wisconsin to a 5-2 upset of No. 8 Ohio State.
Roman Ahcah scored twice, including the goal that broke a 1-1 tie early in the second.
He saw a hole, he scored a goal 🚨@Wkalynuk17 with his fifth of the year! pic.twitter.com/LnTdJdF63Q

— Wisconsin Hockey (@BadgerMHockey) January 12, 2020
Jack Berry was tested early, stopping 15 shots for Wisconsin in the first period, but he needed just 12 saves the rest of the way to earn the victory.
New Hampshire 5, No. 11 Northeastern 4 (OT)
William MacKinnon's first goal of the season at 2:28 of overtime led New Hampshire to a 5-4 victory in a wild offensive affair in Durham, N.H.
🚨OVERTIME WIN!!!🚨With his first goal of the season, Will MacKinnon gives your Wildcats a 5-4 overtime win over No. 11 Northeastern!! Take a look at the game-winning goal! #BeTheRoar @hockey_east pic.twitter.com/ZiS8KfoePM

— UNH Men's Hockey (@UNHMHOCKEY) January 12, 2020
The win moves New Hampshire to an 8-1-0 record at home this season.
Eric MacAdams registered a goal and two assists for the Wildcats in the victory.
New Hampshire never trailed in the game, taking leads of 1-0, 3-1 and 4-3 before MacKinnon's overtime winner.
The Wildcats limited Northeastern's offense to just 20 shots on goal in the game.
No. 4 Boston College 6, No. 10 Massachusetts 3
A night after losing on home ice, No. 4 Boston College avenged the loss with a 6-3 victory at the Mullins Center in Amherst to earn the weekend split between the two nationally-ranked teams.
Ben Finkelstein registered a goal and two assists, while offensive powerhouse Julius Mattila had three assists in the victory.
Winfographic#WeAreBC🦅 pic.twitter.com/A45HlJdeQt

— BC Hockey (@BCHockey) January 12, 2020
Boston College was a dominant 3-for-5 with the man advantage in the game and chased Friday's hero, goaltender Filip Lindberg from the game early in the second period.