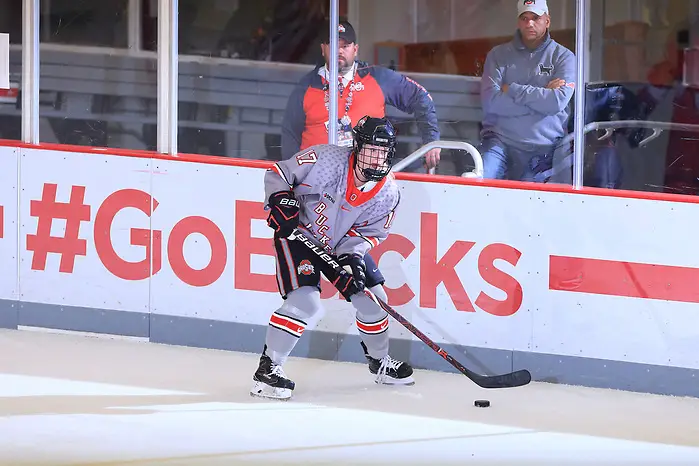 (1) Wisconsin at Bemidji State
In the first game of the series, Sophie Shirley put the Badgers up 1-0 1:16 into the game. Kara Werth responded for Bemidji State later in the period to make it 1-1 after one. In the second stanza, Natalie Buchbinder lit the lamp :55 in to put Wisconsin ahead again, but the Beavers responded with a goal from Haley Mack to tie it up, but Brette Pettet's goal with less than a minute to go in the second proved to be the game-winner to give Wisconsin a 3-2 win. On Saturday, BSU jumped out to a 2-0 lead in the first period thanks to goals from Clair DeGeorge and Abby Halluska. Wisconsin responded with two goals in less than a minute in the second period to tie it up. Shirley and Caitlin Schneider found the back of the net to make it 2-2. But Bemidji responded less than two minutes later with another goal from DeGeorge and then shut down on defense. The Beavers had 23 blocks in the game and Lauren Bench made 17 third-period saves to earn the 3-2 upset win and weekend split.
(2) Minnesota at St. Cloud State
On Friday, Hallie Theodosopoulos scored for St. Cloud State midway through the second, but the Gophers took control from there. Taylor Heise, Madeline Wethington, Catie Skaja and Katie Robinson were the goal-scorers for Minnesota in the 4-1 win. The Gophers came out strong on Sunday, scoring three times in the first period and holding off the Huskies for the rest of the game to earn a 3-0 win and weekend sweep. Wethington, Alex Woken and Heise scored in the win.
(3) Northeastern vs. Boston College
The Huskies scored three times in a manner of six minutes in the first period and didn't look back en route to a 6-0 win. Alina Mueller scored twice and Codie Cross had a goal and an assist to lead the Huskies in the win. On Sunday, Matti Hartman score 1:15 into the game to put Northeastern up 1-0. Katy Knoll scored on the power play 10 seconds into the third and Skylar Fontaine's power play goal less than five minutes later ensured a 3-0 Husky win and weekend sweep.
(4) Cornell at Union
Katelynn Russ scored unassisted late in the first to put Union up 1-0. Kristin O'Neill tied it up in the second and neither team was able to break the stalemate as this one ended a 1-1 tie.
(4) Cornell at RPI
Micah Zandee-Hart and Jamie Bourbonnais scored to lead Cornell to a 2-0 win on Saturday.
(5) Clarkson at Yale
Kayla Friesen put Clarkson on the board first, but Yale's Rebecca Vanstone responded just before the end of the period to make it 1-1 after one. Sophie Verroneau put the Bulldogs up with a power play goal but Gabrielle David responded with an extra attacker goal of her own to make it 2-2 midway through the second. From there, it was all Yale, as Charlotte Welch, Elle Hartje and Claire Dalton all scored for the Bulldogs to lead them to a 5-3 win.
(5) Clarkson at Brown
Elizabeth Giguere had a goal and three assists and Kayla Friesen had two goals and an assist as Clarkson rolled to a 6-0 win.
Minnesota State at (5) Ohio State
Six different Buckeyes scored as Ohio State took the first game of this series 6-0. Emma Maltais led Ohio State with a goal and three assists in the win. On Saturday, MSU's Sofia Poinar opened the scoring. OSU answered with a goal from Maltais to make it 1-1 after the first period. The Buckeyes started to pull away in the second with goals for from Sophie Jacques, Tatum Skaggs and Jenn Gardiner. Jessica Kondas and Mariah Gardner found the net for the Mavericks and after two periods, it was 4-3 Ohio State. In the final frame, Gabby Rosenthal, Gardiner and Jincy Dunne made it 7-3 early in the third. Danielle England cut the lead to 7-4, but that's as close it would get. Liz Schepers' late goal completed the Buckeye's 8-4 win and weekend sweep.
(7) Princeton at Dartmouth
Stef Wallace had two goals and an assist and Maggie Connors and Mariah Keopple each had a goal and an assist to lead Princeton to a 7-0 win over Dartmouth.
(7) Princeton at (9) Harvard
The Tigers had the early lead thanks to two first-period power-play goals from Sharon Frankel and Carly Bullock. Harvard responded with a goal from Kat Hughes and a power play tally from Dominique Petrie. She scored again early in the third to make it 3-2 Harvard, but Maggie Connors scored for Princeton with :43 left in regulation to earn the 3-3 tie.
(8) Boston University vs Providence
Providence had a 2-0 lead late in the game thanks to goals from Avery Fransoo and Hayley Lunny. Boston University pulled their goalie for the extra attacker late and Abby Cook was able to cut the Friars, lead, but the Terriers could not complete the comeback. Providence took game one of this series 2-1. On Saturday, Sammy Davis scored first. Providence responded with a goal from Sara Hjalmarsson, but from there it was all Terriers. Nara Elia, Nadia Mattavi and Courtney Correia all scored to lead BU to a 4-1 win and weekend split.
Quinnipiac at (9) Harvard
Abbie Ives tied a career high with 42 saves and Quinnipiac gave Harvard their first ECAC loss as the Bobcats won 2-1. Kristi Della Rovere put Harvard up 1-0 just 69 seconds into the game, but Sarah Coutu-Godbout answered just a minute later to tie the game. Laura Lundbland's second-period goal was the game-winner for Quinnipiac.