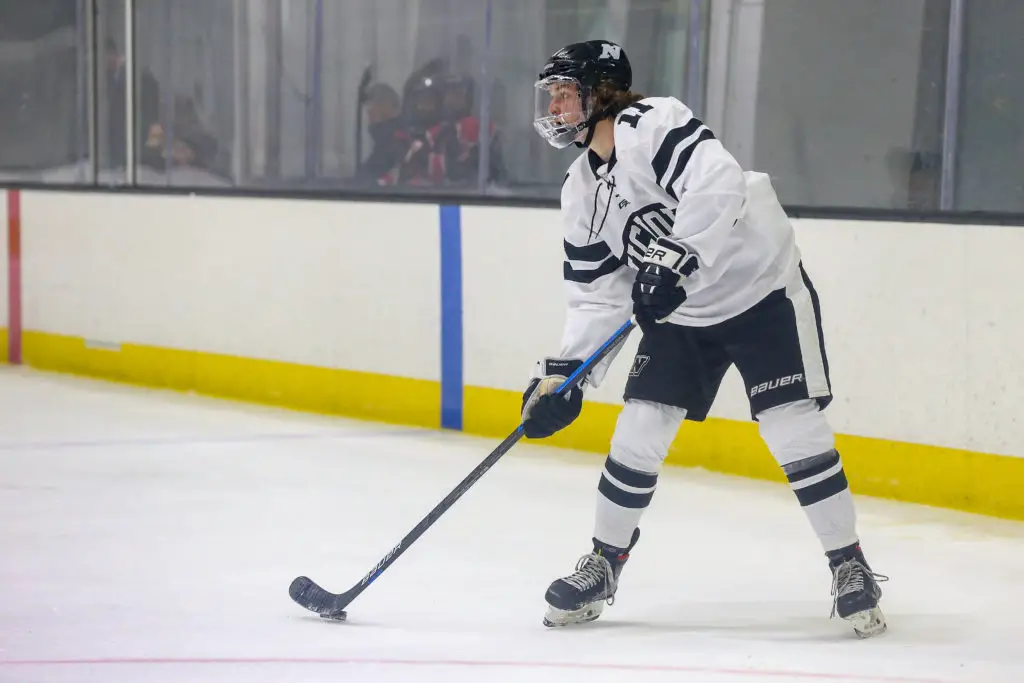 Teams believed to be among the best in the nation seem to be rising to the top and playing great hockey whether in big nonconference games or important league rivalries. Trinity, Norwich, Utica, Geneseo and Hobart all had big wins while teams on the rise like Babson, New England College and the University of New England kept pace. The majority of nonconference games are done which only means the league battles will continue to heat up for the balance of the season.
Here is this week's recap of the exciting action in the East:
CCC
The University of New England broke out the offensive firepower in a 10-2 nonconference win over Morrisville on Saturday. Ten different players scored goals and Ryan Bloom, Austin Morgan and Derek Mecrones all had three-point games in the runaway win for the Nor'easters who moved to 11-3-0 on the season.
Endicott picked up a big nonconference win on Friday against Tufts. After matching goals in each of the first two periods, the Gulls' James Winkler scored at the midway point of the third period for a 3-2 Endicott lead. Luke Rodgers iced it with an empty-net goal with one second remaining for a 4-2 win. Conor O'Brien made 24 saves to earn the win.
Nichols also had a break out game offensively against St. Michael's where they scored a season high nine goals in a 9-2 win. Forward Curtis Carlson had the offensive game of the week scoring three goals and adding two assists for five points. Teammate Nate Foster recorded four assists as the Bison broke open a 2-1 game with six unanswered goals in picking up their second win on the season.
Independents
Albertus Magnus clearly liked the winning feeling found after picking up their first win a couple of weeks ago. The Falcons built a streak when they won their second in a row on Tuesday against Western New England. Over the weekend, the Falcons added another win in a weekend split with King's. After ending their two-game win streak on Friday in a 4-1 loss to the visitors, Albertus Magnus won on Saturday, 5-2. Jack Hannan, Alexander Lazier and Michael Forgione each picked up a goal and an assist for the Falcons who now stand 3-11-2 on the season.
After dropping a game on Tuesday to Wilkes, Bryn Athyn earned a hard fought 3-3 tie with Fredonia on Saturday. Three power play goals from Jake Heckenberger, Vojtech Luza and Dakota Ulmer gave the Lions a 3-2 lead after two periods, but the Blue Devils scored a power play goal of their own in the third period and the teams settled for an overtime tie. McKenzie Chalmers made 30 saves, including 11 in the final period to help preserve the tie.
MASCAC
After downing Southern New Hampshire in overtime in the make-up of the PAL Cup consolation game on Thursday, Massachusetts-Dartmouth carried the positive momentum into conference play on the weekend. Kai Kapossy scored a pair of goals and Cameron Mack picked up three-points as Massachusetts – Dartmouth beat Framingham State 6-1 on Saturday in conference play. The power play was clicking as the Corsairs scored on four of five man-up situations and evened their conference record at 3-3-1.
Westfield State's top line of Robert Neuwirth, John-Michael DiGregorio and Francois-Xavier Girard each picked up a goal and an assist in a 4-1 win over Worcester State. A three-goal third period broke open a close game and Thierry Messervier made 35 saves to elevate the Owls to 4-12 in MASCAC.
After struggling in nonconference games, league leader Plymouth State returned to conference play and played a 2-2 tie with Fitchburg State on Saturday. After a scoreless first period, the Panthers took a 1-0 lead in the second. The Falcons' Ryan Murphy tied the game on the power play in the third period at 7:49. Within the span of just one minute, PSU's Peter Laviolette and FSU's Christopher Vicario exchanged even-strength goals and neither team could break the deadlock. The Panthers outshot the Falcons by a 44-29 margin with Brian McGrath stopping 42 shots for Fitchburg State.
NE-10
Assumption downed St. Michael's on Saturday, 4-3 behind a three-point game from Devan Sheath. After falling behind 2-0 in the first period, the Greyhounds scored three in the second period and one more in the third period to build a two-goal lead. Cameron Stewart scored late for the Purple Knights, but they had trouble generating shots against goaltender David Altman who needed only 12 saves to earn the win.
After beating Johnson & Wales 3-0 on Tuesday and tying Westfield State on Thursday, Stonehill broke into the conference win column on Friday with a 6-2 win over Post. Kayser Raei opened the scoring in the first minute and closed it out with a shorthanded empty-net goal to lead the Skyhawks to the win in a game where they were outshot, 42-37.
St. Anselm's John Femia tied the nonconference game against Salem State in the final three minutes of regulation on Wednesday and Matt Chisholm scored the overtime winner with just nine seconds remaining on the clock. The 5-4 win moved the Hawks to 8-7-1 on the season
NEHC
Norwich used two first period goals and 15 saves from Tom Aubrun stand up for a 2-1 win over Suffolk on Friday night. On Saturday, the Cadets made things a bit easier scoring seven times in a 7-3 win over Johnson & Wales. Coby Downs and Jordan Hall each scored two goals in the win over the Wildcats that brings the Cadets record to 8-1-0 in the NEHC.
Hobart picked up three points in a weekend series with Babson and Massachusetts-Boston. On Friday, the Statesmen battled Babson to a scoreless tie as Brad Arvanitis made 47 saves for the Beavers and neither team could make anything happen with their special teams. On Saturday, Hobart downed the Beacons, 6-2 with goaltender Liam Lascelle picking up his first win of the season. Meanwhile, Babson picked up a 4-1 win at Skidmore, with forward Ryan Black scoring one goal and adding two assists.
New England College raced out to a 3-0 lead on goals by Daniel Bergqvist, Trevor Momot and Alex Laplante in a 4-2 win over travel partner Southern Maine. Anthony Pupplo made 21 saves to earn his tenth win of the season for the Pilgrims.
NESCAC
Trinity swept an important weekend series against Middlebury and Williams on the road. On Friday, two second period power play goals helped break open a close game in Vermont where the Bantams held on for a 4-3 win. On Saturday, the Ephs outshot the Bantams by a 39-25 margin but couldn't get more than two behind Bantam netminder Tedy Loughborough. Defenseman Michael Grande broke a 2-2 tie in the third period to give Trinity the 3-2 win and weekend sweep in NESCAC play.
Bowdoin won two games behind the stellar goaltending of Alex Zafante. On Friday, Zafante's 36 saves made two first period goals from Bobby Murray and Jimmy Duffy stand up in a 2-1 win over Hamilton. On Saturday, Zafonte again made 36 saves but he did himself one goal better in a 5-0 shutout win over Amherst. The two wins moved the Polar Bears to 4-3-0 in NESCAC play.
Connecticut College was not involved in conference play this weekend but picked up three wins over Worcester State, Salve Regina and Salem State in a busy weekend. After a 4-1 win over Worcester State on Tuesday, the Camels downed a ranked Seahawks team by the same score on Friday night. Brett Moccia, Kyle Shero and Ryan Petti each scored in the second period to erase a 1-0 deficit and Connor Rodericks made 32 saves in the upset win. The Camels continued the momentum forward on Saturday with a 5-3 win over Salem State. Matt Creamer scored two goals as Connecticut College raced out to a 5-1 lead. Avery Gobbo made 34 saves in earning his first win of the season and the Camels solid week moved their record to 6-5-0 overall.
SUNYAC
Geneseo went on the road for two nonconference battles against UCHC opponents and came away with a pair of wins. On Friday, in a game of ranked teams, the Knights used a strong power play to down Stevenson 6-1. Conlan Keenan scored two goals and added an assist while Andrew Romano added a goal and two assists for the visitors who scored six unanswered goals after surrendering a 1-0 lead to the Mustangs early in the second period. On Saturday, Geneseo had to battle in a 3-1 win at Lebanon Valley. Keenan again scored, this time the insurance goal into the empty-net as Geneseo scored twice in the final seven minutes to sweep the weekend.
Geneseo's travel partner, Brockport also repeated the same win pair on opposite nights as they downed the Flying Dutchmen on Friday, 4-3 before upsetting Stevenson by the same score on Saturday. Against the Mustangs, Brockport rallied from a two-goal deficit in the third period on goals from Jordan Renaud and Ryan Romeo before Connor Hutchins won the game in overtime for the Golden Eagles. Goaltender Matt Schneider made 21 saves in the win.
UCHC
Not all the SUNYAC v. UCHC matchups went the way of the SUNYAC so alphabetically, the UCHC gets the last word in this week's recap. Both Utica and Elmira picked up big wins over Oswego this weekend that showcased teams going in different directions.
On Friday night, Utica carried over their momentum from their road sweep over Adrian into a 4-3 win over Oswego on the road. The Pioneers started out fast with goals from Kasper Kjellkvist, Conor Landrigan and Eric Holland to take a 3-0 lead. The Lakers fought back and ultimately tied the game on Josh Zizek's goal in the third period before Landrigan scored with just under two minutes remaining to give the visitors the win. Gianluca Baggetta earned the win making 29 saves for Utica.
On Saturday, Elmira played the visitor at Oswego and had a similar storyline in their 4-3 win over the Lakers. Building a 4-1 lead on goals from Nick Ford, Justin Robertson, Anthony Parrucci and Matthew Cuce, Elmira held off a rally spurred by two goals from Alex DiCarlo to hold on for the win and leave a frustrated Lakers squad at 7-7-0 on the season.
On Tuesday, conference leader Wilkes down Bryn Athyn 5-1 in a nonconference game. Nick Fea scored two goals, Donald Flynn added a goal and an assist and Tyler Barrow added a goal and two assists to pace the offense for the Colonels.
Three Biscuits
Alex Zafonte – Bowdoin – made 36 saves in helping Bowdoin earn a 5-0 shutout win over Amherst on Saturday. Zafonte was especially big in the first two periods making 27 of his 36 stops. Zafonte made 36 saves on Friday in a 2-1 win over Hamilton.
Curtis Carlson – Nichols – recorded a five-point game with three goals and two assists in leading the Bison to a 9-2 nonconference win over St. Michael's.
Eric Melso – Morrisville – scored a pair of goals and added an assist in the Mustangs' 4-0 win over Lebanon Valley on Wednesday including his tenth goal of the season.
The positive momentum continues to build for many of the top teams and virtually everyone moves exclusively to conference play for the remainder of the season looking to make noise in their respective leagues.