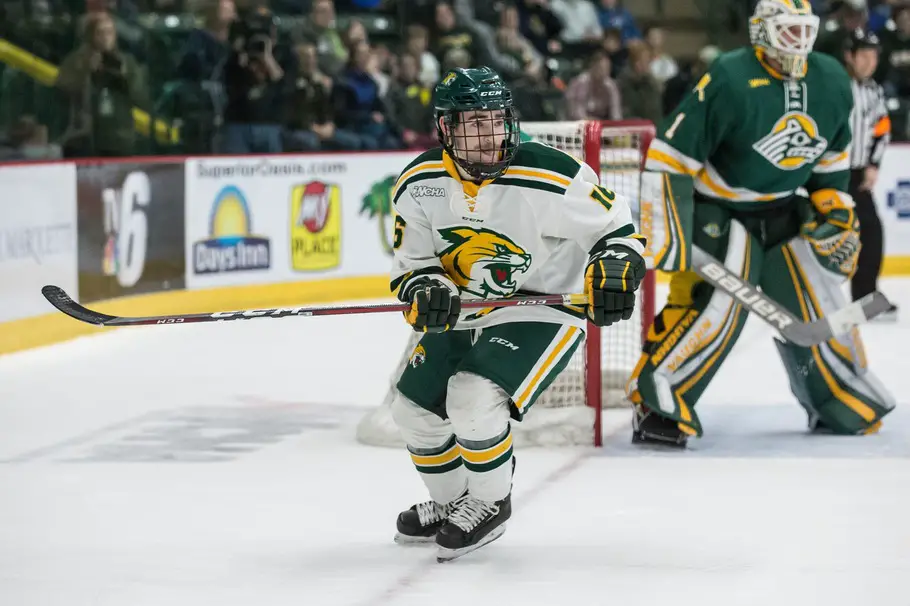 Depending on who you ask, Northern Michigan winger Griffin Loughran stands either 5-foot-6 or 5-foot-7.
The sophomore has been told at every level that he is too small and all he has done is find a way to be effective.
Through 22 games this season, Loughran has 17 goals and 28 points. His goal total is tied for the national lead and his point total is tied for sixth.
Clearly, he has become the catalyst of the Wildcats' offense.
In short, this kid is good.
"I think initially it starts (with) you have to have a certain level of talent and ability," said Wildcats coach Grant Potulny. "He obviously has that. If you look at his history, he scored big kind of everywhere he's been. He scored big in midget hockey, and then he went to junior hockey and scored there.
"There's always a little bit of a knock on him based on his size, but he's such a competitive person and competitive player that he can make plays for the middle of the rank because of his ability. He goes to the areas that you have to go to to generate offense."
The West Seneca, N.Y., native grew up in the shadow of the NHL's Buffalo Sabres, playing on Junior Sabres 16U and 18U teams before making the jump to juniors. In his first year with the 18U team, he finished third in the nation in scoring at T1EHL U18 level, just one point behind Michigan Tech's Tommy Parrottino.
The following season, he scored 55 goals and 114 playing for the Junior Sabres 18U team, which was tops in the country.
After getting a taste of juniors with the USHL's Youngstown Phantoms and the NAHL's Corpus Christi Ice Rays in 2016-17, he returned to the USHL in 2017-18 with the Fargo Force. He scored 18 goals and 42 points that season, but, more importantly, he drew the attention of Potulny and his staff in the preseason that year.
As a freshman, Loughran had just one point through Dec. 8, a goal he scored in his third career game against St. Cloud State. The following weekend, his game started to click.
On Dec. 15, he scored a goal and added two assists in a 4-2 win over Ferris State, and from there, he racked up 13 more points over the final 20 games of the season, including four multi-point contests.
Potulny could see that his young scorer was beginning to figure things out.
"In college hockey, it is very challenging for freshmen," Potulny said. "You kind of find out what you have the second half of the year with some of these guys. He started to come in the second half of the year and he was almost appointed game for us, so we knew there was a possibility that he had the ability to probably push that even closer to a point a game."
As a sophomore, he and junior winger Joseph Nardi have spent the season together on a line and it has worked out well for both skaters. Nardi is on pace to tie his career-best 20 points with his next point. Loughran is pacing the Wildcats with his goal total, points total, power-play goals (5), empty-net goals (4), and game-winning goals (3). He is also tied for the team lead with a plus-14 rating as well.
Potulny worked with Loughran to help him understand where he is most effective as a player, and that has worked to the young forward's advantage.
"He's a guy that plays right on the line," said Potulny. "A big emphasis this year of our focus was play on that line, but don't play over the line and here is your responsibility for all our offensive players to be on the rink and to generate. You can't do that from the penalty box.
"He's found that area where, he definitely pushes that line, but he stays right on it. That's what you know drives him during games to continue to push. He's so intense and so engaged in the game and just drive shift to shift to shift for him."
While he is small, Potulny feels that Loughran can actually use his size to his advantage.
"His size actually can help him a little because he can get low to the rink and it's hard to cover a guy that size," said Potulny. "There's been other players that have been that size that have been very successful college players.
"Sometimes his size is actually an advantage for him because he is so low, he is hard to cover."
During the Wildcats' recent four-game losing streak, Loughran, who has seven multi-point games already this season, still managed to chip in offensively with three goals over that stretch. After being held off the scoresheet the next two games, he has stormed back with five goals and eight points over his last five games.
The five games also mark a five-game winning streak for the Wildcats as a team, during which time they defeated then-No. 1 Minnesota State once, then-No. 11 Bowling Green twice, and Alaska Anchorage twice.
With a trip to No. 1 Cornell this weekend, the Wildcats play their final two nonconference games of the season. The games will be a great measuring stick for Northern Michigan as they look to battle their way to a home playoff spot in the WCHA.
Battle at the top
No. 15 Bowling Green plays host to No. 3 Minnesota State this weekend. The Falcons are fresh off a five-point weekend on the road at No. 19 Michigan Tech where they held on to win 3-2 Friday before earning the second WCHA point Saturday by scoring in the 3-on-3 overtime session.
Cameron Wright scored the first goal of the night in both games for the Falcons.
The Mavericks swept the Ferris State Bulldogs, 5-0 and 5-1 over the weekend. Marc Michaelis scored twice in Friday's win and had two assists in Saturday's victory.
Huskies head to Bemidji with playoffs in mind
After gaining just one point at home against the Falcons last weekend, Michigan Tech finds itself alone in sixth in the WCHA standings with 25 points, 12 points behind second-place Bemidji State.
The Huskies fought valiantly last weekend despite missing seven players with illness and another, defenseman Keegan Ford, to injury. They got defensemen Eric Gotz and Brendan Datema back for Saturday's game, and both had an impact over the course of the game.
The Beavers swept Alabama Huntsville on Thursday and Friday last week. Elias Rosen had a big night on Thursday, scoring twice in the contest.