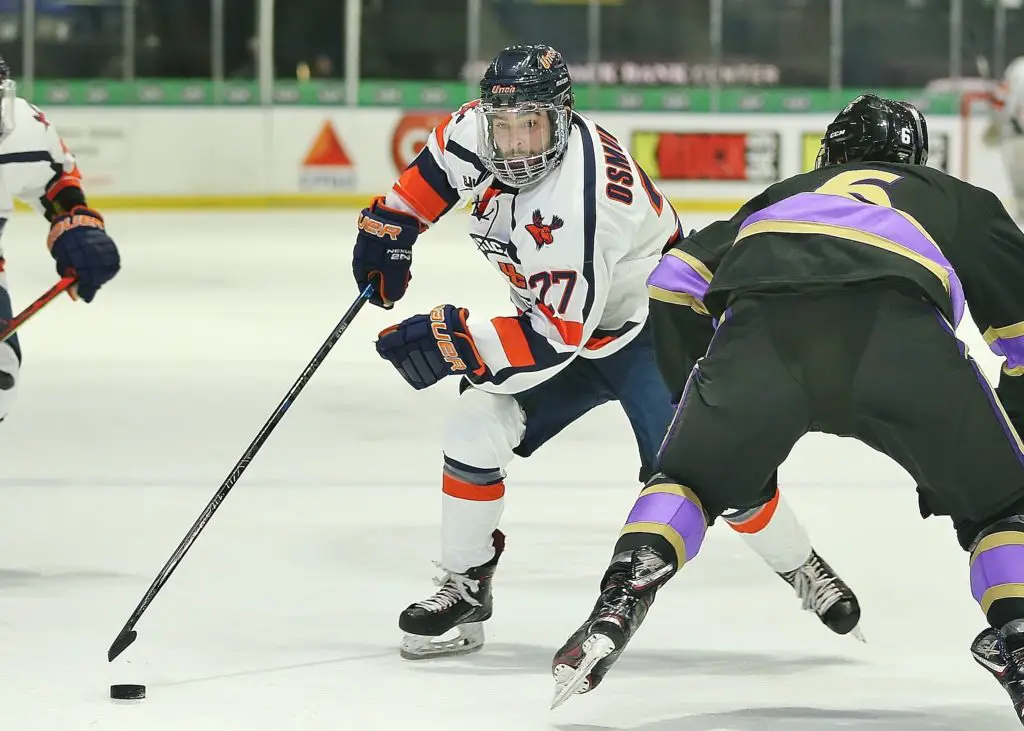 Riding a five-game win streak and 10-2-2 on the season, the Utica Pioneers are starting to play some consistent hockey and that has the coaching staff very optimistic about a special second half of the season. Following road wins over Adrian, a two-game series, and a win at Oswego this past weekend, the Pioneers have found ways to win despite some inconsistent play and now are getting healthy and finding their game at the most important time of the season.
"It has definitely been a learning experience with this group so far," said head coach Gary Heenan. "You combine some of our key injuries among top six forwards and losing our starting goaltender for a stretch – it makes for some challenges with a younger roster than we anticipated having this season."
After last year's loss to Manhattanville in the new playoff format, the coaching staff realized they needed some size if they were going to compete at the highest level and among the NCAA elite in D-III. That led to some recruiting actions that see a fair number of freshmen in the line-up that are still learning the college game.
"We knew we needed some size," noted Heenan. "If you look at our roster with our incoming guys you see a lot of six-foot plus kids. We turned over the roster a bit to be bigger with a lot of 6'2", 6'3" and even a 6'5" freshman forward and 6'6" transfer from Curry [Kasper Kjellkvist]. The team has put up some results but not quite the consistency we know we will need to face the best in our league and nonconference moving forward in the second half."
If the first three games in calendar 2020 are an indicator, then the process is working out ok with three consecutive road wins that include beating nationally-ranked Adrian and Oswego this past weekend.
"We were 0-3 against Adrian, in our past history playing them and those two games may be a couple of the craziest I have coached in," stated Heenan. "Eight goals in the third period of the first one, goals and disallowed goals in the final minute and an overtime winner in a 7-6 hockey game made for a crazy game to watch never mind coach in. The next night we knew they would come out angry and push the pace and I was not pleased with how we got down early but was pleased that we came back and tied it up to get it to overtime. Regen Cavanagh scored both the overtime goals and he is coming back from an injury and was really snake-bit scoring goals so hopefully this will get him going. Oswego is always a big challenge at their place and maybe more so having lost a couple of games in their tournament. It says a lot that we can get a win against that roster and talent level in their building."
The 4-3 win at Oswego saw the Pioneers reverse the Adrian script as Utica jumped to a 3-0 lead only to see the Lakers tie the game at 3-3 with two goals in the first ten minutes of the third period. A timeout right after the tying goal settled down the Pioneers who ultimately used Conor Landrigan's goal in the final two minutes of play to earn the victory and move to 10-2-2 on the season.
"We are getting guys back and having Gianluca [Baggetta] back in goal should help us a lot and improve our penalty kill and overall defensive play," said Heenan. "Being healthy and integrating all our planned lines is showing promise especially with some of the younger players like Brandon [Osmundson] who has just been great all season for us."
Osmundson (10-14-24) leads the Pioneers in goals and points and is also among the few Utica freshmen not six-foot or bigger.
"We committed to Brandon early," said Heenan. "He is an incredibly intelligent player and has really got his feet moving as a big part of his game. He is really fun to watch and will be an exciting part of our program. He may be a smaller player, but his game is big, and we need that in the UCHC when you see some of the offensive talent, we face night in and night out."
This weekend the schedule doesn't get any easier for the Pioneers who are in the midst of a stretch that includes seven of their first ten games on the road. This weekend includes a strong Wilkes team that is unbeaten in conference play so far this season and King's the following night. Utica's remaining 11 games are all UCHC battles.
"We thought with the coaching change that maybe there would be a little drop-off from Wilkes but that certainly has not been the case," stated Heenan. {Daniel] Flynn, [Nick] Fea, [Tyler] Barrow are about as good as it gets in this league offensively, so we need to play a full sixty minutes and continue to build on the positive momentum we have generated to start the second-half. It is all conference play now and the league is so competitive – we need to be ready to play every night."