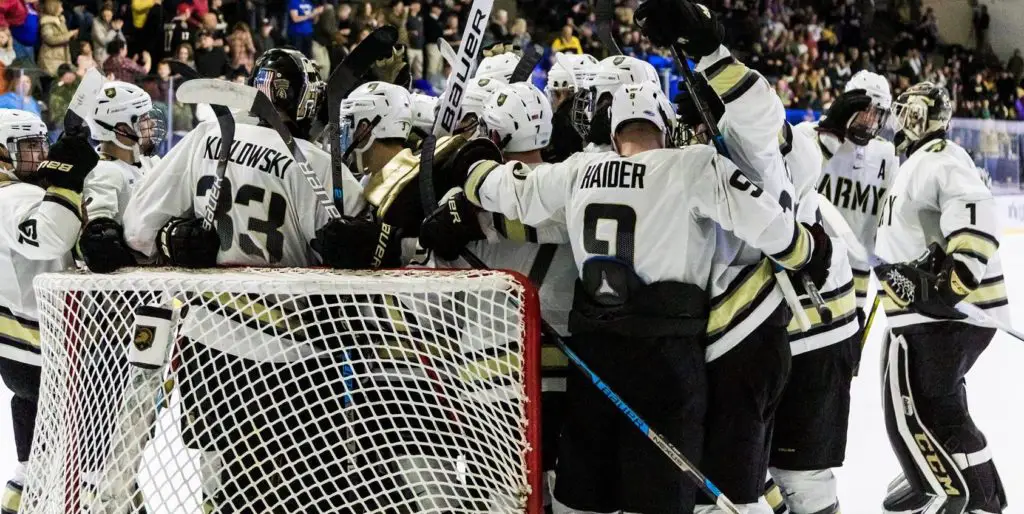 Atlantic Hockey entered uncharted waters this season when it became the first eastern collegiate hockey conference to sponsor a three-point, shootout format.
While the majority of the games wouldn't change, the concept of going to a 3-on-3 shootout before playing a shootout to determine a second-point winner was met with varying degrees of enthusiasm or skepticism. Everyone raised an eyebrow and awaited the first results before entirely figuring out how it would move forward.
This past weekend, the shootout format enjoyed arguably its best moment during a raucous series between Army West Point and Air Force.
A sold-out Tate Rink crowd watched as the two military service academy rivals engaged in a see-saw affair on Friday night, the first of two games between the two. The roof nearly exploded when the Black Knights' Eric Butte scored to tie the game in the last minute of the third period.
Nothing compared to the thunderous ovation sent all the way back to Colorado Springs in the shootout, though.
In the ninth round, Kevin Dineen skated up ice and beat goaltender Alex Schilling, touching off a wild celebration among the cadets and fans gathered to watch the two battle for 70 minutes and beyond.
"We had to pull the goalie to tie that game, so the building was rocking," Army West Point coach Brian Riley said. "Then you get into the overtime and the 3-on-3, and nobody here (at West Point) had seen that or a shootout (in a college game) before. Then we go nine shooters, and when it ended with us getting that goal, it was electric. You pick up that extra point, but it feels like you completely won that game."
The shootout angle added another layer to arguably the league's biggest rivalry.
Army West Point and Air Force only play each other twice this season, so the games, already must-watch theater, intensified in their importance. The points became critical beyond even the AHA standings and drew the attention of administration ranking beyond the academy campuses in New York and Colorado.
"The Chief of Staff of the United States Army (James C. McConnville) is a big hockey fan from Massachusetts," Riley said. "He grew up playing hockey, so having in our building (for the weekend) was great. He was in the locker room and jumped on the ice during our Saturday pre-game skate. That means a lot, when one of the top generals in the United States Army is at the game. It's how important Army hockey is to even the highest-ranking members of the armed forces.
"There was a moment where he walked out on the ice with the academy superintendent (Darryl A. Williams). You know, you get a little nervous when that happens because you wonder what could have happened, but he announced that a big inspection scheduled for the next morning was canceled. We probably had 500 cadets in the building, and they went absolutely crazy."
It was all part of the emotion of games between the two teams.
There is always the overarching shadow of needing league points, especially this season with the added layer of earning one point in a 3-on-3 or shootout loss. Points, already at a premium, become even more critical, and at its heart, this past weekend was two games between the second place and fifth place teams in the conference. But there's still that undeniable rush that comes with beating an archnemesis rival.
"The bottom line is that six points were on the line this weekend, which you can't lose sight of," Riley said. "But when you play Air Force, it's just different. When you win, it feels different, and it feels different when you lose. Everyone in our league has rivals, but in our matchup, everyone watching knows what (the cadets) are going to do when they graduate. It makes that matchup more special."
Army and Air Force are different, and their presence makes Atlantic Hockey a different kind of conference. It's hockey's answer to the Army-Navy football game, and even though it lacks the long history or publicity, some of the same traditions echo as important. The teams will battle forever on the ice, but there's a different kind of battle awaiting them afterwards, one where they suit up and line up as teammates instead of adversaries.
"When the game ends, we lined up the seniors from each team on the red line," Riley said. "Every player lined up behind them, and we played the alma maters. Then they salute the fans together (around the faceoff circle). When you hear the alma maters and see the stick salute together, it really makes you realize how special this matchup is."
Not done yet, Army
The wins over Air Force enabled Army West Point to sing its alma mater second, but the Black Knights are far from finished with their on-ice military responsibilities. This week marks the annual game against the Royal Military College of Canada, which will be played on Saturday at Leon's Centre in Kingston, Ont.
The game is officially an exhibition game that won't count towards any NCAA record books, but it's one of the biggest games on the West Point hockey calendar since the teams restarted the annual meetings in 2013. The Black Knights hold a 46-29-7 advantage over the Paladins and enter this year riding an eight-game winning streak. Their undefeated stretch reaches back further, through a 2006 tie in Ontario, to a 2002 overtime loss.
"It's like going into a snake pit up there," Riley said. "The whole school is in the building, and everyone knows what hockey means to Canada. They want nothing more than to beat us. The one thing about playing up there is the atmosphere. It's great to play in these types of games. I know our players really enjoy it."
Remember us?
My spelling is an exceptionally bad habit whenever I write out the first draft of any story. My brain fixates on one word for some reason, and I spell it wrong almost every single time through until I go back and start fixing words or rewriting paragraphs.
This week, my brain kept misspelling the Sacred Heart school name. I don't know why, but it kept renaming "Sacred" to "Scared." As in "Scared Heart."
As in what everyone should probably feel whenever the Pioneers show up on the schedule.
Sacred Heart opened up its second half of the season without missing a beat from its first half, steamrolling through a road trip at Mercyhurst. The six-point sweep, which featured a 9-3 win on Saturday, gave the Pioneers a 14-point cushion over the drop-off out of a first round bye. That's almost a five-game lead under the new scoring rules, in layman's terms.
The Pioneers are threatening to blow the standings wide open, though Army West Point is currently keeping pace with 37 points. Both teams have commanding leads over an increasing divide down through the remainder of the standings, which is both good news for their desire to obtain a bye and bad news for teams looking up at them.
Tectonic plates
Speaking of that divide…
The one drawback to the three-point system is the appearance of a chasm between teams. It's easy to automatically assume a nine-point cushion is insurmountable because, under the old system, it was a four or five game lead. But the new system is going to make it easier for teams to rally for points through losses even though it also could get out of hand in a hurry.
I just mentioned Sacred Heart and Army West Point. Both are threatening to lock up two of the league's top four byes before we even get into February and are a few weekends away from potentially grabbing at least one of the top five. It puts pressure on the teams below them because winning the 3-on-3 overtime or shootout still results in a net-negative of points against the top two. If Sacred Heart wins in regulation, for example, a team like AIC needs to hit the gas pedal to get the third point – and the second point after a tie becomes even that much more critical. A net-negative of one is, after all, a better situation than a net-negative of two, strictly by the numbers.
Likewise, there is pressure to continue winning regulation games to avoid being caught from behind. Bentley and Holy Cross are tied for seventh place with 20 points, five points back of a three-way tie for fourth and eight-points back against AIC. The Yellow Jackets head to Bentley for two games this weekend. A big weekend out of the Falcons dramatically alters the playoff race, even if it's a four-point weekend over a six-point weekend.
I know the rest of this season is going to result in something weird or funky happening in Atlantic Hockey, and I wouldn't be surprised if a team needs to pull its goalie in overtime to go for broke in the last couple of weekends to avoid going to a 3-on-3, just to clinch positioning.
Games to watch this weekend
— I'll start with that Bentley-AIC series because it's the only "rivalry" weekend in Atlantic Hockey. In Division II, the two teams make up part of the Northeast-10 Conference and play each other in all sports, making this one of those series retaining intensity even as it flies under the radar. Along with Holy Cross, they also comprise a corridor of Massachusetts highway less than 90 minutes wide.
— Canisius heads to Sacred Heart for a road series against the Pioneers, and it's quickly turning into one of the hottest weekends in hockey. Canisius officially earned two ties at Bentley last week but turned both into extra points by winning both a shootout and a 3-on-3 overtime. On Saturday, the Golden Griffins rallied from down three goals with ten minutes left in the game to force the overtime, and they're now undefeated over six straight games. Compare that to Sacred Heart, which is just downright frightening to play against.
— RIT heads to the desert to play Arizona State in a sneaky important series for the Sun Devils. Arizona State is coming off a weekend sweep against Brown but desperately needs to avoid losing to literally every opponent in the second half of the season. Three of its remaining six weekends are against AHA teams, with a fourth against Alaska-Anchorage, and losses against those teams would be devastating from a PairWise perspective. So for RIT, the chance to play national spoiler is very real against a team currently sitting at No. 14.