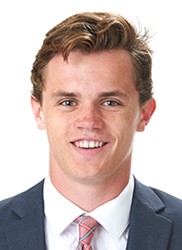 New Hampshire freshman forward Robby Griffin has left the team – and the game of hockey.
In an Instagram post Jan. 14, Griffin stated that he "never thought this day would ever come."
As a young kid growing up playing hockey, I never thought this day would ever come.
After lots of thought over the last couple of years, I have finally come to the realization that playing hockey is no longer for me.

Walking away from the sport I have loved for so long is the toughest decision I have ever had to make, but in the end, it is the right decision for me. I won't forget the endless amount of memories, teammates, coaches, and experiences that have come with the sport of hockey. But now, it is time for me to move forward. I'm excited to explore new interests and see where life takes me!
In 13 games this season for the Wildcats, Griffin posted one assist, 15 penalty minutes and a minus-2 rating.