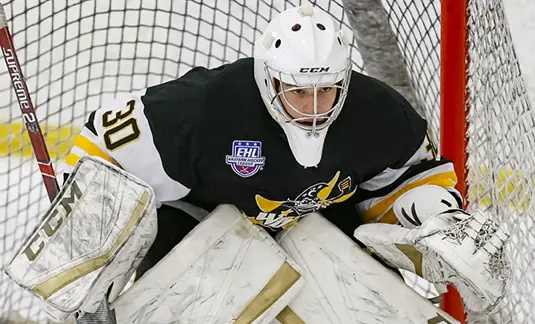 Jarret Bovarnick, a goaltender for the EHL's East Coast Wizards, has committed to Suffolk for the second half of the 2019-20 season.
The native of Boca Raton, Fla., was in the middle of his first year with the Wizards, and had put together a record of 8-5-1 in 14 starts with a 2.60 GAA and a .907 save percentage.
"I am very happy for Jarret," said Wizards coach-GM Freddy Meyer. "Suffolk was always his top choice, and it's extra special that it came together as quickly as it did. While we will definitely miss his presence on our team, advancing these players to college hockey is the main focus, and we are proud of this commitment."
"I would first like to thank the entire Wizards organization for making this opportunity possible," added Bovarnick. "I would also like to thank my family, past coaches, and friends for supporting me throughout the journey. Playing for the Wizards has been an imperative part of my development as a goalie as well as a person and teammate. Coaches Freddy Meyer, Kory Falite and Adrien Peacock have been mentors on the ice as well outside the rink, and I cannot thank them enough.
"Finally, I would like to thank my goalie coach Robb Tallas for making me the goalie I am today. I can't wait to continue my academic and athletic careers at Suffolk this spring."