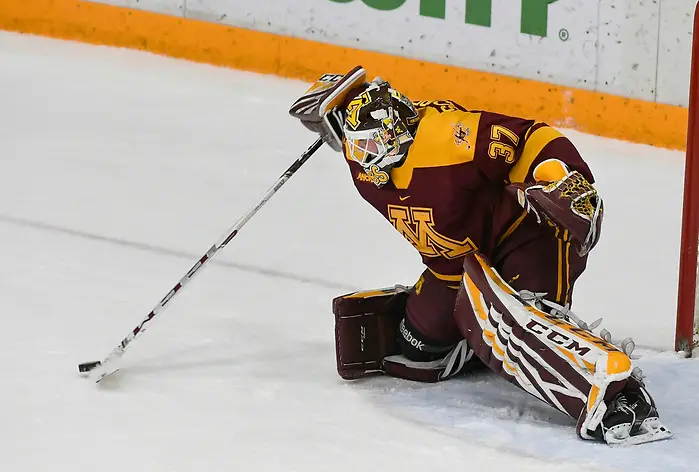 Nicole: It certainly was an eventful few weeks of hockey since the winter break. There were plenty of surprising results. Union tied Cornell and Yale took down Clarkson. Providence beat BU, Syracuse won an 8-3 game over Mercyhurst and RIT defeated Robert Morris, who was coming off a big weekend win over Colgate. Harvard lost to Quinnipiac and biggest of all, Bemidji State beat Wisconsin.  
The win is an upset of the top team in the country, though not a surprise. The Beavers took advantage of the holes in the Badger defense and Clair DeGeorge seemed to find the scoring knack she's shown in years' past, but had been missing so far this season. Bemidji is so good at stifling, shutting down and frustrating teams with a defense that swarms, gets in the way of pucks and generally doesn't allow a team any good looks at net. DeGeorge's second goal was perfectly executed by the Beavers in terms of an odd-player rush and a trailing skater, but also highlighted exactly what's been dogging the Badgers. The Wisconsin defense was out of position, got beat and struggled to recover. 
Arlan: I think that Bemidji is a team that is difficult for people outside of the WCHA to appreciate. Maybe the coaches understand how difficult it can be to take on the Beavers, but most fans around the country just see them in the first couple of months. By the second half of the season when Jim Scanlan has everyone on the same page defensively, they may be as good at holding a lead as any team in the country. The goaltending has been more up and down in the last few years, but on the days when Lauren Bench or one of the other options is on, then look out.
I watched some of the Friars' win over BU, and the one goal that the Terriers scored came in part because a Providence forward opted to go with the flamingo rather than committing to blocking the shot. The Bemidji kids look like they'd rather come off the ice minus a leg than ever shy away from getting in the path of a shot. Any visiting team that skates onto the ice of the Sanford Center could easily be returning home with a loss. The Beavers got off to a rocky start with a loss to Lindenwood, back when the Lions still had goalies, and a thumping at the hands of Providence. However, before they had rattled off nine straight wins before dropping close contests to Minnesota-Duluth and Wisconsin.
Nicole: The Badgers are at a point where they're struggling to trust any of their defensive pairings on the ice. The offense has been able to compensate for a lot of those miscues, but a team like Bemidji really shuts down a team's offensive chances and Wisconsin was simply unable to recover from the miscues on the other end of the ice. 
With how they're currently playing, I don't know that we can say the Badgers are likely to repeat. I had a lot of stock in Cornell, but this past week obviously gives me pause. Northeastern seems to be a pretty complete team, but even as the Badgers have struggled, they defeated the Huskies head-to-head last weekend. That leaves Minnesota, who I haven't been able to watch in a few weeks. They're in Madison against the Badgers in two weeks, so we'll get a good idea of where the two teams match up, but I have to ask you, based on what you've seen to date, are the Gophers the best team in the country right now?
Arlan: I'd say that there is a group of at least four teams that are still prime contenders for the title, and Minnesota is in that group. I'll expand on Minnesota later in this column, and I have some thoughts on Yale as well, coming off of the Bulldogs' successful weekend hosting the North Country teams. I wouldn't change my thoughts on Northeastern much, if at all, based on Wisconsin winning in Pittsburgh. I imagine that if Nadine Muzerall saw the overtime from that game, she was wondering why those referees couldn't have been working her team's semifinal loss to Clarkson in 2018. A Badger got away with a more blatant interference on Katy Knoll an instant before Caitlin Schneider scored the winner; the play was eerily similar to the Buckeyes' goal that was nullified in 2018, except the whistles stayed silent this time.
As for a comparison of Northeastern and Wisconsin overall, I'd expect that Dave Flint and the Huskies would be okay with a rematch down the line. The Badgers controlled play, but don't they usually? With Aerin Frankel playing so well in net for the Huskies, it looked about 50 percent that either team would come out on top until Wisconsin got the power play opportunity. 
Usually, I would favor the Badgers to repeat, because they have so many kids in their locker room with an understanding of what it takes to be champions. I haven't seen them play with the regularity that you have, but defensively, this isn't typical of a Mark Johnson team. Kristen Campbell recorded her third shutout of the season at Ohio State on Oct. 11; she hasn't had one since then. A large part of that is the blue line, as you stated, but Campbell herself hasn't looked like she did in the postseason last year. Wisconsin could win just by outscoring everyone, but that hasn't worked for high-octane teams in past tournaments. A more likely scenario is that Johnson gets everyone on the ice, including the forwards, to commit to defending more like Bemidji and the Wisconsin teams that have raised banners.
Nicole: We knew things had been a struggle at Boston College, but I can't be the only one surprised by the Eagles' last few losses. The New Year's Eve 7-1 loss to Harvard definitely left me assuming their series against Northeastern wouldn't go well, but I also didn't expect them to lose 6-0 and 3-0. They fell out of the national rankings for the first time in a decade. At this point, it's difficult to believe It was just four years ago that they played a perfect season until the national championship game, which they lost to Minnesota. 
We've talked about the Eagles' struggles on a game-by-game or weekly basis, but at this point I think we have to talk big picture. When I saw BC in Nashville after Thanksgiving, I talked to Katie Crowley about being so aggressive on offense and she said it was something she was really comfortable with. But I wonder if they've become too reliant on it. 
Quick counters and short-handed goals are a large part of the team's offense, but I think their Hockey East opponents have figured out how to defend against that part of their game and hem them in on the defensive end, leaving BC looking one-dimensional and struggling to score. 
Do you have any thoughts on what's going on in Chestnut Hill?
Arlan: Earlier in the year, you asked me who I favored in Hockey East, and I picked BC over Northeastern, so consider the source on what I say here. This is the second straight year where the Eagles have seemingly skated off a cliff a few weeks into the season. I haven't been the biggest fan of BC's defensive efforts in recent seasons. Skaters look to have more exuberance for rushing the puck up the ice than skating back to their own end to help their goalie. The Eagles have experienced a lot of success anyway, by possessing the puck more often than not. During Katie Burt's years, I thought that she came up big for them on many occasions and made the defense look stronger statistically. Recently, both the goaltending and the goalscorers have slumped. The defensive issues have been there longer, but BC has now only scored twice in its last five games.
I don't know enough about what goes on there to say why. Does the strategy not work with a slight dip in talent? Are there injuries that the Eagles are struggling to overcome? Are there problems in that locker room? Maybe BC just isn't getting the bounces, but when you lose by six goals, that's a lot of bounces.
Even though the last couple of months have been disappointing, BC is second in Hockey East points. This is about the point where the Eagles rallied last year. Should we expect more of the same, or should we be looking for some other squad to provide the biggest challenge to Northeastern? Perhaps we need to consider another group of Huskies, as UConn's .633 HEA winning percentage is second only to Northeastern.
Nicole: With the varied results of the past few weeks, I don't feel comfortable picking any games or hypothesizing on what teams might be able to make a run. It feels like a losing proposition from every angle. I talked about this a little on Twitter, but I feel like the last few weeks particularly really give proof to how much improvement and parity we're seeing in DI women's hockey. If folks only look at the top, I can see why they might think this is more of the same, but the volatility of the weekly rankings and the upsets week after week really show how much the gaps have narrowed.
You've got a great point about Connecticut – they've got a number of wins over top-half teams and have been sort of quietly going about their business putting together a solid season. They've managed to make it this far into the season without playing Northeastern, which probably isn't going to help their win percentage, but I think they're definitely a threat for pulling an upset or two (or more) come Hockey East tournament time. 
Despite BC hanging around second-place, I do think we'll see Boston University end up there by the end of the season. It's been a bumpy stretch for them where they've dropped points to teams I think they probably should have fared better against. But lucky for them, the next two weeks are against teams at the bottom of conference standings and they should be able to right the ship, earn some valuable points in the standings and be in a good spot to play Northeastern and in the Beanpot. 
Circling back for a moment, I asked you about the Gophers up top, but we got sidetracked. Though the results have been mostly the same, this is a differently looking team than we usually see in Minneapolis. 
Arlan: The Gophers, who just returned to the top of USCHO's poll, have several strengths. The heart of the team is likely a blue line that is a legitimate six players deep. The forward lines aren't quite as deep as a year ago when they rolled four lines most of the time, and their top line trails the output of Wisconsin's top unit by more than 50 points. Minnesota possesses a number of players who can emerge as the top threat on the ice in any game and has managed to put together enough offense to post multiple goals in every outing thus far. And in net, Sydney Scobee is wrapping up her college career in style, as she ranks in the top four in save percentage, goals against average, shutouts, and winning percentage. I'd expect that the jostling for the top spot isn't over, as Minnesota has four tough series coming up. First, it hosts the Buckeyes, with Saturday being an outdoor game, followed by a trip to Madison.
In the first series after the new year, Yale employed a trapping defense that limited Minnesota's potent offense to just three shots and no goals in the opening 20 minutes. As the game went along, the Gophers were able to figure out how to attack that system and were able to come away with a pair of victories by three-goal margins. However, the Bulldogs gave a good accounting of themselves. They transition quickly and compete to the end, qualities that served Yale well in sweeping Clarkson and St. Lawrence, with junior goaltender Gianna Meloni earning both victories. If Meloni and her team can maintain the level of play that they've shown this month, they can be a factor in the ECAC race, where they've closed to within a game of Clarkson for fourth place and home ice.
Nicole: I wrote about Yale back in November because I really liked what I'd seen out of the Bulldogs early in the season under new coach Mark Bolding. They have some really interesting young players like Elle Hartje that are really showing how much they've grown just over the course of the season. The team has already surpassed last year's win total and I agree that they are going to give teams a difficult time down the stretch and into the ECAC tournament. 
Arlan: As for Cornell's tie with Union, could the offense for the Big Red be reverting to the mean a bit? In recent years, Cornell has made do with an offense that has averaged in the neighborhood of three goals per game. That improved noticeably this season, and its scoring average is at 3.71. When the Big Red fail to win, it's largely due to the scoring prowess vanishing. They've been held to a single goal in both ties and their lone loss. On the season, they've scored only one regulation goal in five of their 17 contests. The last out against winless Rensselaer, the Big Red netted only two goals on 46 shots.
Cornell does possess the nation's stingiest defense, but do you think that it can find enough offense to win three straight come NCAA Tournament time?
Nicole: Ouch, those are some stark numbers. And the most frustrating part for the Big Red is that there's not much that can be done about it – you just keep shooting the puck and hope the puck luck changes. We've seen other teams weather power outages like that and I assume Cornell will do the same. They are usually so shut-down on defense that they don't have to be overpowering on offense, so their blueliners are used to carrying the weight and keeping the team in games. 
Though it was maybe not as eye-catching as some of the other weekend results, I was really impressed with Syracuse's showing against Mercyhurst. The CHA is a tight race right now, with Mercyhurst and Robert Morris tied atop the conference with 12 points and the Orange one point behind. Syracuse is 6-14-1 overall this season, but 5-2-1 in conference play. 
It's almost like a tale of two seasons for the Orange. They scheduled a really diverse and interesting non-conference slate. They started out 0-9 thanks to games against Clarkson, BC, Northeastern, Princeton and Colgate. Since then, they've also played St. Lawrence and Cornell. They did not earn a single win in those games, but I don't think it's a stretch to say that those games prepared them for the rest of their schedule and that just might give them the edge over Mercyhurst and Robert Morris. 
Do you have a gut instinct on which team will emerge atop the CHA?
Arlan: My gut isn't any better at this than my head is. Instead, I'll go with a poor man's form of analytics. Each team has at least one series remaining against every other conference opponent, plus an extra series versus a CHA team that it hasn't played yet. Given that Lindenwood is at the bottom of the standings, a team with four games left versus the Lions would seem to have an advantage. However, that team is RIT, and in spite of their upset of Robert Morris, the Tigers look destined to finish fifth, so we'll have to look elsewhere. 
Over the years when I've been asked to pick a winner in the CHA, I've given Mercyhurst the nod more often than not, and I'll do so again. One reason is that the Lakers have four games remaining versus Penn State. This isn't a knock on the Nittany Lions, but Robert Morris and Syracuse will be playing each other four times. The chances are good that RMU, which currently is tied for first with the Lakers with 12 points, and Syracuse, 11 points, will come close to splitting those points down the middle. If Mercyhurst could take three out of four contests from PSU, it might be able to pick up some ground. Also, Mercyhurst will meet both the Colonials and the Orange on its home ice.
That's the best that I can do. Syracuse thrashing Mercyhurst 8-3 last weekend may make that look like an ill-advised pick, but at least the Lakers rallied with a 4-3 win in overtime the next day. If I try to split hairs looking at the rosters and statistics of individual players, no clear trend emerges given the disparate nonconference schedules. Robert Morris has won the season title three years in a row with the Lakers finishing second each time by slim margins, so let's just say that Mercyhurst is due.