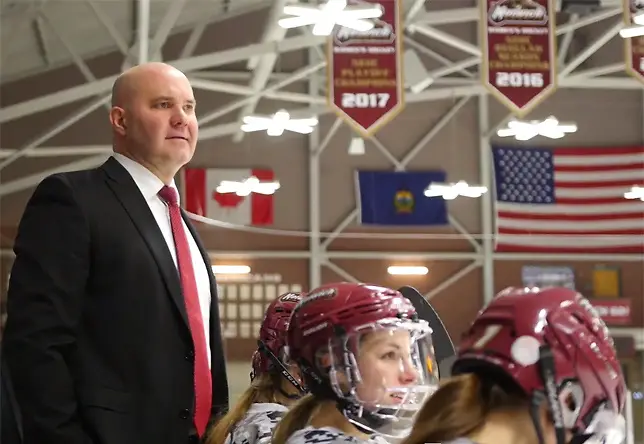 Mark Bolding is the latest coach to make the jump from Division III to Division I. He took the helm at Yale this season after spending 12 years with the Norwich Cadets. In Vermont, he began the women's hockey program at his alma mater, winning two national championships – in 2011 and 2018 – and appeared in seven Frozen Fours. It was an impressive run and Bolding admits he was comfortable there. 
While there had been other offers to move on during his time at Norwich, this opportunity at Yale drew Bolding for a number of reasons, some personal and some professional. Bolding has five children and the ability to move to a more urban area appealed to his family. 
The resources, university support and history made Yale appealing, he said. He'd started a program from scratch and left it in an incredibly successful place. Yale brings different challenges and Bolding is looking forward to building the program back up and getting it on steady footing.
"I thought it would be a great opportunity. I'm definitely looking forward to seeing what I can do here, trying to have a long run. Stability with Yale's women's hockey would be a great thing," he said.
The Bulldogs have just two winning seasons in their NCAA history. They've never qualified for the NCAA tournament. They finished fourth in the ECAC 15 years ago, but haven't finished higher than seventh since. Prior to last season, they'd qualified for the ECAC tournament in four of the past five seasons, but finished just outside in 2019. 
Bolding talked about walking before the team can run, but he thinks a goal of returning to the NCAA tournament this season is an achievable one. 
The team is off to a good start. While the Bulldogs won just eight games all of last season, they already have five victories to their name. Bolding says some things were exposed when they played teams like Boston University, Colgate and Cornell, but the team has also taken care of business against teams they should be beating. High-profile or upset wins will come with time, but consistently getting points and victories over opponents they think they can beat is a solid foundation for the team to build off of. 
A new coaching staff taking over a roster of players that were recruited by and made promises to a different leadership group can make the transition difficult, but Bolding's approach takes a gentle hand. Instead of imposing his philosophy onto the team and forcing players into new roles, Bolding said he and his staff are giving the team the opportunity to figure some of the transition out on their own. 
He's expecting the team to take ownership of their own program, to some extent. After all, they know most everything about the campus, their rituals and how to juggle hockey and academics at Yale better than he does. 
"More than anything, it's a matter of getting them to buy in to what we're selling right now and letting them to solve part of their improvement and finding the leadership within the team to find ways to be a better team," he said. "They know more about the university than I do. They know the landscape and the opponent. We have to trust them. (We have to) trust each other and put everything aside and work together. If we can do that, a lot of the issues and expectations will be set not just by the coaching staff, but by the players."
One reason this approach is working is the demeanor of assistant coach Danielle Blanchard. A National Player of the Year during her college career, she won two national championships as a player and five as a coach at Plattsburgh State. But being a great player doesn't necessarily translate to being a great coach. 
Bolding knew Blanchard had been successful on the ice and on the bench at Plattsburgh, which is what led him to offer her a job as his assistant. But what he learned since working alongside her at Yale is that she brings a low-key, calming presence to the bench. Her thoughtful approach goes right alongside this philosophy of taking a light hand with the players as they all feel each other out. 
"What I find amazing with her is her balance of the knowledge of the game and her patience," Bolding said of Blanchard. "She's not a talker and a real boisterous coach, but she's more of a thought-process coach. She's very kind and caring, highly intelligent, highly motivated. She's calm. She's patient."
Patience is going to be one of the keys for Bolding, Blanchard and the rest of the staff. But more important, Bolding said, is communication. As long as everyone knows what's expected of them, the Bulldogs can continue to grow and build on their already strong start to the season. 
"We're trying to fight to get ourselves in the playoffs. I like their effort," said Bolding. "To have a good year, we're going to have to work hard at both ends. The team culture of work ethic and playing in both zones is going to be one that we're going to foster here. The older players have to stabilize things, but the younger players are going to get pushed as much as I can."