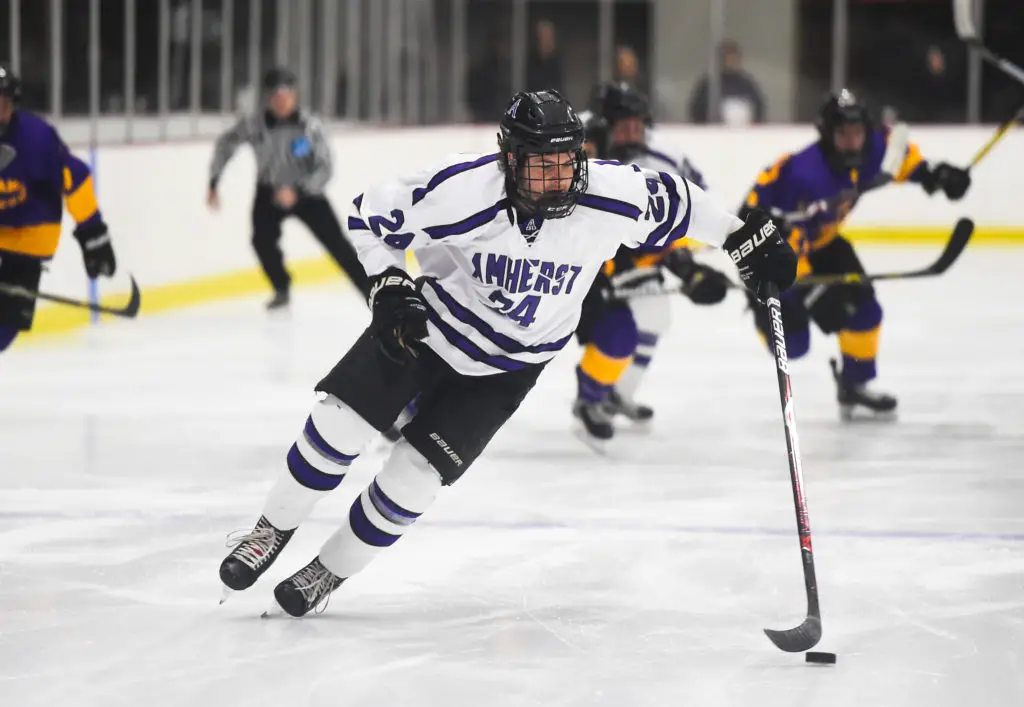 The teams you expect to be playing well are for the most part, but a growing list of teams off to a good start are in position to show why they are ready to contend in their respective conferences. Points are important in any conference game and teams are focused on earning them. Last week my underperforming picks finished at 4-5-0 (.444) so I dropped considerably on the success percentage front. Overall, the record is now 15-10-2 (.593) so time to get work and figure out some winning selections and rebound. Here are this week's picks:
Thursday, November 21, 2019
Fitchburg State @ Framingham State
The battle of the "FSUs" should be an entertaining affair. Look for the visitors to get a fast start and rely on some solid goaltending from Brian McGrath to earn the win –     Fitchburg State 5, Framingham State 3
Friday, November 22, 2019
No. 8 Trinity @ Amherst
The match-up always produces great hockey and if the game were in Hartford, I might have gone the other way on the pick. A re-match of last year's title game could mean an overtime winner – Amherst 2, Trinity 1
Babson @ No. 1 Norwich
The Beavers have had success in Northfield over the years, but this Cadet squad seems to be building something special. It is hard to win when goals are hard to come by and Norwich will make it very hard on the visitors – Norwich 3, Babson 0
No. 6 Oswego @ No. 4 Hobart
This is a big non-conference game between nationally ranked teams and will play like a playoff game with the Lakers looking to rebound after a tough loss at Geneseo last week. The Statesmen don't make things easy on the visitors and eke out an overtime win – Hobart 3, Oswego 2
Southern New Hampshire @ St. Anselm
The Battle of Manchester reconvenes as these city-mates rekindle one of under-rated rivalries in sports. Last year the Penmen took the title on the Hawks home-ice so look for the hosts to be a bit inhospitable and eke out the win – St. Anselm 4, SNHU 3
Saturday, November 23, 2018
Albertus Magnus @ Wilkes
This is a non-conference game that should keep the Colonels focused on playing good hockey. The Falcons have played hard every game and have a solid goaltender in Pierce Diamond. Home team gets the win but needs an ENG to seal it –                             Wilkes 4, Albertus Magnus 2.
Elmira @ No. 10 Utica
This is a big game in the UCHC and two points that could be impactful in the second half. The Pioneers have a big home ice advantage but that won't deter a high-flying Elmira squad. Lots of offense in this one and a late goal sends the home fans home happy –        Utica 5, Elmira 4
Bowdoin @ Colby
This rivalry is certainly one of the best in all of college hockey bar none. The alumni are into this series in a big way and home ice usually doesn't mean much. Looking for a back-and-forth battle with the Polar Bears coming out on top – Bowdoin 5, Colby 4
Curry @ Nichols
The Colonels have been good to start the season but can't afford to look past a good and somewhat unlucky Nichols squad. Goalie Justin Ketola is the difference for the visitors – Curry 3, Nichols 2
The season is in full swing as we hit the first month milestone for most teams. Time to see the results match the efforts – "Drop the Puck!"