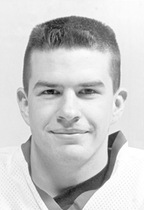 Legendary St. Michael's forward John Gurskis will have his No. 9 raised to the rafters at Cairns Arena in South Burlington, Vt., on Dec. 7, when the Purple Knights officially retire a uniform number for the first time in program history.
The banner ceremony for Gurskis, who graduated in 1998, will occur during the team's alumni weekend, around 3:45 p.m. and just prior to St. Michael's taking on Castleton at 4 p.m.
An alumni game is slated for 11 a.m. that day.
"It is so great that we will finally put No. 9 where it belongs – in the rafters forever," said St. Michael's coach Damian DiGiulian in a statement. "I want to congratulate John and his family for this tremendous honor. He was a once-in-a-generation player, and it will be fun to celebrate this momentous occasion with him, his family and hopefully many of his teammates."
Gurskis' number has not been in circulation since Mike Ciardullo wore it as a senior in 2006-07.
During Gurskis' tenure, the Purple Knights were 58-36-2 overall and 37-17-2 in the old ECAC Central, which St. Michael's won during his senior year for its first regular-season league title, later advancing to the 1998 ECAC North-Central-South Tournament championship game. That helped set the stage for the Purple Knights winning the NCAA Division II championship the season following his graduation.
A captain his senior year, Gurskis was a four-time NCAA Division II All-American selection and two-time ECAC Central Player of the Year. He also landed ECAC Central Rookie of the Year honors in 1994-95.
Gurskis was inducted into the St. Michael's Athletic Hall of Fame in 2005.
"John was one of a number of top performers over the early years of the program," said former St. Michael's coach Lou DiMasi, who guided the Purple Knights from 1982-83 to 2006-07, the first 25 years of their modern era. "He was a great player, a true scorer who had the uncanny ability to find the open man on the ice. John was a true winner, and was respected by his teammates, peers, faculty and staff."
Gurskis continues to hold school records for career points (234), assists (141) and game-winning goals (11) while standing second in goals (93) to only Dupont (97). His 82 points and 48 assists in 1997-98 remain program standards, as he owns three of the top six point totals and three of the highest eight helper figures in school annals.
Following his college career, the Brockton, Mass., native played 10 years of professional hockey, including serving his final four seasons as a player-assistant coach. He was a coach and general manager with the South Shore Kings junior program for 11 years before joining the ECHL's Wichita Thunder of the ECHL as an assistant coach in 2019-20.
"From the minute I moved to Vermont in 1997, John Gurskis was a name you just kept hearing about," added DiGiulian. "And even though I was coaching at the University of Vermont, many people, and I think rightly so, considered John to be one of the best college players to ever play in this state at any level. After taking the job here at St. Mike's and really delving into the history of the program, it was clear to me as to why that was. Luckily, I got to know John through his job as a coach in junior hockey.
"I can speak from experience that he is a better person than he was a player, and that is saying a lot."