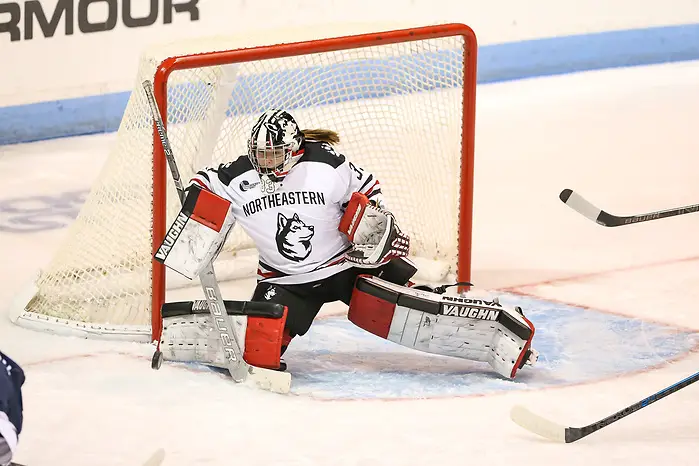 Being one of the top goalies in the country is nothing new for Northeastern's Aerin Frankel. The reigning Hockey East Goaltender of the Year is currently tied for best save percentage in the nation and is second in goals against average. She's also the two-time reigning MVP of the Hockey East Tournament.
So when you watch her play this year – especially as the season has worn on – it's not that you're noticing that she's playing really well. That's a given. It's that she seems to have gotten better.
There's no one thing that Frankel has done different this year, she said. Mentally, she's changed how she thinks about the long season that spans seven months.
"I think this year I've had a realization about just how long the season is. There's going to be ups and downs. Not every game is going to be my strongest game. (So I need to) take it slow and game by game. Don't get ahead of myself. Don't look to the Hockey East playoffs or the Beanpot at the beginning of the season," she said. "I think I've learned to focus on taking it game-by-game or even period-by-period and not worrying about the next opponent until we close out on the weekend – just staying in the moment."
There's a bit more stillness to Frankel's game, as though that patience has manifested itself a bit in how she holds herself on the ice. Coach Dave Flint called Frankel the backbone of his team and notes that her solid play gives the rest of his team the freedom to play relaxed and confident.
Frankel seems to have finally settled in and gotten comfortable with the player she is. She's not approaching practices or preparation from a macro level, but instead feels like she's reached a point where she can focus in on small, micro areas of her game to work on and improve.
"I'm really honing in on working on the details of the game," she said. " (I'm) really focusing on not just going through the motions every day in practice, but actually pushing myself to get better every day. Never becoming comfortable is a huge aspect of my success and something I try to live by on a daily basis. What can I push myself to do to make myself even better?"
Frankel made her debut with the US senior team on December 17, making 27 saves in a 2-1 victory over Canada in the second game of The Rivalry Series. She also played with the US U-22 team in August after impressing coaches at the USA Hockey Women's National Festival in August.
Northeastern coach Dave Flint is a former goalie. He and Frankel have goalie-specific practices once a week and they spend a lot of time going over and breaking down video.
Those two experiences are what informs Frankel's focus on improving the details. Feedback received from USA Hockey and from her one-on-one time with Flint has helped her to think differently about her game and her technique and now she spends her time trying to get incrementally better.
Playing against some of the best players in the world in December helped her, Frankel said, but so does practicing against her teammates every week. Northeastern's Alina Mueller and Chloe Aurard top Hockey East in nearly every scoring category and Mueller's 37 points are good for seventh in the country.
"My teammates push me to get better every day," Frankel said. "I'm constantly being put in situation where I'm going against them every day. Playing with them every day makes me get better."
Frankel is coming off a pair of weekend performances since the winter break that show exactly how concerned opponents should be about the fact that she keeps getting better. She made a career-high 51 saves against then no-1 Wisconsin two weekends ago in a 3-2 overtime loss and this past weekend, she put up her second and third shutout against rival Boston College as the Huskies swept the Eagles
"(In Pittsburgh,) we made a good statement about our team as a whole. We definitely made a statement about what we're capable of," she said. "(We) gook that motivation and brought it into this past weekend against Boston College. We're going to be the best team in our league and we're going to do that by beating the second-best team, our rivals…Any time we can beat BC, it's a huge deal. They beat us a bunch in the past, but we were lucky enough to beat them three times this year, which is huge for us."
The Huskies have a seven point lead over Boston College with two games in hand in the Hockey East standings. The team is taking care of business on the ice and feel like they can make the next step. Northeastern has earned a bid to the NCAA tournament three of the past four years, but have not been able to advance out of the quarterfinal round. The program has never made a Frozen Four appearance, but Frankel thinks this just might be the year. They've proven to themselves and others that there's a reason they're ranked third in the country and that they can play with anyone when it comes down to it.
"We've got our work cut out for us. We're not exactly where we want to be. We want to be the best team in the country," she said.