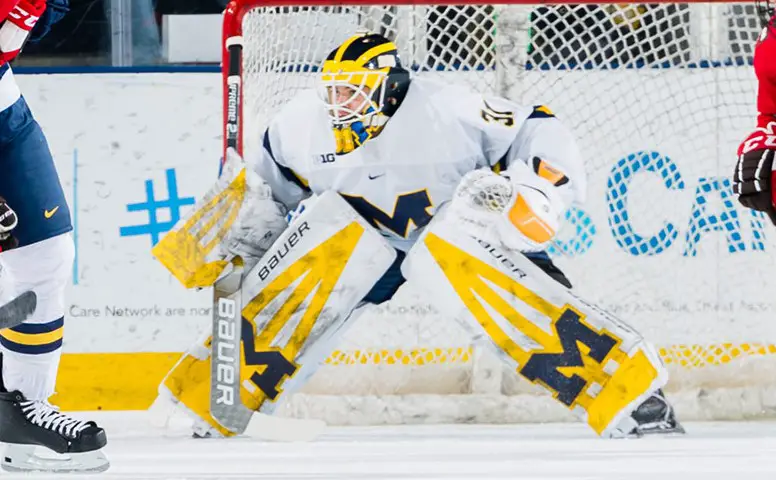 How does Michigan get to follow up its first road sweep of the season, an upset of No. 14 Notre Dame?
"We're at Penn State," said Wolverines coach Mel Pearson. "So it just gets easier."
Pearson then laughed.
"We're on the road again," he added. "Have at it."
The Wolverines are in a phase that coaches of storied programs don't like to discuss in depth.
Programs like Michigan used to be able to reload. Now they rebuild.
It's been a constant for Michigan, Minnesota, and Wisconsin since the inception of Big Ten hockey. Schools attract elite players and develop them for a year or two and the players leave to play professional hockey.
Teams that were once fixtures in the NCAA tournament are now trying to figure out how to put together back-to-back competitive seasons, victimized in a way by their own success for developing talent.
"We're trying to build a program here," said Pearson, "not up and down and up and down."
The Wolverines lose talented players with remaining eligibility at the end of every season, often so late that it's difficult to fill specific needs in the roster.
"It messes your recruiting up," said Pearson. "You can't tell them that Alex Turcotte's leaving, because you really don't know, he probably doesn't know, and that kid's ready to come in and you tell him, 'No, you've got to go back another year,' but he says, 'No, I'm going to go to another school,' and so the cycle begins again. That's why it's so difficult."
Turcotte, of course, is part of an especially talented freshman class at Wisconsin, the team currently at the bottom of the Big Ten standings, 13 points behind first place Penn State. Such talent doesn't usually remain with a program long enough to help it rebuild. Michigan is just ahead of the Badgers in the B1G standings, 11 points out of first place.
"You need one of these capologists like you see in the NHL," said Pearson, only half joking. "You wouldn't call them a capologist. You'd call them a scholarshipologist or something. It's crazy.
"We were happy to have Quinn Hughes, but you know when he's pretty well leaving but you're not 100 percent sure. Josh Norris, we didn't know at all what he was going to do, especially after the injury. And now you've lost out maybe on a kid that you – anyway, it is what it is. I'm not complaining. It's part of our jobs. It's just managing that you have to be on top of it this day and age."
In his second season with the Vancouver Canucks, Hughes will be playing in his first NHL All-Star game this season. He was a freshman defenseman at Michigan in 2017-18. Had he remained with the Wolverines, he'd still have a year of eligibility remaining. Norris left last year after his sophomore season. He has 20 goals in 38 games for the Belleville Senators of the AHL. Pearson doesn't blame either for leaving.
"When a guy is ready, he's ready," said Pearson.
Sometimes, all it takes is a couple of key departures to unsettle a team for a good half season or so – and that may be one of the things that contributed to Michigan's rocky start to 2019-20. The Wolverines endured a seven-game (0-6-1) winless streak Oct. 26-Nov. 30, a month-long slump against a mix of nonconference and Big Ten opponents. Since then, Michigan has gone 6-4-0, culminating with last weekend's sweep of Notre Dame.
"Good for our team," said Pearson. "They had to earn them. Notre Dame doesn't give you anything. You've got to play and you've got to earn your victories and I thought we did a nice job of that. Just to see the excitement and the joy of our players afterwards – I don't want to say relief, almost – but I haven't seen that emotion quite so much this year, so it's a good sign going forward."
Michigan is a team that is better than the sum of its parts, but those parts haven't quite come together yet into a unit that can produce consistently good hockey.
"That's almost the best way you can put that," said Pearson. "Some of those parts haven't quite been functioning as they should have so far. We had some injuries early. Some guys got out to some slow starts. We have not had that cohesiveness that we're looking for because every weekend it seems like we're messing with the lines and defensive pairings and whatnot. The one constant has been our goaltender, and he's been good."
Sophomore Strauss Mann has emerged as the starter for Michigan, and he's done that by improving significantly on his play from a season ago. Mann's save percentage has gone from .895 last year to .935 this season, taking him from 67th in the country last year to ninth this season. His GAA has improved from 2.91 last year to 1.90, also ninth in the nation.
Pearson said that coming into the season, defense was what concerned the coaching staff the most. The Wolverines are tied with Ohio State for the fifth-best defense nationally, allowing 2.05 goals per game. Scoring, though, is a different beat altogether. The Wolverines are averaging just 2.32 goals per game.
"We're starting to come together and we're finding ways to win the close games," said Pearson. "At the GLI, we found a way to lose another close game. Wisconsin, UNH, you go down the list – we've been either ahead or tied and we've sort of stumbled. Notre Dame was a real key turning point in finding a way to hold onto the lead and find a way to win those games and not give up the lead. That's going to be a real confidence booster.
"You can see that it's coming together. The sum of all those parts are starting to come together, and that's the exciting thing for us. We have nowhere near played as well as we can – maybe the Penn State game at home, right before the break, but other than that we've been okay."
Pearson said that there's plenty of reason for optimism as the Wolverines face the rest of the season. The roster has seven NHL draftees and veterans who went to the Frozen Four in 2018.
"We've got guys who have done it," said Pearson. "That's the beauty of it. It's not like we're relying on guys that we're not sure that they can do this. We have a bunch of guys who have done it. That's the exciting part, because we're not far off.
"If we get a little bit better and a little bit more together, we could be pretty darned good and I think that's where we're at. We like this team. We have the pieces. It's just getting them on the same page."
Another advantage?
"We're only halfway through the Big Ten schedule," said Pearson. "We've got 12 games left and we've got the majority of those either at home or at a neutral site."
If last year is any indication of how conference standings may play out, Pearson has cause for a bit of optimism.
"Last year when it went down the final, we could have finished second and we ended up finishing sixth," Pearson said. "It was one win. We expect the same this year. It's going to be a mish-mash and I don't think we see anybody that's pulling away."
Pearson reconsidered, "maybe Penn State."
The Wolverines and Nittany Lions face off Friday and Saturday in State College.
A matter of perspective
On more than one occasion this year, Penn State coach Guy Gadowsky has lamented his team's offensive slumps – something that seems a bit odd for a team that is averaging four goals per game.
The Nittany Lions led the nation in offense last season, though, finishing the season with an average of 4.54 goals per game and going the entire season without being shut out by an opponent.
A 4-0 loss to Alaska Oct. 18 followed by a 2-1 win over Robert Morris Oct. 25 had Gadowsky wondering about the team's high-flying offense and, therefore, the team's whole identity. A 3-0 loss to Notre Dame Dec. 14 and then two relatively low-scoring wins over Niagara (3-2, 2-0) the first weekend in January brought similar misgivings.
Last weekend, though, the Nittany Lions found their edge again – and a little vindication – in a 6-2 win over Robert Morris.
Gadowsky said that he's happy his team has learned to win tight games, but that "the goal is to put it all together."
He said that the Nittany Lions are happy with "certain aspects" of their game, but there's a sense that something is still not quite there.
"If we can put it all together, we're going to be very dangerous," said Gadowsky.
Freshmen have scored all three game-winning goals for the Nittany Lions since the midseason break. Forward Connor McMenamin had both game winners in the Niagara series, and defenseman Mason Snell had the goal that held up to win the game against Robert Morris. Freshman Connor MacEachern also had a goal in that contest.
Gadowsky said that contributions from freshmen "certainly helps."
"You expect or want to see their development throughout the season and hope that the second half of the year produces better all-around play than the start," said Gadowsky. "The jump from junior hockey to college hockey is a tough one and specifically in this league. It's extremely fast and physical and the skill level is high. I'm really happy to see the start our freshmen have had coming off break."