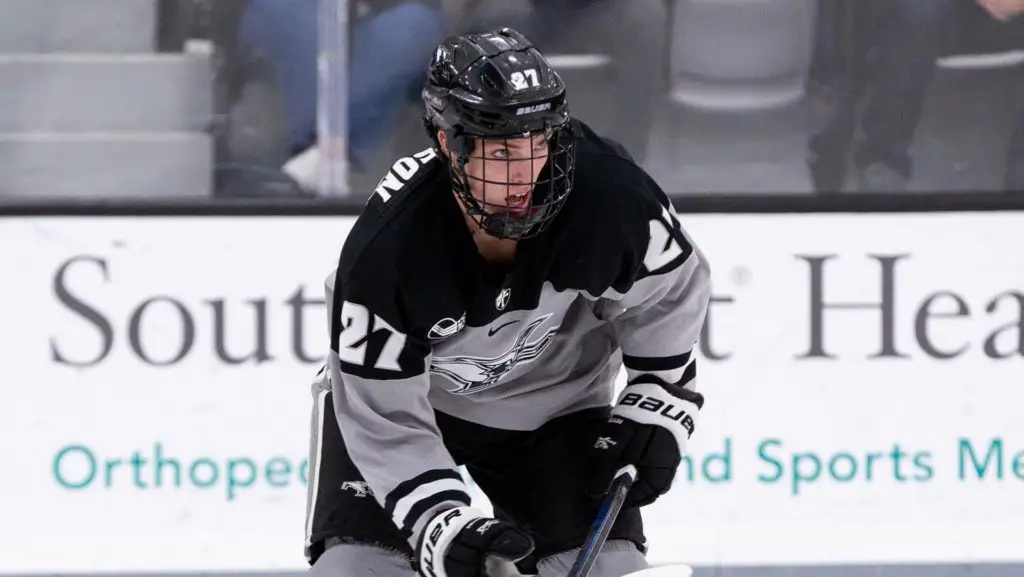 Certainly, you don't have to be a Hockey East superfan to know the name Tyce Thompson.
But if you we asked who he was, say, on Oct. 1, what would you know about him?
Maybe you'd remember that he played for Providence and was about to begin his sophomore season. You might confuse him with his brother – Tage – who played two seasons at Connecticut and has since played more than 100 NHL games.
Now let's fast forward to today. Sure, you know of Thompson, but you still probably know more about his teammate, Jack Dugan, who leads the nation in scoring.
By the way, Tyce Thompson is second in scoring and points per game nationally. His 17 goals are also tied for the national lead.
Oh, and by the way, as most people make the mistake (trust me, I did earlier this season), Thompson and Dugan are not linemates.
I say all this not to school the readers or make you feel like you don't know much about college hockey. Like I just admitted, I've had a lot to learn about Tyce Thompson myself this season.
But for the reigning Hockey East Player of the Week, there seems like there is still so much to learn.
For one, the 20-year-old forward is still growing. He was 5-foot-9 when Nate Leaman recruited him and he continues to grow like a maturing tree.
"He came in at like 6-foot and three quarters and now he's like 6-foot-1 and a half," said Leaman. "So he's still growing. He's putting weight on."
That might have been a reason that the son of journeyman Brent Thompson and brother of now-proven professional Tage slipped to the fourth round of the NHL Draft last summer, getting selected by New Jersey with the 99th overall pick.
It's also a major reason that Tyce has played more time at wing than center, a position that Leaman eventually sees Thompson excelling at down the line.
"I would ultimately like to have him be a centerman full time, but that's just overall strength," said Leaman. "Sometimes, guys like him they work so hard that it's hard to put on weight in the season. When he gets to 205 (he's currently about 180 pounds), the kid's going to be a really good player."
When Thompson arrived as a freshman last season, Leaman didn't simply throw him into the fire. He allowed him to develop and grow, but as injuries occurred and holes opened in the lineup, Thompson got his chance.
That was a positive.
"Because we had an older team last year, he was able to come in and got his feet underneath him, filled in a little bit," Leaman said. "But towards the second half last year, he was the guy on the team that a lot of guys wanted to play with. He was the guy that some of the older guys would say, 'What about putting Tyce on my line.'
"That's a great compliment, but it's because he worked hard, he was skilled and he knew what he was doing. They all loved what he brought to the game — the energy and the smarts."
Over the summer, Leaman gave Thompson focused things to work on – adding strength was the biggest as well as improving his skating and shot. Leaman loved his work ethic that he showed in the offseason.
"His dad is a coach, so his practice habits have always been excellent. His work ethic has always been good," said Leaman. "Because of those two things, he was able to adjust rather quickly to college hockey.
"His shot got a whole lot better. His shot got a lot more accurate and hard. He had some big points down the stretch for us in the NCAA tournament. He produced for us pretty well, but then we got to the Duluth game [the national semifinal], and he wasn't strong enough to make the impact.
"This year, I think strength has been a little bit of adding on to strength. We started him out at center and I don't think he was quite himself. We moved him back to the wing and he took off."
When you have two players on your team like Thompson (17 goals, 35 points in 23 games) and Dugan (34 assists, 41 points in 23 games), there often is as a coach the urge to combine the two on a line and simply make an unstoppable trio that you can toss out once every three shifts.
Not only has Leaman resisted, he's felt good about the decision not just given their production, but also watching situations where it felt necessary to combine the two.
"We're a better team when they're not on a line," said Leaman. "When we've gotten down in games, I've thrown them out together, but I haven't seen a lot happen. Those two have been a lot better when they can carry their own line.
"But on the power play, those two and Michael Callahan, they have a chemistry among those three that is pretty darn good."
Regardless of where Thompson falls in the lineup, expect him to be a force to watch. And his success will be a major key to the Friars as this season moves forward.
Griffin's curious departure from New Hampshire
On Tuesday night, Instagram was hit by an out-of-left-field post from New Hampshire rookie forward Robby Griffin. The former standout for the USPHL's Boston Jr. Bruins posted that he was leaving the UNH team and ending his hockey career.
Griffin arrived at New Hampshire as a true freshman and had skated the last three summers in Team USA select camps, always making an impact. He played 13 games for UNH and registered a single assist.
Speaking with UNH coach Mike Souza, he emphasized the fact that this was not a hockey decision and was strictly personal. He wouldn't elaborate too much further than that but did emphasize that Griffin has decided to remain a student at UNH.
In his Wednesday afternoon press conference, Souza also gave this response to a reporter's question:
"I'm not going to comment in detail other than to say that Robby has left the program for personal reasons. He's left the program in great standing with me, in great standing with the program. He's going to remain as a student at UNH, which I was pleased to hear. We love him as a kid, he's a great young man. We wish him well and I told him he's always welcome to be a part of our program, to be around our program."
Certainly there seem to be questions surrounding the departure, but it also feels like a situation where a young man needs respect and privacy to create the life that is appropriate for him.
Central Scouting rankings an eye-opener for Hockey East … and a personal note
On Tuesday, NHL Central Scouting, which provides NHL teams with input on available personnel for the upcoming NHL Draft this June in Montreal, released its midterm rankings.
A total of 34 players on the list are either current or committed players to Hockey East schools.
One team that led that list of players isn't a surprise – Boston College. But the five Boston College players were matched by a school that some wouldn't expect based on past history to see on top of the list: Merrimack.
For years, Merrimack has recruited older players who are usually at the end or past their draft eligibility. But under second-year coach Scott Borek, you can see a trend to attempt to attract younger, high-end players.
We all know that being drafted doesn't often mean much past the first two rounds of selections, and none of the current or future Merrimack players ranked are likely to be high-round picks, but you can believe that Merrimack may have a strong future if even the majority of these players turn into top-caliber talent.
On a personal note, I want to recognize a name on the list that has familiarity.
Seamus Campbell, nephew of former UMass Lowell River Hawk Eddy Campbell (a college roommate and personal friend) and son of former St. Louis Blues standout and Calder Trophy runner-up Jim Campbell appeared on the CSS list of skaters at No. 206.
The youngest Campbell was recognized despite not playing full time in either the USHL or NAHL. Instead, he has spent the majority of this season on the roster of the St. Louis Jr. Blues, a team in the Tier III NA3HL. Campbell still hasn't made any college commitment and, at 6-foot and 155 pounds, will need to add some size to his frame. But, undoubtedly, his bloodlines will make him a player to watch as he ages and matures.