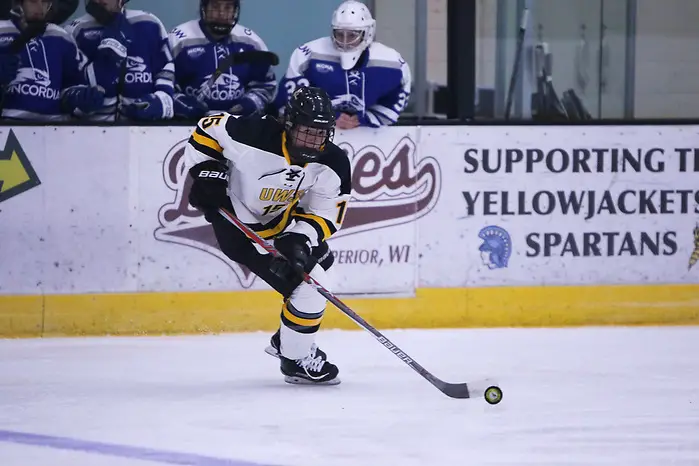 Last weekend, the Wisconsin-Superior Yellowjackets faced their third top 10 team this season. In previous outings, they had a tie and OT loss against top 10 teams. This time, the Yellowjackets found success, beating No. 4 Gustavus Adolphus, 2-1, thanks in part to a 33-save effort from goalie Catherine Johnson.
"I thought we executed our systems well," said coach Dan Laughlin. "It was a real team effort from everyone. I don't think we were physically up to our highest level, with some sickness and stuff, but as a team I think that was our strength, our teamwork, playing real disciplined systems, and special teams obviously helped as well. The biggest factor was Catherine Johnson, our goalie. She played a great game. In those situations, your goalies are going to be your biggest asset, and she was."
Johnson, who played her first two years of college hockey at Division I Minnesota Duluth, transferred to Wis.-Superior for her junior year and is currently having her best season, posting a 1.75 goals-against average and .931 save percentage. Her current GAA is a full goal better than either her sophomore season at Duluth or her junior year at Wis.-Superior.
"I think every team that's consistently winning, the main ingredient is their goaltending," said Laughlin. "Catherine has definitely been that for us. McKenzie Whalen and Maddy Gamst, our other goalies, they push her in practice and they push each other. All three make each other better. Catherine's the one right now getting the majority of the time, but at any given time, we feel confident in all of them. Goaltending's your number one success. Especially when you get down to the playoff time, you have to have that hot goalie. We're very blessed to have Catherine back there, but Kenzie played great last night (Tuesday against Bethel), with her first career shutout. It's a fortunate thing for us to have really good goalies back there."
While the early week game against Bethel was a 1-0 win for the Yellowjackets, the game on Saturday against Augsburg after the win over Gustavus was a poor showing, a 4-1 loss that likely kept the Yellowjackets from getting any votes in the poll.
"Augsburg is a strong team; they're more of the physical game," said Laughlin. "Gustavus, they're kind of a smaller team, but fast and quick. I think just not being maybe at our physical height that we should have been at, and that emotional game, I was guessing the first period of that Augsburg game that we would be a little sluggish, and we were. The second period, we got it going again, got that adrenaline going again. They got that third goal, and that one just kind of sealed it. You learn from the wins, you learn from the losses."
The Yellowjackets are currently led in scoring by senior captain Kaleigh Martinson, who has 12 goals. Junior Amanda Sergent is second and is having a career year so far, averaging over a point a game. Her 13 points is more than she scored her entire sophomore season.
"Amanda's been a workhorse since day one," said Laughlin. "Her freshman year she was, last year she was. She just does all the right things. She works hard, number one, she competes, number two. She executes her systems really well. She's just got that determination factor that when she's on the ice, something happens, period. It all starts with her hard work, her determination, and that carries her game to high levels."
Martinson and her classmate, Molly Shelton, are the team leaders and captains, and Laughlin chalks up part of the team's success to their example.
"They're not big rah-rah leaders. They're just, let's get to work, let's get to work. That's carried around the locker room, and they carry that on their shoulders as well. Seniors, they know it's their last trip around. I'm not saying they take it more seriously than other years, but they do realize this is it. They're really pushing everyone to follow."
Tonight and Saturday, the Yellowjackets face No. 5 Wisconsin-Eau Claire. When they played in November, Eau-Claire came away with a 3-2 overtime win after the Yellowjackets had rallied from a 2-0 third-period deficit to tie it. Laughlin mentions special teams as really important for this series.
"We've just got to stay with what we're doing. We've got to execute our systems well. We've got to be disciplined. We've got to stay out of the box. We don't want a special teams game. When you start playing these highly skilled teams, being in the box you're not going to win games. Other than that, just stick with our system, be disciplined, outwork them, compete, execute, and we'll be there."