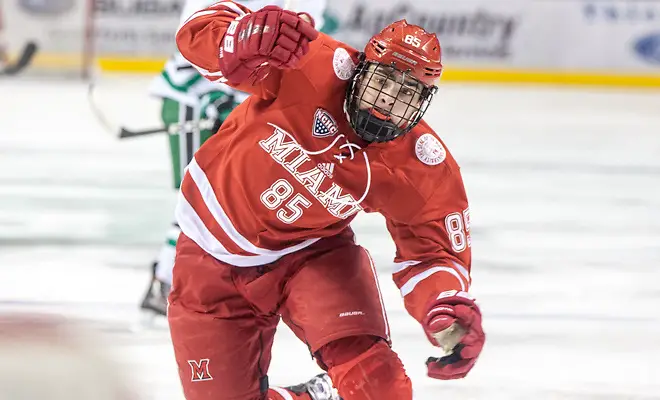 A logjam in the middle of the NCHC standings promises to make for stressful situations as the season progresses, but it also gives several teams big opportunities.
Miami is getting its fair share of those chances, but not everything is going the RedHawks' way. They're only two points out of a home-ice playoff spot, but they missed a chance last weekend to put added pressure on fourth-place Western Michigan.
The RedHawks' series at Colorado College started off great for the visitors, as Miami jumped out to a 4-0 lead and cruised to a 6-1 win. Six different RedHawks scored, and goaltender Ryan Larkin made 25 saves while helping Miami kill CC's five power plays.
Saturday provided a different story. One night after Miami scored three first-period goals, CC had its turn in the rematch en route to winning 4-2. John Sladic and Derek Daschke scored back-to-back goals to get MU back into the game, but a fourth Tigers goal from Josiah Slavin with 6:40 left helped lock up the points for CC.
During his weekly press conference Tuesday, first-year Miami coach Chris Bergeron addressed the teachable moments from last weekend's road split. It's hard to be unhappy with one of those, but Miami had a chance to create a three-game winning streak following a Dec. 30 win at 11th-ranked Bowling Green, Bergeron's last coaching stop prior to returning to his alma mater.
"It's a group trying in real time to go from good to great, or sometimes not good to good, and hopefully that makes sense," Bergeron said. "We were really good on Friday, so for us to be a great team, we have to answer that with another really good effort on Saturday, and that wasn't the case.
"You give your marks to your opponent, but we told our players that this (CC) team is coming, they're capable and I don't think the way they played on Friday is indicative of the type of team they have, and the way they played on Saturday is more indicative of that.
"What I'd like us to do is to be ready for that battle at the drop of the puck," Bergeron continued. "I don't want it to be, 'Nothing's ever good enough for this guy,' and I don't want to be painted with that brush, but the difference between good and great in college are the teams that are able to sweep and finish off weekends."
Looking ahead, Miami will play at home the next two weeks, marking their first games at Steve Cady Arena since a pair of losses Dec. 6-7 against last-place St. Cloud State.
This will be a tough four-game homestand, though, with top-ranked North Dakota coming to Oxford, Ohio, this weekend followed by No. 4 Denver.
First thing's first, and Miami will look to earn its first win over North Dakota this season after two losses Nov. 8-9 in Grand Forks, N.D. UND won the opener 7-1 and held on to take the rematch 5-4.
Plenty of time has gone by since that series took place, though, and despite Saturday's loss at CC, Miami is keen to show that it has turned a corner.
"We set a new bar for ourselves at Bowling Green, then I think we raised that bar just a little bit at CC on the Friday night," Bergeron said. "The objective is to get to that bar more of the time and then hopefully raise it just a little bit, and obviously this weekend we'll get a big-time challenge."
UMD's Shepard in good form
Minnesota Duluth senior goaltender Hunter Shepard has earned his second consecutive NCHC goalie of the week honor after he helped the Bulldogs to a win and a tie last weekend against Western Michigan.
Shepard stopped 76 of the 82 shots he faced against the Broncos and made 35 saves Friday in a 6-3 win. He then made a season-high 41 saves Saturday in a 3-3 tie. Almost half (17) of his saves Saturday came while UMD was shorthanded, and Western finished the game 0 for 5 on the power play.
Denver makes noise
Denver was the only NCHC team to sweep an opponent last weekend, as two wins over St. Cloud State saw the Pioneers bump their league point total from 12 to 18.
DU sits in third place in the NCHC standings, five points clear of Western Michigan in fourth but five behind Minnesota Duluth in second. The Pioneers could keep climbing this weekend at unranked Omaha ahead of another road series Jan. 24-25 at Miami.
Denver's remaining schedule looks favorable. Apart from back-to-back series at the end of this month and into mid-February against No. 8 UMD and No. 1 North Dakota, DU's other 10 regular-season games are all against teams that are currently unranked.