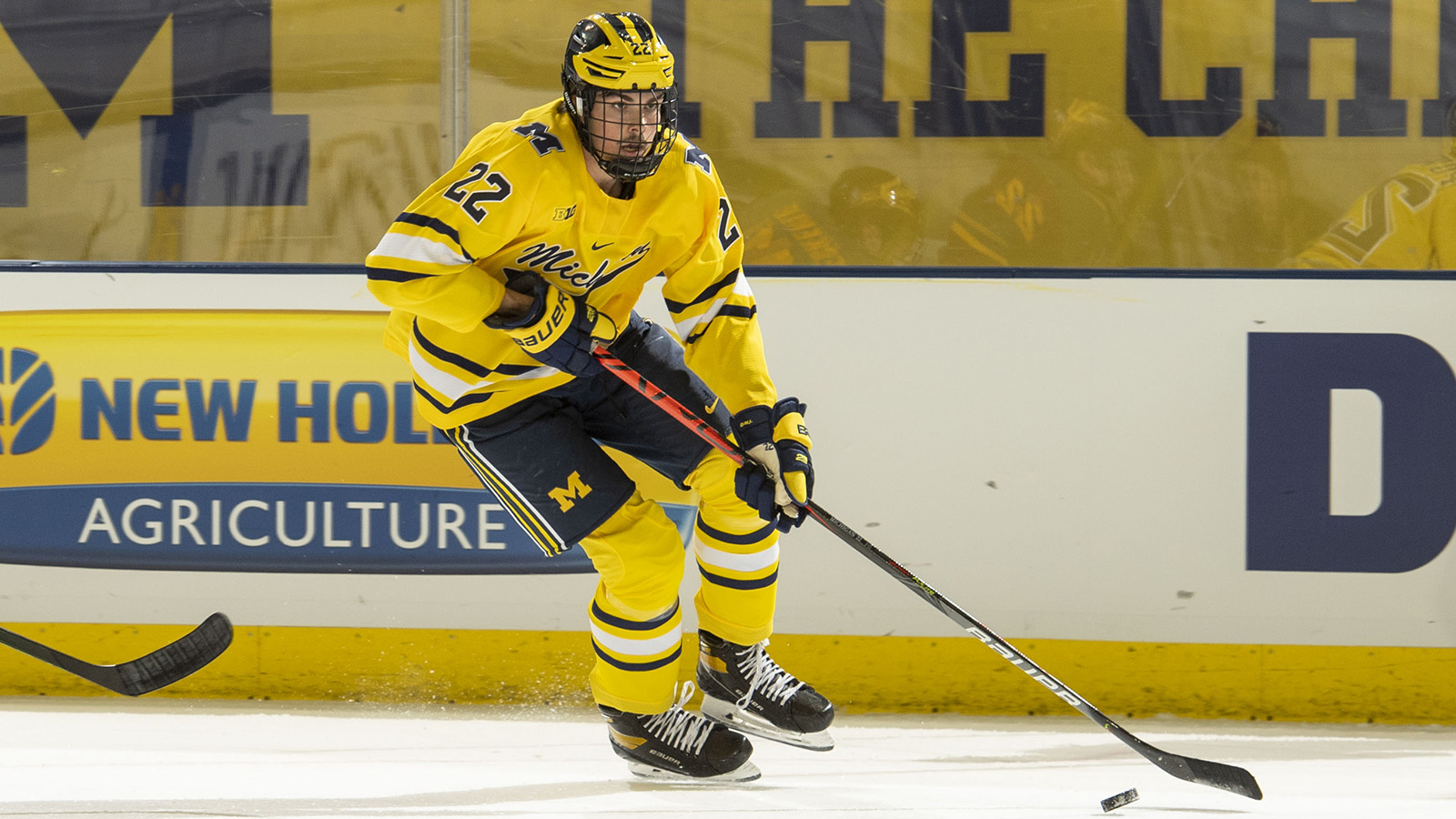 Michigan defenseman Owen Power became the first collegiate player selected first overall since 2006, and just the fourth all-time, as the Buffalo Sabres tabbed the blueliner with the first pick in Friday's NHL Draft.
That simply started a barrage of Michigan players – current and incoming – to become top-tier NHL selections. Minutes later, forward Matty Beniers was selected by Seattle with the second overall pick. And two picks later, New Jersey selected incoming Michigan freshman Luke Hughes at four.
Kent Johnson, who scored 27 points in 26 games last season for Michigan, closed out the Maize and Blue parade, taken fifth by Columbus.
Michigan would later make history with five players selected in the first round when incoming freshman Mackie Samoskevich was taken 24th by Florida.
Power, who posted three goals and 13 assists in 26 games this past season for the Wolverines, has been a consensus top pick in most pre-Draft rankings for the past year.
"It'z pretty special," Power told ESPN's Jackie Redmond. "I've even dreaming about it my whole life. I'm not sure if my younger self would believe this."
READ: With Michigan college hockey talent set to be taken early, Wolverines looking to make history at 2021 NHL Draft
Power joins a special group of past collegians to become the first overall selection. Erik Johnson (2006, Minnesota), Rick DiPietro (2000, Boston University) and Joe Murphy (1986, Michigan State) are the other three to hold that honor.
It is the first time in Draft history that two players from the same school were selected one-two. Only once before have two collegiate players been chosen with the top two selections (2000). It is also the first time in Draft history that three players with collegiate ties are taken in the top four and four players are taken in the top five.
Michigan coach Mel Pearson may have a major challenge ahead, working to convince this quartet of players to either return or arrive on campus in Ann Arbor as the 2021-22 season begins.
"I'm not thinking about it too much right now," said Power. "I'm just trying to enjoy the night. That's something I'll worry about later."
AGATE: Current and incoming college players ranked by NHL Central Scouting
Boston University incoming freshman Tyler Boucher, son of former NHL goaltender Brian Boucher, broke the Michigan run when he was a high-end jumper in the first round going 10th to Ottawa. Ranked 25th among North American skaters, Boucher was thought the be an early second-round selection according to many pre-draft projections.
Harvard commit Matthew Coronato went 13th to Ottawa. Ranked 9th among North American players, right winger/center Coronato put up 85 points with 48 goals and 37 assists in 51 games for the USHL's Clark Cup-winning Chicago Steel.
Incoming Minnesota freshman Chaz Lucius joined Hughes and Boucher as the third U.S. Under-18 (NTDP) player selected. Lucius spent three months without walking after knee surgery to repair a bone lesion last summer and endured two-hour hyperbaric oxygen chamber sessions five days a week as part of his recovery.
Right winger Samoskevich, ranked 26th, was taken ahead of four higher-ranked college players and was the second Chicago Steel player selected.
Wisconsin incoming freshman defenseman Corson Ceulemans was taken 25th by Columbus in the last of its three first-round picks.
In all, nine college players were selected in the first round, including seven from the Big Ten. The most ever taken is 11, in 2016 and 2017.
Rounds 2-7 will take place on Saturday beginning at 10 a.m. ET.
This is breaking news and will continue to be updated.