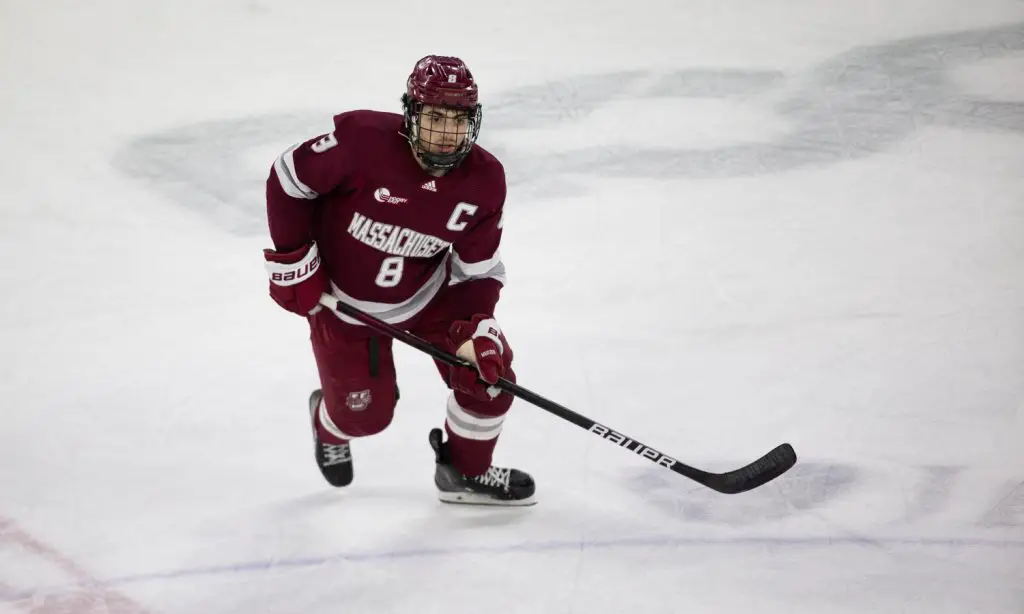 The Gridiron Club of Greater Boston announced Monday that 25 men's NCAA Division I players are semifinalists for the 71st Walter Brown Award, presented annually to the best American-born college hockey player in New England.
The nation's oldest nationally-recognized college hockey honor, the Walter Brown Award was established in 1953 by the members of the 1933 Massachusetts Rangers, the first American team ever to win the World Championship Tournament. Brown coached the Rangers to the title in Prague, Czechoslovakia, where the team defeated Canada 2-1 in overtime in the championship game.
"This is a superb field of semifinalists, and we're looking forward to following them closely as the three Eastern leagues head down the stretch toward the playoffs," said committee chairman Tim Costello in a statement. "In recent years, the semifinalist lists were dominated by forwards and goalies. But with eight defensemen in the running this year, we feel that this list reflects the evolution of the game of hockey.
"Ever since Bobby Orr arrived on the scene, defensemen have become much more mobile, offensive-minded, and in charge of the game, much like quarterbacks in football and point guards in basketball."
Twelve teams are represented in the slate of candidates that includes 16 forwards, eight defensemen, and one goaltender. Fifteen semifinalist nominees are from teams in Hockey East, eight nominees are from ECAC Hockey, and two are from Atlantic Hockey.
Boston University leads the way with five semifinalists, Harvard has four, Quinnipiac three, and Boston College, UMass, Merrimack, and Northeastern each have two. American International, Connecticut, Dartmouth, Providence, and Sacred Heart each have one nominee.
The following is the complete list of semifinalists, by team, with statistics through Feb. 5:
American International: Senior forward Blake Bennett (Grand Island, NY) 17-10-27.
Boston College: Junior forward Nikita Nesterenko (Brooklyn, NY) 5-16-31; junior defenseman Eamon Powell (Marcellus, NY) 3-11-14.
Boston University: Senior forward Matt Brown (Woodridge, NJ) 12-25-37; junior goalie Drew Commesso (Norwell, MA) 2.67 GAA, .909 save pct.; senior defenseman Domenick Fensore (Thornwood, NY) 8-11-19; freshman defenseman Lane Hutson (North Barrington, IL) 9-26-35; freshman forward Jeremy Wilmer (Rockville Center, NY) 9-12-21.
Connecticut: Junior defenseman Andrew Lucas (Alexandria, VA) 2-19-21.
Dartmouth: Senior defenseman Tanner Palocsik (Aliquippa, PA) 4-16-20.
Harvard: Junior forward Sean Farrell (Hopkinton, MA) 12-22-34; junior forward Alex Laferriere (Chatham, NJ ) 13-14-27; sophomore forward Matthew Coronato (Greenlawn, NY) 14-11-25; senior defenseman Henry Thrun (Southborough, MA) 5-18-23.
Massachusetts: Sophomore defenseman Scott Morrow, (Darien, CT) 6-16-22; sophomore defenseman Ryan Ufko, (Smithtown, NY) 4-11-15.
Merrimack: Junior forward Alex Jefferies (Lunenberg, MA) 12-22-34; sophomore defenseman Matt Copponi (Mansfield, MA) 10-11-21.
Northeastern: Senior forward Aidan McDonough (Milton, MA).) 17-15-32; junior forward Gunnarwolfe Fontaine (East Greenwich, RI.) 7-16-23.
Providence: Senior forward Parker Ford (Wakefield, RI) 10-13-23.
Quinnipiac: Sophomore forward Collin Graf (Lincoln, MA) 14-24-38; freshman forward Sam Lipkin (Philadelphia, PA) 6-19-25; senior forward Skyler Brind'Amour (Raleigh, NC) 12-12-24.
Sacred Heart: Senior forward Neil Shea (Marshfield, MA) 8-14-22.
The Gridiron Club will announce the winner of the 71st Walter Brown Award in the final week of March.
UMass forward Bobby Trivigno won the 2021 and 2022 awards.