The only real dust kicked up by this year's selections lay in East Lansing and Columbus, where some fans are grousing about the committee's decision to leave the Ohio State Buckeyes West as the fourth seed, setting up a potential second-round collision with top-seeded (and top-ranked) Michigan State.
That contest would be a repeat of last week's CCHA tournament final, in which the Spartans needed two overtimes to finally defeat the Buckeyes, 3-2. However, to think too hard about that possibility is to overlook the Yale Bulldogs, Ohio State's guaranteed first-round opponent. Yale won its first-ever ECAC regular-season title with a spectacular run, but a late-season skid sent the 'Dogs West for their first NCAA visit in almost half a century.
Less controversial, but hardly less intriguing, is the other half of the West draw, in which surprising Princeton secured a tournament berth by winning five of six games in eight days en route to the ECAC postseason championship. The Tigers' reward? A game with host Michigan in front of the Yost faithful.
The winner of that contest gets defending NCAA champion North Dakota in the second round. UND may have lost the WCHA tournament title to Wisconsin last week, but the Sioux are no less formidable as a result. If anything, that defeat — in which most agreed the Sioux played below their ability — will almost certainly harden head coach Dean Blais' resolve to get his squad back to the Final Four.
Onward to Ann Arbor!
No. 4 Ohio State (25-12-2) vs. No. Yale (23-8-3)
Friday, 5:00 p.m. ET, Yost Ice Arena, Ann Arbor, Mich.
The first game of the 1998 NCAA tournament features possibly the hottest team in the country in Ohio State, and possibly the coldest in Yale. While OSU streaked through the second half of the season before finally falling to Michigan State, Yale sputtered, winning only four of its last 11 games.
Key for Yale is the loss of leading scorer Jeff Hamilton, whose 47 points and power-play skills will be sorely missed. The unknown in this one may be the Yost crowd, which will probably favor the Eastern visitors over newfound Michigan rival OSU.
Ohio State
What do you do with a team that took the odds-on favorite for the national title to double overtime in its conference championship game?
Well, if that team is Ohio State and you're ESPN2, you do your best not to acknowledge its accomplishments.
And if you're the NCAA selection committee, you pair the Buckeyes with the only team that has beaten them since Jan. 3.
While ESPN2 did a very nice feature on the surprising Yale Bulldogs — Ohio State's opponent in the first NCAA regional matchup in Ann Arbor — the Buckeyes received barely a mention. Yale, it was pointed out, is making its first appearance in the NCAA tournament since 1952, and only its second ever.
And, oh, by the way, Ohio State is going to the dance for the first time.
And, oh, by the way, the Ohio State is one of two teams responsible for the only two losses Michigan State has had since Jan. 2.
For the Buckeyes — a team in a city where the daily newspaper is just now picking up their story — the apparent lack of consideration is something to take in stride.
"Some guys might be a little upset that we're not well-known, or that we don't pick up the media," says junior forward Chris Richards, "but I really don't believe the media has any effect on the team. The game is played on the ice, and not off the ice. The guys are pretty much focused. We're a confident bunch of guys."
Head coach John Markell has been dealing with that lack of press all season — for three seasons, in fact. He says that while other teams may take the Buckeyes seriously, the CCHA fans in Detroit last weekend were a bit surprised.
"People kept asking, 'Are they for real? Are they for real?'" says Markell. "All of a sudden, we're for real."
Contrary to the wishes and hopes of CCHA fans who fear another successful Big Ten hockey program, Ohio State is without a doubt, completely, totally, you-can-bank-on-it for real.
Michigan found that out the hard way in a 4-2 loss to Ohio State in the semifinals at The Joe. Had the Wolverines taken the Buckeyes more seriously, that game would have had a different flavor.
But the Buckeyes still would have won.
Since getting schooled in the college of hard hockey knocks in a 6-0 shutout loss at Yost Jan. 3, Ohio State has set out to prove to the CCHA that this is a team to reckon with. And with a 16-2-1 record since then, the Buckeyes really have little to prove.
Much has been said and written about Ohio State's trio Quebecois, the three players from Quebec who have led the team in scoring all season. But for the second half of the season — and certainly for the two games last weekend at The Joe — it's been the second Ohio State line that has made the difference.
The all-Ontario line of Chris Richards, Todd Compeau and Dan Cousineau — the Block O line — has become the OSU line to watch.
The three excellent defensive forwards are often paired with their opponents' first lines in an effort to open up the scoring for le trio. What's been happening lately, however, is that the Block O has taken advantage of every scoring opportunity available.
It was no accident that Compeau danced around Marty Turco for one of the prettiest goals in the CCHA tournament, or that Richards was in the right place at the right time to capitalize on another Turco mistake for an Ohio State goal.
And the two goals scored by the Buckeyes against Michigan State belonged to Compeau — one full-strength, and one power-play.
And it's been that way all season for Ohio State against Michigan State. Compeau seems to have the Spartans' number; he scored two goals in the Buckeye win over the Spartans in Columbus, including the game-winner.
"He can have anyone's number," says Richards. "He's a good goal-scorer."
Ask Compeau why he's so successful against a team that stones so many other players, and he shakes his head. "I don't know. We get pumped up to play Michigan State, one of the top teams in the country. We probably all grew up watching them."
In overall play this season, the Block O is responsible for 43 of the Bucks' 139 goals. Compeau has 13 of those, and he's been playing with the line for just half the season. Richards alone has 50 points on the season.
Richards has a theory about the Block O's success against the Spartans. "I just think we come prepared a little more than we would another team, because they're the number-one team in the nation. You don't like to think that or say that, but it is a fact.
"When you play a team like Michigan State, you come out with your best game. If you don't, you know it's going to be a long night."
The Buckeyes brought one of their better games to The Joe last Saturday, and it was still a long night. The double-overtime title game was the longest in CCHA history, and a good part of the credit for the excitement of the game belonged to the Ohio State defense, which matched up toe-to-toe with the Spartans; only the game-winner was an even-strength Spartan goal.
Last weekend, Ohio State's defense transcended itself, with especially excellent play from senior Ryan Root and rookie Andre Signoretti. In net, Jeff Maund was stunning. In his last seven games, Maund has posted a 1.35 GAA; he's allowed more than three goals in a game just once in his last 14 starts. His 20 wins tied for third-highest single-season total in Ohio State history; two more wins would give Maund a share of first, with former NHL goalie Mike Blake.
Maund says that this Ohio State team has yet to peak, and that the emotional loss against the Spartans won't be enough to derail the Buckeye train.
"The guys were a little heartbroken that we didn't get that win, but that just serves as motivation for the following week. We know Yale is a good team, but we think that if we can play our game and everyone sticks to our systems, we think we can get by Yale.
"Then we can use the loss against Michigan State as a little revenge factor. We'll have to play a little bit better to beat them. The loss is still fresh in everyone's mind."
For the most part, the Buckeye players are enjoying this Cinderella season. Anyone who ran into the players in Detroit can tell you how much fun the young team seems to have had, and the grins are hard to miss.
There's an unmistakable gleam in sophomore Hugo Boisvert's eyes when he talks about his team simply going to the NCAA tournament. "This is awesome. It's great. It should be fun, just to play somebody that we don't know. It's interesting to see other league's teams, to see how we match up against their teams."
So, for all of you out there paying attention, the Buckeyes are having fun. Anything past the first round of the CCHA playoffs is just gravy for them, since no one expected anything from this talented team.
If the Buckeye season ends against Yale, these players will still have had the greatest season in Ohio State hockey.
But it won't end against Yale. And it may not end against Michigan State.
Yale
The Yale Bulldogs, for the first time in 46 years, are in the NCAA tournament. The last time the Bulldogs were invited to appear, the tourney was a four-team affair, and Yale lost to Colorado College 4-3 in the semis, but rebounded with a 4-1 win over St. Lawrence in the consolation game.
This year, the Bulldogs are back, and with some bite as the regular-season ECAC champions moved on to Lake Placid and their first semifinal game since 1987. But after a three-game series win over St. Lawrence, the Bulldogs wound up losing two games in Lake Placid: first to Princeton in the semifinal, and then to Harvard in the consolation.
"I'm disappointed in the way we played up here in Lake Placid," said Yale coach Tim Taylor, whose team became the first number-one seed to lose two games at Placid. "We did not deserve a better fate than we got. We've had a great year, but whatever happens, we've set our own table, and we've got a chance to redeem ourselves [this] weekend.
"But I'm proud of my kids. They didn't quit, and they are fighting through a lot of injuries. We couldn't get the job done," added Taylor. "We have to put this behind us as soon as possible."
That chance for redemption will come in the West Regional in the form of a matchup against Ohio State. After losing two tourney games, the Bulldogs lost any possible shot at staying in the East Regional, and were shipped out to play in Ann Arbor.
Worse yet, the 'Dogs lost first-team all-ECAC forward Jeff Hamilton to a separated shoulder in the semifinal against Princeton.
"Jeff Hamilton is such an element in our offense," lamented Taylor. "It's a pretty common hockey injury, but it's pretty poor timing.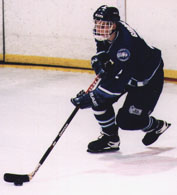 "We're devastated by the loss of Jeff Hamilton," he added. "He's our leading scorer, he's a lot of the juice in our power play, and he's a very important player. But we can't dwell on that; we have to shore up to play."
"Just look at the numbers," said Yale's captain, ECAC Player of the Year Ray Giroux. "He leads us in scoring, and he is going to be sorely missed."
Hamilton had 27 goals and 20 assists on the season, but the sophomore — one of the most dynamic forwards in the ECAC — is out for the rest of the season, however long it may last.
All, however, is not lost. While Hamilton is a strong offensive cog, the Bulldogs have been relying on their defense all season. Giroux leads a packed defense which can and does stifle opposition chances, backed up by the ECAC Goaltender of the Year, Alex Westlund.
Westlund holds the nets, and his 20-7-3 record, 2.29 GAA and .918 save percentage are something to take notice of.
"He's been strong all year and that's how we're going to win games," said Taylor. "We don't have many statistical leaders, and without Jeff Hamilton a huge chunk of our offense is gone — we have to win games on defense."
Another key for the Bulldogs will be getting an early lead, and letting the defense take control of the game. More to the point, Yale then must hold that lead.
"One of the things that we struggled with all season long is that when we come out and crank it up to begin the game…the other team gets off the mat and they put us back on our heels," said Taylor.
Win or lose, this has been one spectacular season for the Bulldogs, but you can be assured that it would be even greater if the Bulldogs head to Boston next weekend.
PICKS:
Paula C. Weston: Yale vs. Ohio State: There's a reason that OSU is playing like one of the best teams in the country — they are one of the best teams in the country. And this is a team that positively feeds off of the lack of respect they've been shown this season. The less attention they get — and the more accolades their opponents receive — the better the Buckeyes play. Ohio State 4, Yale 1
Dave Hendrickson: OSU 5-1. Without Jeff Hamilton, it ain't pretty.
Scott Brown: The loss of Hamilton, combined with Yale's late-season swoon, makes this pretty one-sided. OSU 4, Yale 1
Jayson Moy: Without Hamilton, the Bulldogs have to find a way to score. With only two goals in the two games without Hamilton, the Bulldogs are going uphill. One and out for Yale. OSU 4-1
Scott Tappa: Buckeyes rebound from tough loss. Ohio State over Yale.
No. 3 Michigan (29-11-1) vs. No. 6 Princeton (18-10-7)
Friday, 8:30 p.m. ET, Yost Ice Arena, Ann Arbor, Mich.
This at-first-glance lopsided matchup may turn on Princeton's ability to overcome the "happy to be here" mentality which afflicts so many Cinderellas, or on Michigan's capacity to put behind it a CCHA semifinal loss to Ohio State last weekend.
On paper, there's no doubt the Wolverines have the better team, and we won't even go into the advantage Yost gives Michigan. Still …
Michigan
After losing to Ohio State 4-2 last Friday, the Wolverines need to do a little regrouping.
"Actually, I thought we played pretty well," says Michigan head coach Red Berenson. "I've watched the game a few times, and I thought we dominated the first period."
The shots on goal in the first period were even, but it was in the first that Todd Compeau deked Turco for the tying goal.
"In the second period," says Berenson, "Turco made two great saves on two breakaways. That was kind of a fluky goal that Boisvert had. Boisvert came in on the changeup and he walked in on Turco."
It's true that OSU was in mid-line change when Boisvert scored with 10 seconds left in the period. But without that goal — fluky or not — the Bucks might have been sunk. Since 1995, Turco is 84-0-0 when he leads after two periods.
Not bad for a guy whose head didn't seem to be in the game Friday.
"It came down to a game of mistakes," says Berenson. "It wasn't our younger players, it was a our experienced players who made the mistakes."
And how. Two goals were Turco, one was Hayes.
"Are they [OSU] a better team than Michigan? Probably not," says Berenson. "But are they a hotter team? Yes."
There are two things the Wolverines have to do to succeed in this tournament: let go of the loss against Ohio State, and respect their opponents as they obviously did not do with OSU.
One.
"We've got to get our bounce back this weekend," says Berenson. "The good thing is that we have another chance, that the game against Ohio State wasn't our last game."
So far, so good.
Two.
"Princeton is a good team, and they play a lot like a CCHA team," says Berenson. "They're feisty, they're physical."
Even better.
Michigan began the season slowly, then peaked and played like a team on fire, then dropped off a bit at the end. Berenson says it's offense.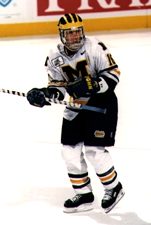 "I don't like the fact that our last ten games were five and five. That should've happened in the first ten games.
"The big difference in our team has been our offense. In the last five games, we've scored 11 goals."
Offensively, senior and Hobey Baker candidate Bill Muckalt leads the Wolverines with an impressive 64 points overall. Six other Wolverines — Hayes, Langfeld, Kosick, Herr, Rominski, and Crozier — have 20 or more points in overall play.
This is a team that should be scoring goals left and right, but that's just not the case. One goal in each game of the late-season three-game losing streak. They scored five goals in each of the two games after that, but without the 4-1 win over Notre Dame, the Wolverines would be averaging fewer than two goals per game in their last five outings.
Usually, it's enough to have Marty Turco in net, as it was in the 1-0 playoff win over Notre Dame. In 29 overall games, Turco's GAA is 2.06, and his save percentage is .908.
Earlier in the season, after a rough weekend in Oxford, Oh., Michigan was able to bounce back and spank the Irish 7-2. Turco was a big factor in that game.
"He's bounced back before," says Berenson. "He'll do it again. He has to. This is single-elimination hockey."
The youngsters played well last weekend, as they have done all season. Mike Van Ryn is solid defensively, and Mark Kosick (11-29–40) and Josh Langfeld (18-16–34) are third and fourth, respectively, on the team in overall scoring.
And don't forget the experience on this team. Marty Turco, Matt Herr, Bobby Hayes, Dale Rominski — and a host of other Wolverines — were national champions just two years ago.
"I think our team has done well this season," says Berenson. "They're have been some breakdowns, and they've cost us of late."
What doesn't cost them is the home crowd. There are few places in the college hockey world that can boast the rowdy support of the Yost crowd.
Michigan has a lot to prove against Princeton. And if they get by the Tigers, they'll take it to the Sioux.
Princeton
On Saturday evening, two phrases were uttered for the very first time ever.
One: The Princeton Tigers are the ECAC champions.
Two: The Princeton Tigers are going to the NCAA tournament.
Both came after the Tigers scored 48 seconds into the second overtime to capture the ECAC tournament championship with a 5-4 win over Clarkson.
"I thought that the first few shifts of the game told the whole story, that we came ready to play," said head coach Don "Toot" Cahoon. "There was very little coaching from our part, the motivation was from within, the determination was from within, and all concept of winning the championship was within the kids. They had a challenge and they knew it was a challenge.
"Everyone told them it was insurmountable, but they never believed it for a second, and they played like they never believed it or thought like that," he added. "It was 20 guys digging in as deep as they possibly could to get it done. It was a great team effort."
Few thought that the Tigers would be a factor; after all, they were the seventh seed in the ECAC tournament and had to travel to play Brown, one of the hottest teams in the ECAC, in the quarterfinals. Then they would play Cornell in the preliminary game on Thursday evening, and then face the number-one seed in regular-season champion Yale the next night.
The Tigers won 6-2 over Cornell, and then hung on to defeat Yale 2-1 to move into the championship.
It's been a long road for Tiger hockey, and the renaissance started in the 1991 when Cahoon was hired to replace Jim Higgins. The Tigers had never won an ECAC playoff game and had only two winning seasons since 1956: 1967-68 with a 13-10-1 record, and 1959-60 with a 12-11-0 record.
Things started to turn around when Cahoon was hired. In his first season, the Tigers defeated Colgate in an ECAC preliminary game with a 5-4 double-overtime decision. The Tigers fell in the quarterfinal game, 6-3 to St. Lawrence, but a first had been achieved.
The next year, they defeated Vermont in the prelims before losing to Harvard in the quarterfinals. The year after, the Tigers lost to Cornell in the preliminary game. But the next year was a different story.
In Cahoon's fourth season, the Tigers finished 18-13-4, their first winning record since the aforementioned 1967-68 season, came into the tournament as the sixth seed, and advanced to the championship before falling. History was being made.
The next year the Tigers went out in the preliminary Game, but last year the Tigers advanced to Lake Placid once again, and lost in the semifinals. Then came this year's breakthrough.
"It's what we've been working for," said tournament MVP Jeff Halpern on this season's title. "It started four years ago when we first got [to Lake Placid], and it shows that we're headed in the right direction."
"This solidifies the Princeton hockey program as a solid program at the Division I level," added Cahoon.
The story this season for the Tigers has been the up and down year, racked with injuries, and weekends of splits, sweeps and one-pointers. But it all came together.
"We kept saying that if we could make an honest effort week in and week out, and if we knew that we could get everybody healthy, that we could be a real good team before this year was over," said Cahoon. "People were writing us off when we were picking up one point per weekend and splitting, playing one good game and one game that we were struggling. If we could get get some of those bodies back we could make a pretty good playoff run.
"Never in my wildest dreams did I dream that we would play ourselves into such a low [ECAC] seed and have to come up with six great performances," he added.
Now the Tigers, effectively the last team into the NCAAs, have to come up with four more great performances in order to win a tournament that they are in for the first time — ever.
Welcome to the ball, Cinderella.
PICKS:
Paula C. Weston: The Wolverines were so dispirited after their loss to Ohio State that the players didn't even talk to the press (which, by the way, doesn't sit well with us). Michigan will be playing angry, and they'll be playing at home. God save the Tigers at the hands of an angry mob (bonus points to anyone who can email me the literary work to which that — in a convoluted way — alludes). Michigan 3, Princeton 1
Dave Hendrickson: Michigan 4-2. Midnight for Cinderella.
Scott Brown: Home ice, better talent, more to prove — Michigan 5, Princeton 2
Jayson Moy: Princeton is playing in the NCAAs for the first time. The downside? An opponent hosting the regional. It'll be closer than a lot of people think, but Princeton will go down to the Wolverines, 4-3.
Scott Tappa: Yost crowd gives boost to lethargic Wolverines. Michigan over Princeton
No. 1 Michigan State (31-5-5) vs. Ohio State/Yale
Saturday, 6:00 p.m. ET, Yost Ice Arena, Ann Arbor, Mich.
Michigan State reclaimed the top spot in the U.S. College Hockey Online poll this week after becoming the only regular-season champion to also take home the conference tourney hardware. With their CCHA finals win over Ohio State, the Spartans also earned the number-one seed in the West regional, but face the prospect of a tough return match with the Buckeyes if OSU gets by Yale Friday.
The Spartans and Buckeyes know one another well by now, and though MSU holds a 3-1-0 edge this season, it's safe to say that most Spartan fans will be rooting for Yale in the first round.
Michigan State
Ron Mason also doesn't think that the Buckeye season will end against the Bulldogs. He's preparing for a rematch on Saturday night.
"I'm anticipating that. I'd be surprised if it isn't. I think it's a good match for both teams. In our case, we know what we can expect from Ohio State."
While perhaps only the Spartans know what to expect from the Bucks, nearly everyone in the nation now knows what to expect from Michigan State.
Excellence. Period.
The Spartans have defeated every potential NCAA opponent they've faced this season, and lost to none save Ohio State.
The Spartans own a 10-1-0 record against the rest of the field in 1997-98. Michigan State is 4-0-0 against Michigan, 2-0-0 against Wisconsin, 1-0-0 against Boston University (although a win against both the Badgers and the Terriers came in exhibition play in the Team Cheerios Icebreaker Cup), and 3-1-0 against the Buckeyes. Alban was the goalie of record in each of those games.
Alban is, simply put, the best goaltender in college hockey this season. His GAA against teams in the NCAA tournament is 1.41; his save percentage against those teams is .941.
Those are impressive numbers against the top 12 teams in the country.
Alban has an 11-game winning streak and a 12-game unbeaten streak on the line in Michigan State's second-round game. He's allowed two or fewer goals in 32 of his 39 games this season, including the phenomenal performance against the Buckeyes last weekend at The Joe.
Senior Sean Berens says of Alban, "When you've got a goaltender like Chad Alban in the net, it makes your job that much easier. The way it works is we let Chad do his job, and we take care of our opportunities when we get the chance.
"We concentrate on defense first and let the offense take care of itself."
And what a defense it is. Alban is an excellent defender as well as a goaltender, and he has a great core in front of him. Tyler Harlton, Mike Weaver, Brad Hodgins, Jeff Kozakowski, Chris Bogas…this defense is probably the best in the country.
This week's Spartan press release says that it can be argued that Michigan State has the best defense among teams in all leagues in North America, because the Spartan GAA of 1.67 is better than that of the NHL's New Jersey Devils (1.95) and Dallas Stars (2.02).
More to the point here, the Michigan State GAA is better than that of any other Division I team. The next closest D-I stat is Boston University's 2.22.
This isn't fiction, folks.
Often overlooked on this tough defensive squad are Hodgins and Kozakowski, good defensemen and the pointmen on the excellent Spartan power-play unit.
Hodgins had an outstanding weekend at The Joe, playing great defense against Northern Michigan, and picking up assists for each of Mike York's power-play goals. With a goal and 17 assists in overall play, Hodgins is hard to miss.
Okay, okay, he's at minus three. Nobody's perfect.
As Berens said, when the defense is taken care of, the offense just seems to happen for the Spartans, and it seems to happen most with York's and Berens' involvement.
That one-two punch is responsible for 41.2 percent of the team's goals, and 28.6 percent of its points. With 58 and 54 points, respectively, York and Berens increase the Spartans' chances of scoring simply by being on the ice.
They're also integral to the Michigan State power play. Berens and York are first and second in the nation, respectively, for power-play goal totals (Berens 14, York 13). Rookie Rustyn Dolyny has 10 power-play goals.
It was the power play, in fact, that won the title for the Spartans last weekend, with help from Hobey-Baker finalists Mike York and Chad Alban.
This is a team that has won every tournament it's entered this season. Team Cheerios, the GLI, the CCHA — all of which came after a six-year drought in which the Spartans didn't win a single tournament.
Do you think these guys are ready?
"We've been setting goals this whole season, and thus far we have done a good job of attaining them," says Berens. "That's the way this team goes about things — we take things one step at a time. I think we have a tough bracket, but hopefully we can attain our goals and make it to the Final Four."
The players don't care who they're playing, even if Mason thinks it will be Ohio State. Says Harlton, "If it's going to be Ohio State it will be a lot of the same as last [week]. That was a hard-fought game for 80 minutes. I haven't seen Yale play yet this year, but a team has to be good to win the regular-season title. We know how tough that is."
"Whoever we play is going to be a tough team," says Berens. "We know Ohio State is very good, and I am sure that Yale is an outstanding team.
"When you get down to 12 teams in the nation, any team you play is going to be great competition."
Says Alban, "Every team is good at this point and deserves to be here. It's a one-game shot, so anything can happen. We know that we will have to play our best to win."
Evidence of players well-coached both on and off the ice.
Michigan State will benefit from having a night off before playing the winner of Friday's early game, but Mason says that fatigue probably won't be a factor for Michigan State's opponents. "At this point in the season, teams are pretty well-conditioned. Ohio State certainly is.
"The team that plays the Friday game usually comes out and plays pretty well early in the Saturday game because they're used to it, and you have to be careful because you've been off.
"If we have our wits about us, it will be an advantage as the game goes along. These players are used to playing two games in a row, though, so it's not as big an advantage as you might think."
For the record, Michigan State is 1-1-0 in second-round games when it's had the bye in the first game.
Whatever the outcome of Friday's game, no matter who Michigan State faces, getting to Boston via the boys of East Lansing is the toughest road in the tournament.
PICKS:
Paula C. Weston: Neither the Buckeyes nor the Spartans played their best game at The Joe last weekend. Folks who haven't seen much of these teams may be surprised to hear it, but neither has peaked yet. Ohio State may surprise a few more people come Saturday night. Yes, I'm picking against the odds, but I don't care. If OSU stays out of the penalty box, the Spartans may have a tough time scoring on Maund, who played uber-hockey last weekend. It's just a shame that both of these teams can't go to Boston. The "loser" of this match — no matter which team — may be the only one who can eliminate the other from the tournament. Ohio State 3, Michigan State 2
Dave Hendrickson: OSU 3-2. It's a CCHA championship-game replay, but this time the Yost crowd gets OSU over the hump against the Spartans. Rumors that this pick was made solely to tick off my editor, a Michigan State alum, may be true. Editor's note: &$#*@$!! I'll get that $*!#ing Hendrickson yet…
Scott Brown: Possibly the showcase game of the regional. MSU 3, OSU 2 (OT)
Jayson Moy: MSU will win the rematch with OSU, 3-1; if it's Yale, MSU wins 6-1.
Scott Tappa: Three-overtime thriller even better than CCHA finale. Michigan State over Ohio State.
No. 2 North Dakota (30-7-1) vs. Michigan/Princeton
Saturday, 9:00 p.m. ET, Yost Ice Arena, Ann Arbor, Mich.
A loss in the WCHA championship game might just haven been the tonic needed to get the Sioux going. The 1997 NCAA champs put it in cruise control after securing their second straight WCHA regular-season title, going 4-3-0 and looking vulnerable against Mankato State, St. Cloud and finally Wisconsin in the postseason.
If that's the case, feel for UND's opponent, because no team in the country wants to face the defending champs when they're angry.
North Dakota
Star forward Jason Blake has a reputation of being somewhat of an agitator. With foes and fans alike, Blake never shies away from brief exchanges of pleasantries.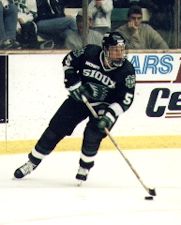 "I love when that happens," said Blake, who was UND's best player during the Sioux's second-place run in last weekend's WCHA Final Five. "Things seem to go better for me and my linemates."
So it should come as no surprise that at Milwaukee's Bradley Center, where the second-ranked Sioux won the national title a year ago, Blake was the object of much derision from the ungracious hosts from the University of Wisconsin.
"They're mean," Blake said.
If Blake thought Milwaukee's fans were ill-tempered, wait until he gets a whiff of the fans at Yost Arena. As the second seed in the West Regional, North Dakota will, barring a Princeton upset, meet Michigan for the right to advance to Boston.
Sioux coaches and players have been anticipating the likely matchup, and discussed the challenges of road play during the postseason.
"You just try to come out and get a quick goal, maybe quiet them up a bit," said Hobey Baker finalist Curtis Murphy, the WCHA's lone representative for college hockey's most prestigious award. "But if they get going, it's kind of like a sixth skater out there. For us it's a little motivation to try to come in and win one in front of their fans."
Yet, crowds will have little to do with North Dakota's title defense if the team doesn't get its house in order first. While its championship-game loss to Wisconsin and semifinal win over St. Cloud State were by no means lackluster, the Sioux failed to dominate clearly less-talented opponents.
In the St. Cloud game, North Dakota lacked killer instinct, allowing the Huskies to rally from a three-goal deficit to within one with 1:32 to play. Then, Wisconsin outshot North Dakota 36-31, holding the Sioux scoreless in the third period, ordinarily their most productive.
A major concern for North Dakota is the health of freshman phenom Karl Goehring. Goehring (23-3-1, .913 SV%, 2.27 GAA) reportedly hurt his groin in practice this week, and is questionable for this weekend.
However, North Dakota has the uncommon luxury of bringing in Aaron Schweitzer, who started last year's championship game against BU. While Schweitzer has been less than spectacular this season (7-4-0, 4.23 GAA, .859 SV%), he has big-game experience under his belt.
Offensively, coach Dean Blais got production from all four lines last weekend, most prominently the Blake (24-26–50)-Lee Goren (3-12–15)-Brad DeFauw (9-11–20) third line, and the Wes Dorey (11-11–22)-Jesse Bull (12-16–28)-Peter Armbrust (4-5–9) line.
Perhaps troubling is that Blais' Panzer Division (brothers Jay (18-21–39) and Jeff (14-23–37)), along with David Hoogsteen (19-22–41), which entered the Final Five on an absolute tear, was held to two assists, both accrued on a power play against St. Cloud.
Nevertheless, North Dakota was solid in its own end, as well as the neutral zone, a testament to the corps of blueliners led by Murphy and gritty captain Mitch Vig, as well as a responsible group of forwards.
"We at times take a lot of chances forechecking, because we have a lot of creative forwards," Blais said. "We like to gamble at times."
Gambling may land defenseman Tim O'Connell on the bench more often in the tournament. Against Wisconsin, O'Connell took the third-period penalty which led to Joe Bianchi's game-winning power-play goal.
But don't expect these Sioux to beat themselves. They've been there, done that, and are looking to do it again.
"Last year, we hadn't been there before; it was a new experience for us," Murphy said. "When we got there, the emotions were so high. This year, it's the same thing, but we've been there, we know what it's like.
"We've just got to get a win and get to Boston."
"We'll be ready," said Blais.
PICKS:
Paula C. Weston: This may be the toughest game to call. NoDak may have an injured goalie; they are, however, the defending national champs, and a tough team to beat, and their "backup" won a national title last year. Michigan may have a faltering offense; they are, however, playing at home. I'm just going with the defenders here. North Dakota 3, Michigan 2
Dave Hendrickson: The Alan Alda Matchup — both teams are oh-so vulnerable. North Dakota picks the wrong place and time to try to squeak past another opponent. Michigan 5-4.
Scott Brown: The defending NCAA titlists show why. UND 4, Michigan 3
Jayson Moy: No matter who comes through, the Sioux will advance to Boston because they are consistent and deadly. UND 6-4 over Michigan, or 7-2 over Princeton.
Scott Tappa: Sioux goaltender lit up in testament to home-ice importance. Michigan over North Dakota.