Steve Aronson capped off his storied St. Thomas hockey career by being named the American Hockey Coaches Association's NCAA Division III Player of the Year.
Aronson, a senior from Minnetonka, Minn., becomes the first MIAC player to receive the elite award, which was announced Thursday at the Frozen Four in Providence, R.I. Aronson was also selected Division III Player of the Year earlier this week by U.S. College Hockey Online.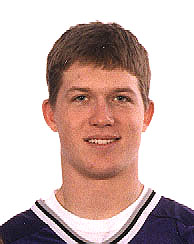 "Steve is the finest player that I've ever coached, bar none," said UST coach Terry Skrypek, whose 30-year coaching career includes 17 seasons at Hill-Murray High and 13 at St. Thomas. "I think he's the best college hockey player in Division III, and I'd put him up against many Division I players. He's very unselfish, and has worked hard to have a complete hockey game. I think he has the mental toughness to play professionally."
A two-time MIAC Player of the Year and three-time first-team All-America, Aronson broke several records in his four seasons at UST, including Andre Beaulieu's 35-year-old MIAC scoring record. Aronson surpassed Beaulieu by nine points, finishing with 244 career points (104 goals, 140 assists).
Aronson's career totals also rank him first on UST's career list for goals, assists, and points.
While leading his team to a runner-up finish at the NCAA tournament and 27-4-2 overall record, Aronson led all Division III scorers this season, averaging 2.76 ppg. His 91 points (38 goals, 53 assists) broke UST's single-season mark of 83, set 20 years ago by Mark Hentges. He was a member of three Tommie teams that won MIAC hockey championships, and played in the NCAA playoffs twice.
Aronson is also a starter on the St. Thomas baseball team that was the NCAA Division III runner-up last season. He has a 3.38 grade-point average in business, and is an Academic All-America candidate.
Aronson was selected USCHO's Division III Player of the Year by Division III coaches and media who participate in USCHO's weekly national poll, the Division III reporting staff at U. S. College Hockey Online, and by the combined vote of fans.