St. Lawrence head coach Joe Marsh once said that he believes the key to any championship-caliber team is the play of its third and fourth lines. When the game is on the line and the stakes are higher than ever, the balance of power shifts from top to bottom. That's when the real heroes emerge, and that's where the St. Lawrence story begins.
As the team heads back to the North Country following its eighth trip to the Frozen Four, marquee names such as Brandon Dietrich, Erik Anderson and Derek Gustafson will be thrown around at will … that is, until you take a closer look at the game sheet.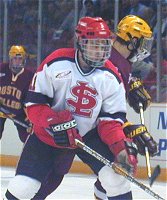 Robin Carruthers, Jason Windle, Charlie Daniels, Jim Lorentz, Jack O'Brien, Sean and Mike Muir? Who are these guys?
They are the unsung heroes who have been an integral part of St. Lawrence's dominating run to the Frozen Four, and part of the reason why this year's Saints team should be compared to some of SLU's best.
"You're not going to have every guy score 15 to 20 goals. I don't even think that we had a guy who scored more than 20 goals this year, and I think that's a great tribute to how hard this team competed and how they've relied upon one another and not on just one or two guys," said Marsh. "I think that's so important. Any year that we have gotten to this point or close to this point and have had a championship-caliber team, we've been fairly balanced. We're a team that if we were going to beat teams we had to do it differently. Maybe we don't have a marquee guy every year, maybe we rebuild from a different point, like from the third or fourth line."
During last Saturday's historic marathon contest against Boston University, there was a subtle yet telling shift of power. Dietrich, a First Team All-ECAC selection and the Saints' top scorer, gave his team the early 1-0 lead. The next two goals came from less likely sources. First it was sophomore Jack O'Brien, a consistent fourth-line player all season long, who broke down the ice early in the second period and deposited the Saints' second goal off a feed from linemate Sean Muir. It was a critical goal for a guy who isn't a prolific scorer. In fact, he has only scored four goals this season, and two of those tallies came in the postseason during a 3-2 overtime win over Cornell in the ECAC semifinals.
Then, with the score deadlocked at two goals for nearly 72 minutes, it was neither Dietrich nor Anderson who donned the hero's cap. It was a third line player, Carruthers, who gutted out a final burst of speed down the left wing and slammed home his own rebound to give his Saints the semifinal victory at the 1:27 mark of the fourth overtime period. To say it was the biggest goal of the sophomore's career is a colossal understatement. Carruthers entered that contest with four goals and eight assists, but like O'Brien, he tends to save his best play for the post season. At last year's ECAC Championships he posted a goal and three assists; this season was no different, as he produced eight points in his last 16 games this season.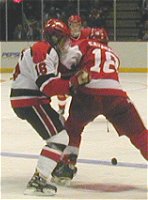 "They worked to get to that point," said Marsh of his third- and fourth-line players. "A guy like Jimmy Lorentz is a freshman who had a great game tonight. Jack O'Brien had seven or eight goals huge goals for us this season. Carruthers … that was the biggest goal of the year for us. They don't have to have a lot of them, but they keep working and they keep plugging and they do other things. They've worked harder at their defensive games and they have been willing to contribute in other areas to where they got a chance to play. Then, anything can happen."
On Thursday night against Boston College, St. Lawrence was led by yet another unlikely duo. Jason Windle (22 goals in his four-year career) and fourth-liner Charlie Daniels (4-9–13) supplied the offensive spark and almost led the Saints to their third NCAA Championship appearance.
Unfortunately it was not enough as the Saints saw their 1999-2000 take its final breath on Thursday night. The Saints' regular record of 22-7-2 will go down as the third-best in program history, trailing only the 1988-89 team (25-5-0) and the 1987-88 squad (23-7-0). Its home mark of 16-1-0 also tied the record for most home wins in a season.
Perhaps Marsh summed up the season and his attitude the best when he talked about the intangible contribution of two of his fourth-liners, Sean and Mike Muir.
"To give you an idea, these kids have had their own landscaping business since they were 13 years old. These kids just work so hard. They never miss a class … they give it everything they've got. They're constantly in the weight room. They're zero maintainence kids. They don't have a ton of points.
"But I am not trading them for anybody because they make everyone around them better. They make Dietrich and Anderson better because they play the same way on Tuesday as they do on Friday and Saturday night. You can't imagine how hard they work and that's why they are here and that's why we don't hold our breath while they are out there with a minute to go in the game like this. We have to find players like that in order for us to be a successful program."
So although the team may not be competing on Saturday night for the championship, St. Lawrence has certainly proven its coach right.