Sometimes games come down to Xs and Os. A brilliantly designed faceoff play. A game plan that strikes at an opponent's Achilles' heel. A power play that breaks down a penalty kill with the precision of a Swiss watch.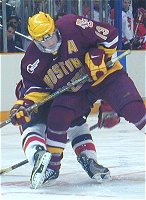 But other times games are won and lost on raw talent. And Boston College's 4-2 win over St. Lawrence served as Exhibit A for such cases. Great individual efforts by Blake Bellefeuille and Jeff Farkas proved to be the difference between advancing to the national championship game and breaking out the golf clubs.
"Like most coaches, I've been in the game a long time," said BC coach Jerry York. He then added with a grin, "I can actually take chalk and put it in my left hand and describe plays.
"There's not a lot of science to it. What we have to do to be successful is to recruit quality young guys who are good hockey players who have a good work ethic and want to fit into a team situation. I think we've done that."
Down 1-0 in the second period and killing a penalty, Bellefeuille gave the Eagles a major lift by outracing a St. Lawrence defender to a loose puck behind the net and then roofing it for a game-turning shorthanded goal.
"I gave him a little tuck-and-go when I was skating back with him and tried to get in front of him," said Bellefeuille. "I got some body position on him when I checked him against the boards. The puck squirted free and I wheeled around the net and just got it upstairs. Fortunately, it found the right post."
The Eagles found themselves down again entering the third period, 2-1. Mike Mottau almost scored a goal with some flash after stepping around one defender, but his shot clanged the post. Within seconds, however, he had tied the game on that most workmanlike goal, a shot from the point through a screen.
"I just wristed it through and the puck had eyes," he said.
With the season hanging in the balance, Farkas painted his piece de resistance to win the game with 1:57 remaining in regulation. On the verge of just dumping the puck in after crossing the blue line, he beat first one defender one-on-one and then another. The final brushstroke was a rocket roofed into the top corner.
"That was an NCAA highlight-type goal," said York.
Brian Gionta, who has scored more than a few of those himself, added, "That goal was unbelievable. Sometimes with this team, you just sit back and watch in awe."
Even in defeat, St. Lawrence coach Joe Marsh could appreciate Farkas' masterpiece.
"It was a goal-scorer's goal," he said. "A great goal by a great player."
Marsh then spread the praise around to BC's other top guns.
"Bellefeuille, Mottau and Farkas scored their three goals [before Gionta's open-netter,]" said Marsh. "They've done it all year long. Their big-name players came up big."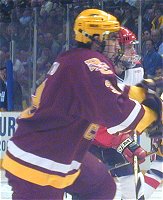 With three Hobey Baker finalists in Mottau, Farkas and Gionta, Boston College has the raw talent that is difficult for any team to match up with. And that's before considering the oft-overshadowed Bellefeuille, who always seems to deliver in the postseason.
"Good players play well in big situations," said York. "They thrive on pressure. We've got a lot of talented offensive players, but they play with a lot of grit and determination and they make me very, very proud."
For their parts, the BC stars who could become distracted by individual honors are focused only on the right things.
"This is what it's all about, winning a championship," said Bellefeuille. "The best thing about this team is that those [Hobey Baker finalist] guys don't even care about individual awards. The only thing they're focused on is winning this Saturday night."
They're also quick to spread the credit around to their teammates.
"Coach York recruits the right guys — the skill guys, the character guys," said Mottau. "We push each other in practice and that translates into the game: Blake beating the guy down the ice and coming around and firing top shelf and the same with Jeff fighting through two checks and roofing the puck himself.
"Both were great individual efforts. I attribute that to hard work and the players that they are."
Farkas seconds that emotion.
"Going against the players that we have on our team day in and day out in practice [makes the difference,]" said Farkas. "Going against Mike every day is going to make you a better player. We practice like we play."
In which case Friday's free practice at 1:45 should be in front of a full house.