Last year they were an X-factor, but the Mercyhurst College Lakers marched into the MAAC and took the league by storm. As one of two new entries in the conference's second year of existence, Mercyhurst used a combination of depth and experience from the tough ECAC West league to post an impressive second-place finish.
This year, one thing is clear, especially to long-time coach Rick Gotkin.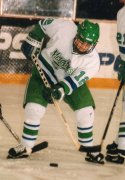 Mercyhurst will not surprise anybody.
"Were going to face a lot of expectations," said Gotkin. "The only thing worse than not achieving your goals is not living up to expectations. That will be the single biggest challenge we face this year."
Gotkin, though, is quick to downplay his team's number-two pick in the preseason MAAC poll.
"Polls are great, but I think that's for the media," Gotkin said. "We're just going to try to work hard and give a good effort every night. With some hard word and a little bit of luck, it could be a good year for us."
Humble indeed is Gotkin, entering his 13th year behind the bench for the Lakers. But one thing he's not shy about is discussing the Lakers' losses from last year.
"We lost Paul Colantino last year, a co-defensive player of the year, as well as Ashley Stevens, someone who split the goaltending. So we know we lost some impact players last year."
To fill those holes, Gotkin will look to players like Matt Cifelli, who was player of the year in the Canadian Provincial Junior League last season. Gotkin expects him to learn a lot from returning junior netminder Peter Aubry, who finished last season with an 11-6-3 record, a .913 save percentage and a 2.44 goals against average.
"With some hard word and a little bit of luck, it could be a good year for us."
— Mercyhurst head coach Rick Gotkin
Defense will remain the key hole for the Lakers, and as the defense goes, so you should expect the Griffs season to move as well. Two freshmen, Jamie King from Kittanning, Penn., and Nolan Brown from Regina, Sask., will have to chance to step in and make an immediate impact.
Up front, the Lakers will look to junior Louis Goulet and senior Eric Ellis to lead the charge. The two finished one-two in scoring last season and will have to lead an offense that is used to playing in close games.
Last season, Gotkin's Lakers became known as cardiac kids, posting rally wins in many games early in the year, and playing a total of 22 games (of a possible 37) decided by two goals or fewer. Last year, the Lakers fared well in those contests, posting a 14-4-4 record there. That trend may have to continue or the Lakers could watch themselves fall from the top of the MAAC.
"This year, every game we expect teams to play us like it's the game of the year," Gotkin said. "It doesn't matter who we play or where we play, every game is a battle."