After years of explosive offensive firepower and defensive stinginess, New Hampshire had to rely primarily on the latter last season. The Wildcats totaled only a modest 122 overall goals, a far cry from their 204 in 1996-97 or even the 171 the year before last.
This finally caught up with them when they finished 4-5-1 down the stretch, with their only postseason wins coming in the Hockey East quarterfinals. For many teams that would have been a successful season, but it was a letdown for UNH fans after two consecutive trips to the Frozen Four.
"Last year didn't go bad, qualifying for the NCAA tournament," says coach Dick Umile. "I thought that three quarters of the season we played pretty well defensively, but we struggled scoring goals. That was our handicap, but our team overall played pretty good defense, led by Ty."
Ty, of course, is goaltender Ty Conklin, who will again be "The Man" in the UNH crease. Conklin ceded only 123 minutes to backup Matt Carney, a factor which may have eventually caught up to Conklin later in the season. Over the first half, he was spectacular, carrying the team on his back and earning serious consideration for the Hobey Baker Award. His consistency fell off in the second half, however, and with UNH goal scoring in short supply, the drive to another national championship game stalled.
"Ty is going to play the majority of the games this year, but we'd like to try to give him a little more of a breather during the season, at least during the middle of the season and maybe down the stretch," says Umile. "There's no question that he's our go-to goalie, but we've got competition with Matt Carney and a freshman, Michael Ayers. We're hoping that Ty will get more of a break than he did last year, but we feel real good with our goaltending."
"We're basically going to keep playing solid defense and keep the number of scoring opportunities down. If we do that, with Ty Conklin, we've got a good shot at being in the game."
— UNH coach Dick Umile
On defense, UNH returns all but Dan Enders. Seniors Mark White, Sean Austin and Eric Lind combine with sophomore Garrett Stafford to form the nucleus. Sophomore Kevin Truelson also saw considerable action last year and will be joined by Tyler Scott and incoming freshmen Mick Mounsey, Tim Horst and Mike Lubesnick. Of the four newcomers, Mounsey — sure to be a fan favorite as a New Hampshire native — and Horst appear to have the inside track to a place in the rotation.
"We feel good about the defensive aspect of our game with five of the six [defensemen from last year] returning," says Umile. "We also have a very, very good group of freshmen defensemen coming in, so it will really be a battle for someone to get into that lineup and maybe even challenge some of the players who played last year."
Although the group played solid defense as a whole last year, it did lack the quarterbacking capability of a Jayme Filipowicz, both even strength and on the power play. This contributed to the team's offensive woes. The UNH man advantage dropped to a lowly 13 percent conversion rate, at least in part because of the play at the points. With another year under his belt, Stafford may be ready to elevate that dimension of his game.
Umile, however, is none too anxious to have his defensive corps start thinking too much about offense.
"We're basically going to keep playing solid defense and keep the number of scoring opportunities down," he says. "If we do that, with Ty Conklin, we've got a good shot at being in the game."
The biggest concern lies at forward, where UNH had its problems even prior to losing Mike Souza, John Sadowski and Jason Shipulski to graduation.
Darren Haydar (22-19–41) will once again be one of the most dynamic players in the game, but he could be susceptible to shadowing if other forwards don't fill the shoes — and then some — of the old "S" line.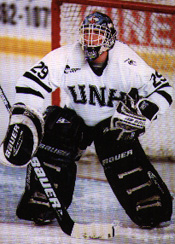 TY CONKLIN