The Best of the First Half
We're a few weeks into the second semester, but let's take a look at who Hockey East's top performers have been to date. Unlike the official awards, this looks at all games, not just those within the league.
(All statistics quoted will be as of Jan. 18 due to the traveling schedule of yours truly.)
All-Rookie Team
Goaltender – Joe Exter (Merrimack): Although a sophomore from an eligibility standpoint, this is Exter's first active season so he's an All-Rookie candidate. With Boston University's Sean Fields the only other newcomer seeing any significant time, the nod goes to Exter.
He came into the season as a backup to senior Tom Welby, but Exter's consistent play has elevated him to the number-one role. He's backstopped the Warriors to a 9-7-0 record in his games and posted a 2.97 goals against average and a .903 save percentage.
Defenseman – J.D. Forrest (Boston College): This stylish blueliner (5-6-11) has quickly adapted to play in Hockey East, whether it's stopping the opposition's top scorers one-on-one or manning the point and making excellent decisions in the offensive zone.
Defenseman – Regan Kelly (Providence): With only three returning defensemen, the Friars appeared to be in for a rebuilding season. Instead the four freshmen blueliners, led by Kelly, have resulted in an upgrade over last year's performances.
He's played well in his defensive end and quarterbacked one point on the power play, recording a 1-13–14 scoring line. He's one of several big reasons why Providence has been the surprise team of the East.
Forward – Chuck Kobasew (Boston College): Another member of BC's stellar freshman class, Kobasew has edged ahead of three-time All-American Brian Gionta in points with a 13-13–26 stat line. Week after week, Kobasew has ranked among Hockey East's top 10 scorers.
Forward – Laurent Meunier (UMass-Lowell): This native of Echirolles, France joins with countryman Yorick Treille to form Lowell's French Connection. Tied for second among River Hawk scorers, Meunier already has eight goals and 14 assists for 22 points.
Forward – Scott Selig (Northeastern): It didn't take long for coach Bruce Crowder to put this freshman on the Huskies' top line alongside Graig Mischler and Mike Ryan. Although his production (5-7–12) has been inconsistent and doesn't match Meunier's or Kobasew's, Selig has potential, at 6-2, 175 pounds, to become an excellent power forward when he grows into his body.
Best Rookie Surprise – Francis Nault (D, Maine): This one's a no-brainer. A walk-on, this defenseman was such a longshot to make the team that he wasn't even listed in Maine's section of the Hockey East media guide.
The best part of the Black Bears' first-half injury woes was that Nault was forced into action and then showed what he can do. From out of nowhere, Nault (1-7–8) has contributed solid defense and occasionally filled in up front.
Rookie of the (Half) Year – J.D. Forrest: Kobasew would be the safe pick as the top-scoring forward, but these eyes have been even more impressed with Forrest. He's gifted offensively and solid defensively.
"He's got a lot of Mike Mottau's instincts," says BC coach Jerry York. "He can make a power play go from average to very good."
All-Hockey East Team
Goaltender – Nolan Schaefer (Providence): From start to half-finish, Schaefer has been the top goaltender in the league. He's compiled some astonishing statistics — a 1.69 goals against average and .943 save percentage — while stealing many a game for the Friars.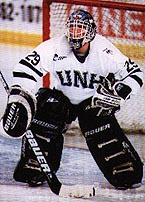 Goaltender – Ty Conklin (New Hampshire): He got off to an uncharacteristically mediocre start, but has been on fire of late. Except for the first game after holiday break, he's allowed only seven goals in the last 10 games for a 0.69 GAA, .974 Sv% and a 7-0-3 record. In case those three ties bother you, two of them were shutouts. That, my friends, is domination.
Goaltender Runners-up: Matt Yeats (Maine), Mike Gilhooly (Northeastern) and Scott Clemmensen (Boston College).
Defenseman – Matt Libby (Providence): Libby has anchored the predominantly young Friar defense and been the top-scoring defenseman in the league as well with a 9-16–25 scoring line.
Defenseman – Ron Hainsey (UMass-Lowell): This sophomore has become a scoring machine for the River Hawks, netting seven goals along with 16 assists for 23 points. For most of the season, he's led Lowell in scoring.
Defenseman – Jim Fahey (Northeastern): He only has 11 points, in part because the Huskies have struggled offensively, but Fahey has excelled at both ends and been a team leader as a junior.
Defenseman – Samuli Jalkanen (UMass-Amherst): His selection results in some very, very tough omissions, but he plays Ray Bourque-ian minutes, is a fixture on both the Minuteman power play and penalty kill and is one of the league's most underrated players.
Defenseman Runners-up: Bobby Allen (Boston College), Garrett Stafford (New Hampshire), Doug Janik (Maine), Peter Metcalf (Maine), Freddie Meyer (Boston University), and Stephen Moon (Merrimack).
Forward – Krys Kolanos (Boston College): This sophomore plays a style reminiscent of Mario Lemieux and has been the league's top forward. Sometimes he looks like he's not hustling, because at his size his legs aren't going to be a roadrunner-like blur, but usually those looks are deceiving. Kolanos is the most dangerous weapon in Hockey East.
Forward – Devin Rask (Providence): Perhaps the most underrated player in Hockey East, Rask provides the perfect hard-nosed but talented ingredient to combine with Peter Fregoe and Jon DiSalvatore on PC's top line.
Forward – Darren Haydar (New Hampshire): Haydar has attracted a lot of defensive attention, but has still put together a 13-18–31 scoring line.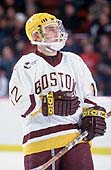 Forward – Anthony Aquino (Merrimack): This sophomore (11-19–30) shoulders the bulk of his team's scoring burden while not having the depth of weapons around him of some of the league's other top scorers.
Forward – Carl Corazzini (Boston University): Is there a scarier sight for a defenseman than seeing Corazzini fly up the off wing, poised to gain a half- or full-step and then cut in with the puck on his forehand?
Forward – Brian Gionta (Boston College): He's fallen to only 25 points in 22 games, but Gionta remains a hat trick waiting to happen.
Forward Runners-up: Kobasew (BC), Lanny Gare (UNH), Mike Lephart (BC), Brad Rooney (Lowell), Yorick Treille, Jon DiSalvatore (PC) and Peter Fregoe (PC).
Coach of the Year
Paul Pooley (Providence): A good case could also be made for BC coach Jerry York and UNH coach Dick Umile. However, both of those teams were expected to be strong; Providence was not.
Pooley has taken one of the youngest defensive teams — four freshmen defensemen and a sophomore number one goalie — and guided it to close to the best goals against ranking in the league. After graduating considerable offensive talent, the Friars are still second only to the Boston College in filling the net.
Most Valuable Player
Nolan Schaefer: No player has meant more to his team, nor been more consistent from the opening of the season.
Home of the Hobey
With Hobey Baker Award talk heating up, it makes sense to examine Hockey East's theme of "Home of the Hobey." The league boast comes from three straight winners: Chris Drury (1998, Boston University), Jason Krog (1999, New Hampshire) and Mike Mottau (2000, Boston College).
"We have a different theme every year and that seemed appropriate for this one," says Hockey East Commissioner Joe Bertagna. "Last year, we promoted the All-Decade Team."
The braggadocio, however, inherent in "Home of the Hobey" is a lot more likely to ruffle feathers in the other leagues than an All-Decade Team.
Has there been a negative reaction?
"There hasn't been anything like that publicly, but I wouldn't be surprised if there were some off-the-record reactions to it," says Bertagna. "If someone has a problem with it, I think that's a little small.
"We all try to promote our leagues. No league has ever had three straight Hobey Baker Award winners so we're proud of that achievement. We should be [proud] and it's a reasonable thing to promote.
"All the leagues try to sell their strengths and this is just an example of that. For example, the WCHA letterhead refers to itself as the Home of the National Champions. For Hockey East to use the Home of the Hobey theme seems to me to be in line with that."
Bertagna doesn't see a likely backlash against league candidates this year.
"It could happen, but when you get right down to it, there are a lot of independent-minded people involved in the process," he says. "I don't think that a piece of paper printed in September is going to sway anyone against a candidate."
Obviously, a league office is in the position to promote its candidates in the Hobey race. However, this can be controversial if one player is pushed harder than others within the same league. This can be perceived as "anointing" favorites at the expense of the other league candidates.
Will Hockey East be actively promoting players this year?
"I've got two different thoughts on that," says Bertagna. "We make a point of not choosing a Hockey East preseason team. It isn't fair to other players to name the preseason favorites.
"People can have their opinions, but to officially designate them is not fair to players who have great years out of the blue. So on the one hand, we try to avoid setting up certain players as the favorites.
"But once [the season is underway and] we've internally found out which players are being considered [to be prominent on the national stage], we might factor that into a Player of the Week or Player of the Month selection if it comes down to two or three candidates and you're down to pretty much tossing a coin to decide.
"In that case, we might go with someone more likely to be considered for the postseason awards. But that doesn't come first. Their performance had got to be equal so that it's just a tiebreak."
Trivia Contest
(Last week's contest is carried over into this week because of travel.)
And Finally, Not That It Has Anything To Do With Anything, But …
Here's my list of the top movies of the year. It doesn't include the following highly-regarded films that have just recently hit the screens, because I haven't been able to see them yet: You Can Count On Me; Traffic; Crouching Tiger, Hidden Dragon; Thirteen Days; and O Brother, Where Art Thou?
That said, here are the top 10, in inverse order.
10. "The Cell." In some ways, this is a sick movie. I even walked out of it the first time, something I am loath to do. I tried it again, though, and despite my distaste, I had to admire its imagination. Not that I'm in any hurry to see it again …
9. "Space Cowboys." Nothing spectacular. Just a fun movie about four old coots going back into space. Donald Sutherland's portrayal of a hormone-crazed geezer both stole the show and gave me hope.
8. "The Perfect Storm." An excellent flick that goes deeper than just special effects.
7. "Erin Brockovich." Julia Roberts hits another home run.
6. "Best in Show." This mockumentary was the most hilarious movie of the year.
5. "Cast Away." It's almost always deadly for characters to be alone for long stretches, but Tom Hanks pulls it off. An impressive achievement in a high-risk endeavor.
4. "High Fidelity." If you have to see a car crash or a gun fight every 10 minutes, this may not be your cup of tea. But it shows how character is what makes movies, more so than empty action. On the heels of last year's best movie, "Being John Malkovich," John Cusack stays on a roll.
3. "Unbreakable." With this movie and "Sixth Sense" under his belt, M. Night Shyamalan has established himself as a must-see writer and director. I love imaginative movies and this is an excellent one. I especially liked the relationship between Bruce Willis' character and his wife.
2. "Frequency." Another wonderful film with imagination. This is the first credit that I am aware of for writer Toby Emmerich, but I'll be looking for his next.
1. "Almost Famous." Cameron Crowe has written and directed a masterpiece. I can't recall a film with such spectacularly performed supporting roles. Kate Hudson and Frances McDormand should be named co-winners of Best Supporting Actress right now. But it isn't just the acting; this is a flawlessly written movie. Perfection!
---
Click here for information about Dave Hendrickson's latest short story, "Yeah, But Can She Cook?" It has both s*x and humor. Dave believes his USCHO readers are fans of both.