The Lebanon Valley Flying Dutchmen (18-7-2) travel to Rochester, N.Y., to take on the RIT Tigers (24-0-1) for NCAA quarterfinal action on March 9 and 10.
While on the surface, this might look like the proverbial David of the ECAC Northeast taking on Goliath in the No. 1 team in the nation, the Dutchmen have been on a roll lately.
"RIT is the premier team in the nation this season. But we have nothing to lose. All we need to do is play hard, try our best, and see what we can do," said Lebanon Valley head coach Al MacCormack.
RIT and Lebanon Valley have never met in competition, though four common opponents give some sense of comparison: Elmira, Geneseo, Hobart, and Manttanville. Lebanon Valley went 1-3-1 against those opponents, while RIT was 10-0.
"Any time you win a championship, it says something about your program, and Lebanon Valley won theirs the hard way," said RIT coach Wayne Wilson. "We're trying to figure Lebanon Valley out, just like they're probably trying to figure us out."
The Lebanon Valley team is only three years old. MacCormack left his position as head coach of Cortland State to build the Dutchman program from the ground up, and he has them off to a quick start.
"We built our program to be a strong Northeast team," MacCormack said simply.
The Road To The NCAAs
24-0-1.
That pretty much sums up how RIT got to the NCAAs. The Tigers are undefeated in NCAA competition this year, with the only blemish being a tie at the hands of Oswego State. RIT has been ranked No. 1 in the USCHO.com poll for the past nine weeks, and has defeated nationally-ranked teams like Plattsburgh, Oswego, and Elmira, as well as Division I Air Force along the way.
As on most teams, injuries occurred. At one point in the season, RIT was down to four healthy defensemen, and was without both its starting goaltender and captain. But the Tigers have recovered during the waning weeks of the regular season, just in time for the stretch drive and the Pool B bid to the NCAA tournament.
"We're healthy, knock on wood. Everything down the stretch has been going good, so we're ready to just play and play hard," said Wilson.
Meanwhile, after a rollercoaster year Lebanon Valley finished fourth in the regular-season ECAC Northeast standings.
The Dutchmen began the Northeast playoffs by defeating UMass-Dartmouth in the quarterfinals as they hosted their first playoff game ever. Then Lebanon Valley hit the road, upsetting Johnson & Wales and knocking off defending league champion Wentworth.
"The Wentworth win was huge. We had lost to them at home earlier in the season. To go on the road, and defeat them there … wasn't to be expected." said MacCormack.
With the Northeast title in hand, Lebanon Valley earned the league's automatic qualifier for the NCAA tournament.
"It was inconceivable for us to be here, in the NCAAs, after only three years," said MacCormack.
"We started strong, then dropped a few, won a few, and dropped a few more. But now we are on the upswing, have won eight in a row, and are peaking at the right time of the year."
Comparing the Teams
OFFENSE: Lebanon Valley is led by sophomore Brian Yingling, an ECAC Northeast First-Team All-Star. Yingling has notched 24 goals and 23 assists on the season, including four game-winners, and sits in 13th in the nation in points per game and tied for 11th in goals per game.
"He's a hard-nosed hockey player. He is very deceiving when you watch him, but he is always a threat to score when he's on the ice," said MacCormack.
The Dutchmen are averaging a very respectable 4.19 goals per game and have led more than 52 percent of the minutes that they have played this season.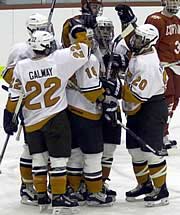 Look at the top of the RIT scoring statistics and you will notice that a pair of brothers, senior Peter and sophomore Mike Bournazakis, were both named ECAC West First-Team All-Stars.
Both are tied for the team lead in points with 61, but got there through different paths. Peter has 30 goals and 31 assists, while younger brother Mike has 19 goals and 42 assists. Both are pushing various season and career scoring records at RIT.
"I don't think it could be a friendlier battle than two brothers going for the scoring title," said Wilson. "It is special to have two brothers playing with each other like this."
Even with the Bournazakis brothers, the key to RIT's offense is depth. Fully eight players are averaging more than a point per game — three of those are averaging two per game — and the team is working on a 7.40 goals per game average, No. 1 in the nation. The NCAA offensive leaderboard is littered with RIT players, more than can be listed here.
"Everyone on this team is so unselfish, it is scary to a point," said Wilson.
DEFENSE: An ECAC West coach recently described RIT junior co-captain Jerry Galway as "the best D-III defenseman I have ever seen."
High praise indeed for Galway, who has amassed 13 goals and 36 assists on the season, is sixth in the nation in scoring points per game, and a First-Team All-Star. Galway is the heart and soul of the RIT defensive squad and is a major reason for its success this season after sitting out all last year due to a shoulder injury in the first game.
He returned this year stronger than ever, and quarterbacks the Tiger power play.
"Jerry is our best player, on a team loaded with great players. He is able to play both the physical game and the finesse game when needed," said Wilson. RIT's defense allowed opponents only 2.2 goals per game.
A pair of sophomores anchor Lebanon Valley on the blue line. Tim Rink, another First-Team All-Star, and Ben Kwon, a Second-Team All-Star, are both offensive-minded defenseman. Rink has notched six goals and 23 assists on the season so far, while Kwon tallied four goals and 12 assists.
"Tim Rink has a very hard shot from the point," said MacCormack. The Dutchman defense is limiting opponents to a stingy 2.7 goals per game, ranked 11th in the nation.
GOALTENDING: During the regular season and playoffs, MacCormack rotated games between his two junior netminders, Lincoln Matlock and Kevin Block. Both put up similar, and very good, numbers: Block tallied a 9-2-1 record, .919 save percentage and 2.46 goals against average, while Matlock earned a 9-5-1 record, .918 save percentage and 2.84 goals against average. But who will MacCormack start for the games against RIT?
"I don't know that yet. I have to talk to the guys, and I have to make a tough decision on which to play," said MacCormack. Block is from Webster, N.Y., a suburb of Rochester, so this series is a homecoming of sorts for him.
The two Dutchman goalies have very different styles. Block likes to roam a lot and moves the puck very well. He also is quite good at playing the angles. Matlock, on the other hand, is much bigger, four inches taller than Block, and tends to be a stay-at-home goalie.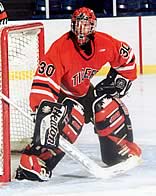 Matlock likes to play a style more back in the net, using his size to his advantage to block large portions of the goal. Matlock is ranked 10th in the nation in both save percentage and goals against.
Unlike Lebanon Valley, RIT has relied on a single goaltender as a starter. Sophomore Tyler Euverman started 22 of RIT's contests this season, and amassed very respectable numbers, including a .925 save percentage and 2.08 goals against average and a 22-0 record, earning him First-Team All-Star honors.
"Ty proved himself both last year and this year. He's always there when we need him, particularly in big games. And that is comforting to a coach," said Wilson.
Euverman is currently ranked fourth in the nation in save percentage and fifth in goals against average.
SPECIAL TEAMS: A pillar in the RIT success this season has been its special teams. Wilson usually cycles between two power-play units, and both have been rolling along at an astronomical pace, converting on 44.1% of their chances, tops in the nation.
"This is just unreal. We really feed off our power-play success, and it has come through for us all season long," said Wilson.
The Tiger penalty killing hasn't been a slouch either, killing off 88.7% of their opponent's power plays.
The strength of the Lebanon Valley special teams is penalty killing. The Dutchmen have been very stingy, killing off a stellar 84.6% of their shorthanded situations this season, 11th-best in the nation.
"We use three units on the penalty kill. I switch them on and off the ice as often as possible, and try to only keep them out there for 20 seconds at a time," said MacCormack.
Lebanon Valley also thinks offensively during the man-down situations: the Dutchmen have scored 11 shorthanded goals this year.
WRAP-UP: Can Lebanon Valley's David slay the RIT Goliath?
The Dutchmen will need to play their best series of the year. But if the Lebanon Valley penalty kill can stymie the unbelievably good RIT power play, and then stay close in 5-on-5 situations, the Dutchmen might be able to pull off the upset, but that sure is a tall order for the young Dutchmen to achieve.
What could be the difference in this series is playoff experience. This is RIT's sixth consecutive appearance in the NCAA playoffs. The upperclassmen know what it takes to win in this round, and also what it feels like to lose. And that could give RIT a big advantage at crunch time.