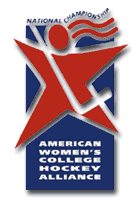 The second annual American Women's College Hockey Alliance (AWCHA) Division III national championship will be held at the ESL Centre in Rochester, N.Y., on March 9 and 10, and most folks are already preparing to write their Middlebury Panthers championship story.
Not so fast, say the three other schools in this year's tournament.
The Williams Ephs, St. Mary's Cardinals, and Gustavus Adolphus Gusties didn't come all this way just to roll over and hand it the defending champions. However, if any of those schools want to pull an upset, they are going to have to overcome a powerhouse not unlike the North Carolina women's soccer team.
The semifinal round takes place Friday with the first game, at 4:00 p.m., pairing ECAC champ Middlebury against MIAC runner-up St. Mary's. The nightcap is set to begin at 7:30 p.m. between MIAC champion Gustavus Adolphus and the ECAC runner-up, Williams.
The consolation and championship games take place at the same times the following night.
Single-day passes are $8 for adults and $5 for students. All session passes are $12 for adults and $8 for students. For information, contact the ESL Centre at (716) 424-4625.
GUSTAVUS ADOLPHUS (22-5-1) — The Gusties are the only team familiar with everybody in the tournament. In an Eastern trip earlier in the year, they lost to Middlebury, 4-1, and Williams, 2-1. In the latter game, they outshot Williams, 62-29. Despite losing, that has got to give them some confidence going into their semifinal game against the Ephs. They also went 2-1-1 against St. Mary's, including a 1-0-1 win in the MIAC championship series.
Gustavus loves to score goals — the Gusties are outscoring their opponents, 164-41, the highest margin in the tournament — and average 49 shots on net. Without question the hottest player on the team is junior Sarah Moe, who despite not even joining the team till January, leads the squad in scoring with 25 goals — 23 of which came in the last 13 games — and 17 assists for 42 points.
Other lamplighters to watch are MacKenzie Stensland (17-13–30), Nikki Norton (13-15–28), Katie Deschneau (12-15–27), Becca Levine (10-16–26), Noelle Skalko (11-14–25), and Jess Brandanger (12-11–23).
The Gusties' defense allows their opponents under 17 shots per game, and when the opposition does get to the net, Michelle Schaefer and Molly O'Donnell share the duties to prevent those shots from getting in. Schaefer has a 0.97 goals against average with a .915 save percentage. while O'Donnell has a 1.72 GAA and a .914 SV%.
MIDDLEBURY (21-1-1) — This team is a juggernaut, boasting an amazing 113-game (112-0-1) unbeaten streak in ECAC play. As a matter of fact, the Panthers haven't lost an ECAC game since the league began in 1995-96.
"Every time we step on the ice, our opponents are going to come at us with everything they've got. They want to be the ones to finally beat us."
— Middlebury coach Bill Mandigo, on the Panthers' winning streak
Of course, their one tie did come this year against Bowdoin, so perhaps the competition is finally catching up.
They are led by the AHCA National Player of the Year, Michelle Labbe. She's scored 24 goals and 32 assists this season.
"Perhaps her greatest hockey attribute is that she practices as hard as she plays," says coach Bill Mandigo. "I wish more of my players were like her."
If you happen to stop Labbe, then you have to deal with double-digit goal scorers and twin sisters Erin Neil (15-25–40) and Amber Neil (12-17–29), as well as Angela Kapus (11-13–24).
Let's suppose you do stop them, too. Then you have to deal with scoring goals against a Middlebury team that has let up 18 all year, producing 10 shutouts, and has two goaltenders with fractional goals against averages. Junior Megan Hutchinson has played in two-thirds of her team's games with a 0.80 GAA. Freshman Kati Madouras has seen plenty of action and proudly displays a 0.74 GAA.
Mandigo knows what it's like to defend the streak. "Every time we step on the ice, our opponents are going to come at us with everything they've got. They want to be the ones to finally beat us."
ST. MARY'S (21-6-1) — If you can hold St. Mary's close in the first period, you stand a chance. That's because the Cardinals outscore their opponents in the opening period, 55-11.
St. Mary's has won a lot of individual awards this season. First-year coach Duncan Ryhorchuk was named MIAC Coach of the Year. Four players made the All-MIAC team: Tennie McCabe, Missy Westergren, Missie Meemken, and Mo Hayes. McCabe was also named the MIAC Player of the Year.
However, the squad would love to turn those individual honors into a team award. Having lost out on the conference title, they have set their sights on the national championship.
Obviously, they will look to McCabe to lead the way. She led the team in goals with 28, seven on the power play, and points with 47. Three other players also have over 30 points: Westergren (22-20–42), Christy Hicks (16-18–34), and Emily Kearns (21-11–32).
Missie Meemken has seen most of the action in goal, going 15-6-1 with a 1.65 GAA and a .941 SV%. Don't expect to see anybody else in net this weekend.
Is SMU intimidated by its semifinal opponent? Not according to Ryhorchuk.
"If we go out and play the way we are capable of playing — from the opening faceoff to the final buzzer — we can play with any team in the country. We can't get all caught up in that streak stuff."
WILLIAMS (20-4-1) — Being the number-two team in the country has to feel good — but not when the number-one team is in your conference and keeps beating you.
Well, this weekend Williams may get one more shot at its nemesis, Middlebury, and one more chance to finally come out from the shadows of the Vermont school.
First, though, Williams needs to get by Gustavus Adolphus. No easy task, that, as their regular-season matchup with the Gusties showed. Williams may have won that contest, 2-1, but they were outshot 62-29. Only the heroics of Monelle Quevillon saved the night with 61 stops. Quevillon has been outstanding all year with a 1.51 GAA and .942 SV%,, but Williams can't rely solely on her again.
Rather, the Ephs will need offense from the trio of freshmen who were their top three scorers. Topping the list was Molly Wasserman, who led the ECAC in scoring with 38 goals and 29 assists for 67 points. So good was Wasserman, she was a finalist for AHCA National Player of the Year, and of course won the ECAC Rookie of the Year.
Victoria Scott, who was named to the All-ECAC Second team, has 20 goals and 29 assist for 49 points. Scott is already proven big-game player: in the ECAC quarterfinals against Bowdoin, she scored four goals and assisted on the other in a 5-4 overtime win. The other freshman is Katherine Nichol (5-13–18). Julia Karoly also has double-digit goals with 10.
Needless to say, Williams is looking forward to its rematch with Gustavus.
"We're excited about the challenge of playing Gustavus Adolphus again, as they are a good team and a good skating team," said coach Joe Milam. "It will be a challenge, and our team is all about meeting a challenge."