He'd be the top rookie on almost every other team in the league. He's scored 12 goals and assisted on 11 others. In the playoffs he's been red-hot, scoring both game-winners in the quarterfinals and then another in the title tilt.
Not too shabby, right?
In the case of Boston College's Tony Voce, however, those achievements have placed him fourth among his own team's freshmen.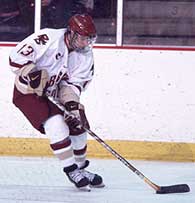 Chuck Kobasew was a unanimous pick as Hockey East Rookie of the Year. Ben Eaves joined him as a unanimous selection on the All-Rookie Team. Defenseman J.D. Forrest made it three Eagles on the all-freshman squad.
All of which left Voce as a relative afterthought on what is far and away the top rookie class in the league.
Which is not to imply that the 5-8, 170-pounder is, as they say, chopped liver. Voce has just been a late bloomer compared to his more celebrated freshman teammates. He didn't tally his first point until the seventh contest of the season. After nine games, his scoring line was a scant 1-0–1.
"Guys on the team said, 'Hey, don't worry about it. Just keep working,'" he says. "I really don't think about it. If points come, they come. As long as the team wins, I don't care.
"I was a little frustrated, but not to the point where it was hurting me."
From his schoolboy days at Lawrence Academy through his rocky start, Voce had impressed BC coach Jerry York as a diamond in the rough.
"We recruited him as a great athlete," says York. "He was the [league] MVP in football and then he switched right to hockey, so he hadn't played as much hockey [compared to] the September-to-June [schedule] that a lot of players play. We saw a natural goalscorer with great hand-to-eye coordination skills."
Starting with a road trip to Notre Dame, Voce went on a brief scoring binge in November, totaling four goals and an assist in three games. Unfortunately, the streak was short-lived as he continued to adjust to the collegiate game. Over the next 15 games, he scored one goal; over 23 games, two goals.
"I knew my role was playing the third line and see what happens and work hard," says the soft-spoken freshman. "I really didn't get too upset about it."
At that point, could he have envisioned scoring three game-winning goals in the Hockey East playoffs, earning a berth on the all-tournament team?
"Not really," he says, laughing. "I honestly couldn't. I don't know how it happened."
Voce, seemingly devoid of any ego at all, really hasn't come to grips with how effective his play has been of late.
He laughs and says, "I don't even know what to say."
York knows exactly what to say. He knows the streak has been no fluke.
"Over the last three or four weeks, he's been one of our top-end players," he says. "What a remarkable goal he got tonight; he just snapped it up top.
"He's in that class [up front] with Eaves and Kobasew. Voce is right there. He's right in that mix. He's strong on his skates. He understands the game real well and has all those athletic instincts. I think he's going to be right with those guys as they go through their career here."
For his part, Voce isn't about to put himself on par yet with his three all-rookie squad teammates.
"They're top players in the country," he says. "Kobasew is going to go in the first round. Bennie is going to go somewhere in the draft this year. J.D. went last year.
"Those are big-time players. They came in with the big names on them. I just came in as a role player. I just work hard in the corners and get the job done.
"I really don't feel any pressure on myself to have to do something special to get where they are. They're the names and whatever happens, happens."
But with two goals in the Hockey East championship game and five in his last five games, isn't Voce about to make a name for himself?
"Aw, a little bit," he says before reverting to his ego-less stance. "But I'm not too worried about it."