For the fifth straight year, USCHO.com's Pairwise Rankings correctly predicted the NCAA tournament field, but the selection committee threw a curveball in the seeding.

As expected, North Dakota earned the second seed in the East, but Colorado College was given a potential date with the Sioux, getting the third seed and a first-round matchup with ECAC champion St. Lawrence, the sixth seed. The East bracket was rounded out with the top seed, Hockey East champion Boston College, which will face the winner of the game between No. 4 Minnesota and No. 5 Maine.
In the West Regional, CCHA champion and No. 1 Michigan State awaits either No. 4 Wisconsin or No. 5 Providence, while second-seeded St. Cloud, the WCHA tourney titlist, gets the victor of the first-round game pairing No. 3 Michigan and No. 6 Mercyhurst, the first-ever MAAC team in the field.
This is the first year that bye teams were place irrespective of region, allowing North Dakota the chance to earn the Eastern bye.
The committee also swayed from its usual diligence in avoiding second-round intra-conference matchups, with Maine staring at a second-round game with Boston College. However, at least one potential second-round intra-conference game was unavoidable this season, with the WCHA receiving an unprecedented five slots in the 12-team field.
Selection of the teams offered no real surprises. Between the objective criteria method and the way last weekend's conference tournament games shook down, the field was more or less set after Friday evening's matches.
North Dakota is gunning to become the first repeat champion since the 1972 Boston University Terriers. Boston College, meanwhile, is trying to win its first championship since the tournament's second year, 1949.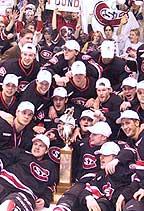 This is the first time ever that two ECAC teams failed to make the NCAA tournament. It's also the first time since 1979 that two teams that currently comprise the ECAC failed to make it. In that year, Dartmouth and New Hampshire was in the five-team tournament; New Hampshire, now in Hockey East, was an ECAC member until 1984, the year HEA was formed.
St. Cloud, which won its first title of any kind, winning the WCHA tournament in overtime from North Dakota, received its first-ever bye to the NCAA tournament.
Last year's tournament participants that did not return are Colgate, BU, New Hampshire and Niagara. They were replaced by Mercyhurst, Minnesota, Providence and Colorado College.