It seems as though a lot of lollipops were in order.
For the first time in memory, no newspaper writers or coaches ignorantly tore into the NCAA tournament selection process. According to the last BTL, that's deserving of a lollipop.
The NCAA itself doesn't really do a good job of publicizing or educating the public on the process, but USCHO and its readers have taken the lead in that department. Nonetheless, every year, there's always lots of fans, many writers and even hockey coaches who disparage the selections without having a clue as to how they came about.
That inevitably leads to an annual diatribe against said purveyors of ignorance, imploring them to wake up and realize that the NCAA's selection process is a cut-and-dried objective one, and that USCHO's Pairwise Rankings are based on that process (see the Selection FAQ).
Slowly but surely, it appears we have gotten to the point where at least the hockey people and media get it. Sure, they still may not know the intricacies of PWR, or understand what a "comparison" is and how it's derived, but they understand now, at the very least, that there is a system in place for choosing the field, and that PWR is essentially it.
A couple of Minnesota newspapers actually run the Pairwise Rankings now, in the weeks leading up to the tournament selection. This is huge progress.
You have also begun to hear people use the term "Pairwise" now in matter-of-fact terms.
For a number of years, there has been a certain contingent of coaches who understood that USCHO's Pairwise Rankings were more or less identical to the committee's process. Plugged-in coaches like Shawn Walsh and Don Lucia would pester USCHO staff members for the latest "numbers" each year at the conference tournaments.
But a new era of understanding is upon us.
To wit, this year the WCHA — which at one time disregarded the thought of PWR — actually had three USCHO staffers host a press conference during the WCHA tournament to discuss the up-to-the-minute implications.
My favorite is this story, from the Hockey East tournament about a conversation with HEA media relations guy Noah Smith.
"Hey Noah, I'll see you in Worcester," said staff member Jim Connelly.
"Well, actually I'm heading West to Grand Rapids," said Smith.
A surprised Connelly asked, "How the heck did you get sent out West?"
"I had the lowest Pairwise Ranking of all the SIDs in the tournament," said Smith.
The closest anyone came to butchering the implications of PWR this year was Omaha World-Herald writer Eric Olson. Following the end of the CCHA tournament, Olson was writing his Nebraska-Omaha post-mortem story. The Mavericks fell just short of making this year's NCAA tournament.
In his article, he is quick to point out the criteria that make up PWR, so it's clear he understands it to that extent. At the same time, from conversations we've had with UNO coach Mike Kemp, it's clear he knows the drill, too.
Yet, Olson's article went about juxtaposing Kemp's comments in a way that made it seem like he was complaining over not getting into the tournament.
He writes:
Five WCHA teams were awarded bids, and two Metro Atlantic Athletic Conference teams ranked ahead of UNO in the Pairwise.

Such an outcome, Kemp said, indicates a problem with the system, particularly in determining strength of conferences.

"There's so little inter-conference play that there's not an opportunity to get a real good reading," Kemp said. "So you're going to have disparity in RPI (ratings percentage index) that makes it less of an accurate reflection."

Mercyhurst received an automatic bid by winning the MAAC, a 3-year-old league with a hockey scholarship limit of 11 — seven under the maximum. This is the first year the lightly-regarded MAAC received an automatic bid, and Kemp grudgingly accepted Mercyhurst's bid because the rules were in place.

But Kemp said it doesn't make sense that a team such as MAAC runner-up Quinnipiac, according to the Pairwise, was in line for an at-large bid ahead of UNO. Quinnipiac did not receive one.
Now, we're pretty sure Kemp realizes the situation here. There's no way Quinnipiac would have actually received a bid ahead of UNO. The committee would have upheld its right to eliminate a team based on its conference's RPI.
But the article made it seem like Kemp was complaining, when, in reality, I believe he was just pointing out the flaws in the PairWise system.
Of course, we all know this. It's no secret. Everyone from fans to committee members knows PWR does not accurately rank MAAC teams.
So, there are still misunderstandings. You see evidence of that if you read message boards on other sites, or when we get letters from new readers.
But, we've come a long way.
Get a Grip
Can we please stop this juvenile anti-Mercyhurst behavior? It really is getting ridiculous.
[T]he 1976 Moscow Red Army team got a better reception at The Spectrum than Mercyhurst is likely to get in Grand Rapids. That's just pathologically silly.
Normally, the team with the automatic bid from the small conference enjoys Cinderella status at the national tournament. That's the way it works in basketball. Everyone roots for the little guy, except maybe the fans of the team they are playing.
Not so with Mercyhurst. Already facing the daunting task of playing Michigan, the Lakers are saddled with the extra burden of carrying the mantle for the MAAC, a conference everyone loves to hate. The Lakers are getting no chance to just enjoy their appearance.
We knew there might be a backlash against the MAAC champion because it would replace a team in the NCAA tournament that, in previous years, would have made it.
But, gosh, the 1976 Moscow Red Army team got a better reception at The Spectrum than Mercyhurst is likely to get in Grand Rapids. That's just pathologically silly.
Fans are coming out in droves with their "MAAC doesn't deserve a bid" mantra. "The conference is too weak," they say. Even Red Berenson fueled the fire recently during an online chat when he said that, the consensus among coaches was that the MAAC wasn't ready for a bid.
Of course, we all know that Mercyhurst is likely to get spanked. But that's irrelevant.
The roots of the animosity run deeper than that, however. The MAAC genuinely upset the hockey world when it voted to stop its teams from playing games against Findlay, an emerging D-I program. This left Findlay hanging, and if not for the last-minute good deeds of other non-MAAC teams, the Oilers would have fallen short of the mandatory 20 games vs. D-I opponents necessary to count this season towards its two-year waiting period for NCAA tournament eligibility.
And there have been other instances where the MAAC has displayed what some call arrogance, or antisocial behavior.
Mike Machnik already discussed many of the reasons why Mercyhurst should not be held accountable for this, and why the MAAC will, in the long run, be good for hockey.
In the big picture, it should also be remembered where the MAAC is coming from. Commissioner Rich Ensor has done some things that have ticked off the rest of the hockey community, but, as a member of the NCAA's Management Council, he is used to being the little guy in big battles against huge conferences. Perhaps he just didn't realize how tight-knit the college hockey community was, and how his actions were sure to polarize everyone else against him.
If he didn't realize it, he surely does now.
Ensor can be an ally to college hockey. As one of the few Management Council members with a tie to hockey, he has the power to influence NCAA actions. And he was an outspoken critic of the NCAA's stance against expansion of the tournament bracket to 16 teams.
The MAAC definitely has its problems, and we've written about them here. For one, the conference needs to raise its scholarship limit from 11 to 18, to get in line with everyone else and ensure its stronger teams don't jump ship.
But blaming the MAAC for accepting an NCAA autobid, and subsequently holding the MAAC missteps against Mercyhurst, is misguided at best, and juvenile at worst.
Come on now, you remember college, don't you? You remember all those terrible decisions those suits in the college administration used to perpetrate against the students and faculty. You remember those demonstrations in front of the school president's office.
Administrators will always make decisions that the masses have no control over. What, you wanted Mercyhurst to just leave the MAAC two months before the season? Maybe it will leave one day. Heck, for five years, I've advocated the ECAC teams do that en masse over their administrators' bungling.
But, all of this anti-Mercyhurst sentiment seems like nothing more than an excuse for some bored people to get riled up over something.
After winning the MAAC championship game, Gotkin was reminded of all of this anti-MAAC sentiment. At that point, still giddy from victory, he didn't seem to mind. "We'll find a way to have fun with it," he said.
Let go of your hate, people. If you think Mercyhurst will get creamed, fine, it will all be over by Saturday night. Meanwhile, Gotkin and his crew will still be on Cloud Nine.
Net Gain
Maybe I'm the only one, but I think St. Lawrence has a good chance against Colorado College. I tend to avoid predictions like the plague, but if goalie Jeremy Symington just plays decent, there's no reason the Saints can't win.
St. Lawrence would've been a legitimate contender this year had it not lost goalie Derek Gustafson and forward Brandon Dietrich early to the NHL.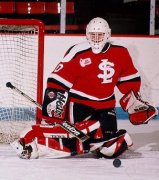 Especially in goal, the Saints were left with a huge void. And, while they did bring in a strong recruiting class on defense, the backline was hit with the graduation of Justin Harney and Dale Clarke. Those hits could have been absorbed more easily, and the new defense given more time to fit in, had Gustafson been between the pipes.
As it was, coach Joe Marsh lined up a brutal schedule of top-notch opponents, expecting those guys to be around. Instead, the Saints lost to just about all of those games, and almost lost out on an NCAA bid as a result.
But that is in the past now. Given a whole season to get the younger players in line, St. Lawrence is again a worthy foe. The key remains in goal.
An NHL draft pick, Symington came into St. Lawrence highly-touted, but watched as Eric Heffler came from nowhere to take the job away and become an All-American. Last year, Symington thought he'd have a shot for the regular role, and started the season in a three-goalie rotation until along came Gustafson to win the spot outright.
This season, both he and Sean Coakley were never consistent enough for either to win the full-time job. But, with his career winding down, Symington picked a heckuva time to perk up. He allowed just one goal in two games last weekend, and was named ECAC tournament MVP as the Saints won the title and earned the NCAA bid.
St. Lawrence has the offense, and the defense has steadily improved all season. If the Saints get a solid effort from Symington, there's no reason they can't win the game.
That said, here's a couple of notes for you. Symington's first ever-college game was a 12-3 loss to CC on Oct. 24, 1997. Ouch. And, the ECAC is 0-12 against the WCHA in the NCAA tournament under its present format (started in 1992). Double ouch. The last of those losses was in Madison, Wis. two years ago … CC vs. St. Lawrence.
If St. Lawrence does lose, expect to hear the usual "EZAC" comments. This year, those outcries are correct, as it turns out. As discussed in the last BTL, there's no question the ECAC has been less competitive than usual this year, as a whole.
Sadly, even though it's only one year, there's plenty of evidence that suggests this is an irreversible trend. And, like this stock market plunge, things are bound to get worse at this rate.
I mentioned last time that this dynamic is not necessarily anyone's fault. However, the continued missteps of the ECAC hierarchy is definitely not helping, and could be speeding up the process. The MAAC has NCAA clout, the other conferences have strong internal marketing muscle … the ECAC has neither. It's just there, spinning its wheels while the rest of college hockey goes forward.
Has anyone seen the conference's web site lately? To a non-techno-geek, this may seem petty, but it's indicative of everything. (Warning: techno-babble ahead)
Here's the site: http://www.spfldcol.edu/ecachockey. You can check it out, but it's not updated. They don't have their own domain name. Now, try clicking on the link for D-I Men. (I'd give you the URL, but it is such an insanely long piece of hieroglyphics, that it's impossible to replicate.) OK, that page seems updated, though it's a mess.
I thought most people realized three years ago that the Web was not just a place to slap some text and images, but that it was a necessary marketing tool. All of the other conferences have certainly realized it.
It's a shame for the great coaches and schools that make up the conference, that the recruiting disadvantage already in place is magnified by the lack of support from their own conference.
My big fear is the so-called capitulation stage that stock market watchers refer to. In the ECAC's case, that would mean its best and brightest coaches leaving for "bigger" schools. Or, at the very least, when the current coaches retire, the openings becoming less attractive in general.
It was a good sign when Miami's Mark Mazzoleni wanted to switch to Harvard, so there doesn't seem to be imminent danger of this happening. But, it's forseeable.
You want to defend the ECAC, but it's increasingly harder to do.
So, I repeat what I wrote four years ago. Message to ECAC teams: Please leave the conference. All of you. Together. Now.
Pay up, Sioux fans
I said I don't make predictions, but … each time I've been to Frozen Four, North Dakota won, and, on the way home, it snowed in the Northeast.
I'll be in Albany.
Twilight Zone
Does anyone find it more than coincidental, that on St. Patrick's Day — both St. Lawrence and St. Cloud won championships?
Oh yeah, so did Michigan "St." and Plattsburgh "St."
As well as Mercyhurst, which wears green.
Creepy.
Bore-ish Behavior
Esteemed colleague Paula Weston wrote a brilliant article not too long ago about the state of fan cheering in college arenas. While, on the one hand, you have seen a decrease in fan volume at newer arenas that replaced homier relics, you have also seen the rise in boorish behavior.
Now, the good-old-days mentality will never be extolled here. As I passed 30, I was still listening to Rage Against the Machine, and those of its ilk, and proud of it.
You may find that in bad taste, but you can't say it's indicative of old-days way of thinking.
But, just because you don't automatically think everything new is bad, it's not automatically better either. And cheering at many arenas, and, in some cases, lack thereof, is definitely not better.
The biggest problem is, traditional college chants have been replaced by or amended with vulgarity. But worse than vulgar, it's dumb.
In response to Paula's commentary on this subject, in which she called the Michigan fans' behavior "boring," she received this response (unedited in all its glory):
[W]here you claim our (the Michigan) student section has become boring, tell that to some opposing teams fans. I have seen at least four fights this year between parents/fans of opposing teams players who leave there seats and confront a Michigan student. The result has been the ejection of the fan from Yost, and that is the goal, make their fans and team lose their cool. Now I think if you ask the opposing team's fans if we have become boring, I think they would have to say no, I mean if what we say was truelly boring I doubt a 40 year old guy would stand up and start a fight with a 20 year old college student jsut having fun at a hockey game. So just for you we will try to step it up a notch. Maybe we are not vocal or vulger enough, but whatever it is I will make sure it is fixed in the future.
This poor, misguided soul doesn't quite understand irony. My friend, you are not boring because you are quiet, you are boring because your act has worn thin. Because your chants have the creativity of a six-year old.
Take, by contrast, Cornell's Lynah Rink. Michigan fans surely remember the Lynah Faithful. They were the rabid group in red and white, that took over your building in the 1991 NCAA tournament. Right, the ones that taught you all those cheers.
Of course, in what has become a trend in arenas, the Yost crowd bastardized those cheers, adding gratuitous vulgarity.
This is not to pick specifically on Michigan. In fact, even the Lynah faithful started getting a bit too vulgar in the mid-'90s, probably out of boredom from their team's failing play on the ice.
The difference is, Cornell coach Mike Schafer, upon taking over in 1995-96, put the clamp down on the language. He has young kids, and didn't want his wife to have to cover their ears every time the crowd started a chant. Slowly but surely, the Lynah Faithful re-proved it can be loud and obnoxious, without being vulgar.
This is not about being a prude. Far from it. A movie like Pulp Fiction, despite its foul language and violence, is two hours of cinematic genius. But there's a time and place for everything.
What the new crop of students have forgotten is, vulgar language in and of itself, is lame. If you're going to be obnoxious, at least have some intelligence to it. Even in their most vulgar days, the Cornell crowd's language at least demonstrated wry wit.
Perhaps Red Berenson — who recently called the "C'ya" chant (which these days is normally followed by "You A** Hole") the Yost crowd's best — should take a page from Schafer's book.
Ultimately, the vulgarity at college rinks is not an insult to my morality … it's an insult to my intelligence.
(This reminds me of the Seinfeld bit: A fellow comedian converts to Judaism so that it's OK for him to tell Jewish jokes. Jerry is annoyed, and Elaine asks, "This offends you as a Jew?" and Jerry says, "No, it offends me as a comedian.")
Glory Days
Speaking of Paula Weston, our CCHA reporter had the pleasure of visiting The Bullpen, the nickname for Nebraska-Omaha's home arena, for the first time during the CCHA playoffs. She was quite enamored with the whole place, and wrote very poignently about it.
As for myself, I was in my own favorite nirvana that weekend, Ithaca, N.Y., a place I revere not only for the shrine that is Cornell's Lynah Rink, but for the town itself, a place where I spent four years as an undergrad, and never really wanted to leave.
Just one tip: Don't take a crusty laptop with you.
After it went kaput, I spent the better part of that Saturday morning looking for Internet access, finally finding it in a tiny ice cream shop in Collegetown, just off Cornell's campus. The guy behind the counter looked eerily familiar, and, to make a long story a little less long, it turns out he used to work in the restaurant that was situated two floors above the dorm room from my first two years of college.
Just another reason to love that quaint place. Like many college towns, it has enough of a city-like mentality to be interesting, yet small enough so that you get to know everyone in town by the time you leave.
Alas, I had to actually order something to use the computer. So, I got a chocolate shake. I took my sweet time finishing the thing, too, just so I could sit and read all of the stories about those Friday games on USCHO.
Before realizing I needed to do some actual work for USCHO, I had finished my shake, and had to leave. So, after galavanting around town, checking out all the old haunts, I went out to again find 'Net access. Lo and behold, a lot had changed since my last visit, because right around the corner from the hotel was a brand spankin' new public library, with 30 Web access stations.
I then remembered why I was feeling even more nostalgic than usual.
Ten years ago last week, Cornell was playing at Boston Garden, the then-location of the ECAC tournament final four. That was during spring break at school, and I had no car, but I convinced a friend in Oneonta (1 1/2 hours from Ithaca) to drive the final 4-plus hours to Boston. The trick was, getting to Oneonta.
I then hatched a plan. There was a girl in a class of mine, a year older and very attractive. We knew each other, and that was about the extent of it, because this was not the type of girl who would normally talk to a dork like me. But, I knew that she was headed in that direction for the weekend.
So, Mr. Smooth that I was in those days, I happened to make sure she overheard me lamenting my fate, and how I needed a ride to Oneonta. Apparently, she had a heart, because she offered me a ride.
"Score!" said I (to myself).
Boston wound up being a letdown, especially since Cornell lost in OT in the semifinal, thus capping an incredibly disappointing stretch run. However, the three hours worth of conversation with this wonderful girl made up for it all.
Two weeks later, we had our first date. Less than three years after that, Marcy and I were married. The rest, as they say, is history.
Thank you Ithaca, and thank you Cornell.
As for the friend in Oneonta? It's the last time I ever saw him. Wonder what he's up to …
Beanpot Redux
Many fans outside of New England question the reason for paying so much attention to the Beanpot. So, last article, we defended the tournament, and the coverage it receives.
In response came a thoughtful letter from someone at Michigan State, Joe Totherow, giving a counter-argument.
I definitely understand the desire to give due attention to the Beanpot. You're right that it isn't simply a "Boston tournament," though there's nothing wrong with that, since Boston has such a storied hockey history. I, for one, certainly do not "thumb my nose" at the Beanpot, nor would any true fan of college hockey.

But while I have no objection to your extensive coverage of the event, I can sympathize with those fans who claim that there is a lack of balance in coverage. I am a fan of Michigan State and I look forward each year to the GLI. While I did enjoy your coverage of the Beanpot and found the history column interesting, I was a bit taken aback by the lack of balance between your coverage of the GLI and that of the Beanpot.

The implication, whether intentional or not, is that the Beanpot is the most important, storied and interesting in-season tournament in college hockey. That's where I, and many other fans, take issue.
The response to this proved satisfactory to Joe. So, if it's good enough for Joe, why not reprint it here?:
There are number of reasons why the Beanpot is different than something like the GLI.

It's been happening longer – 49 years
It's the only major tournament that doesn't take place during a major holiday — i.e. X-mas or Thanksgiving.
Even to the non-college-hockey fan, it's known. To wit, it's the only in-season tournament that draws a mention on ESPN. They even carried the championship game one year.
It has the unique aspect of happening over two weeks.
It has the unique aspect of having four participating schools within five miles of each other.
The GLI takes place amid all of the other tournaments. It's harder, in that case, to single one out, especially since many of our reporters are spread out at other tournaments.
It Makes Too Much Sense
Another sub-topic of the Beanpot discussion was the issue of Harvard's schedule. The Crimson were the only Beanpot team that had to play twice the weekend before the first Monday of the tournament. The ECAC has never been able to come up with a solution that was good enough for Harvard, without giving them a break on a league weekend.
So, Rick McAdoo writes:
Have people suggested that the ECAC schedule the Harvard-Brown travel partner games the 2 Fridays before the Beanpot Mondays? The first Friday would be Harvard at Brown, then the Beanpot game, then the next Monday would be Brown at Harvard, then the final Beanpot game. That way no other ECAC teams would complain that they have to play 2 games in a weekend while Harvard only plays one, etc… Harvard would get the benefit of only playing a single game before the Beanpot, like their Hockey East counterparts, and the ECAC scheduling wouldn't be such a headache.

I know that Brown-Harvard sort of (recently?) traditionally play each other early in the season, but I would think the benefits to the ECAC of having a strong Harvard presence in the Beanpot would make this scheduling change a worthwhile thing.
Yep, you'd think.
Wanted: Club Team in Need of Coach
I'm trying to figure out if I should be laughing at this.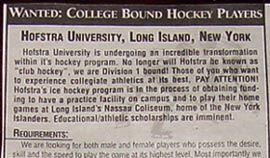 Recently, a rather prominent quarter-page ad ran in The Hockey News, the March 9 issue. The ad made a big splash, proclaiming Hofstra's move to Division I status was imminent.
When I first heard of this, I was very skeptical. I figured the person who told me must have read the ad wrong. Heck, if this was true, it would have been all over the USCHO message boards.
But there it was. A complete ad, basically trying to recruit players, and rambling on about how Hofstra was going to be a force to reckon with in D-I. The ad extolled the virtues of the college, said the games would be played in Nassau Coliseum, and urged anyone that wanted to be associated with a soon-to-be college hockey power to get on board now.
Still skeptical, I called Hofstra. The first person I talked to in the sports information office hadn't heard a thing. I asked, then, if he could help me track down the number of the coach of the club team. Club teams are not members of the athletic department at the schools, but I figured their coach must know if this was really true.
So, the assistant SID turned to his colleagues, asking for tips on finding the phone number for the club hockey coach.
You want to hear the punchline?
Apparently, there is no longer a club coach.
He was fired … for putting an unauthorized ad in The Hockey News about upgrading to D-I.
There was an e-mail address associated with the ad, presumably of the club team coach. Attempts to reach him have been unsuccessful, but boy, I really want to know what this guy was thinking.
Was he doing it to prove a point? Was he doing it for spite? Was he trying to force the hand of the Hofstra athletic department? Or was it a gag?
Either way, it had to cost him a pretty penny. At least I found it humorous.