The goalie at one end of the ice had earned just about every possible accolade this year: CCHA Player of the Year, CCHA best goaltender, CCHA Tournament Most Valuable Player, All-CCHA Tournament Team, All-CCHA first team and Hobey Baker Award finalist.
As just a sophomore, he'd set an NCAA career shutout mark with 18, 10 coming this season. And if all those achievements weren't enough for Michigan State's Ryan Miller, he was named a first team West All-American earlier in the day.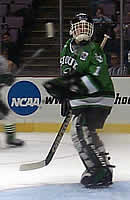 At the other end of the ice, North Dakota's Karl Goehring could count his honors this season on two fingers. The WCHA named him Student-Athlete of the Year and also selected him to the All-Academic team. The marketing major, a former high school valedictorian, could certainly match neurons with anyone.
And arguably, that's college athletics at its finest. But when you reach the Frozen Four, you might care more about purely athletic performance and trade a classroom wizard for a cementhead who takes Basketweaving I and II just to stay academically eligible. Just as long as the cementhead wows you on the ice.
Unfortunately, Goehring didn't wow observers sufficiently this year to earn a single purely athletic honor after posting many in past seasons.
As a freshman in 1997-98, he'd been named a Second-Team All-American, All-WCHA First Team, WCHA Rookie of the Year and WCHA Goaltending titleholder. As a sophomore, he was on the All-WCHA second team. Last year, he took honors as a first-team West All-American, All-WCHA first team, WCHA goaltending titleholder and a member of the Frozen Four All-Tournament team while leading the Fighting Sioux to the national championship.
This year, however, the awards dried up. For the first time in his career, he failed to earn a spot on one of the WCHA's three all-star teams. His goals against average rose to 2.46, the highest figure of his North Dakota tenure. After a save percentage of .927 in 1999-2000, he fell to .915 this year. Andy Kollar, with whom he shared time between the pipes, posted a superior record, 13-2-3, to Goehring's 15-5-6.
Of course, as "off years" go, those statistics were hardly reason for Goehring to hang his head in shame. But it still wasn't up to his usual standards.
"It's tough to go to school and do what he's done for four years and expect him to be an All-American each year at that position," said North Dakota coach Dean Blais. "He didn't have the banner year."
It got to the point where after the first month and a half of the season, Goehring, one of the team's captains, took the C off his jersey.
"He thought he was putting too much pressure on himself by trying to be a captain and a leader," said Blais. "He wasn't having a great year so he said, 'Hey, I'll take the C off and see if it helps.'
"He's still our captain. He just doesn't wear the emblem."
It didn't help that the Sioux weren't playing consistently great defense either, putting Goehring and Kollar on the spot by allowing too many odd-man rushes.
"The last month and a half we felt that we had to tighten up the defense a little bit and try to not give up anything offensively," said Blais. "It's playoff time. It's time to tighten it up."
Which is exactly what the Sioux did against Colorado College in the East Regional to get to the Frozen Four and exactly what they did to Michigan State to advance to Saturday's national championship game. North Dakota dominated a first period in which it owned a 15-3 shot advantage and a 2-0 lead by the time the game was 15:32 old.
Goehring hadn't had to do a whole lot at that point. The defense, led by All-American Travis Roche, had been near-flawless. The forwards, who collectively are on-ice examples of the slogan "Speed Kills," outraced the Spartans to one loose puck after another, making defense easy by keeping the puck in the Michigan State end for long stretches while also backchecking with authority.
"He didn't want to get into a goaltending battle with Ryan Miller … but in the back of his mind, Karl is a real competitor."
— UND coach Dean Blais
However, those games are often fraught with danger for goaltenders who lose their sharpness while the action is all in the other end.
"What makes Karl good is he's focusing wherever the puck is on the ice," said Blais. "A lot of goaltenders focus in the defensive zone. They'll set up [there], but if you watch [Karl], even when the puck is in the offensive zone, he'll be out on his angles. He's always squared up. That's what makes him good, his focus and his concentration."
That stood Goehring in good stead when Michigan State went on the power play near the end of the first. A goal here would not only put the Spartans within striking range after a disastrous period, but would provide a huge change in momentum.
With 0.3 seconds left on the clock, Goehring stoned Troy Ferguson at the doorstep to keep North Dakota firmly in charge.
Goehring continued to come up big when challenged, especially in the third period, when Michigan State generated its best chances. A save at the 11:40 mark off a scramble in front got the Sioux faithful to their feet chanting the goaltender's name. When he made a sprawling save 0.7 seconds left away from his 15th career shutout, the chant began again.
It was a sweet moment for the senior, one that banished any aftertaste of a merely ordinary regular season. What was the difference?
"It's the playoffs," said Blais with a knowing grin.
As for the personal duel with Miller, the All-Everything goaltender this season, Goehring downplayed its importance.
"I took the standpoint of trying to contribute what I could to my team and not worry about a personal battle with Ryan Miller," said Goehring. "He played a great game and kept his team in it. I was focused on our team."
His coach, however, isn't so sure that the matchup wasn't a factor at all.
"He didn't want to get into a goaltending battle with Ryan Miller," said Blais, "but in the back of his mind, Karl is a real competitor. We've seen that in the last month especially. He didn't have the All-American or Hobey Baker type year, but he's broken almost every record at North Dakota for goaltending."
And as much as this year's goaltending picture has been Miller Time, Saturday night just might be Goehring Time. He led North Dakota to a national title last year, shutting out Maine in a remarkably similar semifinal game, and will almost certainly be a force when the Sioux look to win the first back-to-back national titles since Boston University in 1971-72.
"I'm just thrilled to death to be going back to the championship," said Goehring.
North Dakota's opponent, whether it's Michigan or Boston College, may not be quite so happy to see him.