The 2000-2001 hockey season for the University of Michigan can't be classified as being too bad. A 27-12-5 record and a number-three seed in the NCAA tournament would make the average coach quite happy.
But understand something here — we're talking about Michigan.
The Wolverines are a college hockey power, which could still be the understatement of the night. So nothing short of success from the day the puck drops with September practices will make these players happy.

"Our team had a lot of goals this year," said Michigan coach Red Berenson. "We wanted to win the [Great Lakes Invitational], our league and the playoff championship."
The Wolverines, unfortunately for them, won none of those.
But the second season wasn't lost, and Berenson took note. Victories over Mercyhurst and St. Cloud in the West Regional gave Michigan a visit to the NCAA Frozen Four for the 19th time in school history, their first since capturing the title in 1998.
"I think our team really refocused in the playoffs and made the most of the end of the season," Berenson said. "That's the part of the year where people remember you the most, and I think our team gave it absolutely everything they had."
Sadly, though, again for Michigan — everything just wasn't enough. A 4-2 loss on Thursday to Boston College, the team that Michigan beat in 1998 to win the national title, ended the Wolverines' impressive run in a game that was a microcosm of the season.
Michigan, according to Berenson, was a bit inconsistent all year, and that certainly was the case Thursday. A slow start put the Wolverines in a 3-0 hole against the potent Eagles — and although Michigan battled back to 3-2 on goals by sophomores John Shouneyia and Mike Cammalleri — much like the season, Michigan fell just short.
"The team was ready to play and had done all the right things [to get ready]," said Berenson. "We weren't just happy to be here. We were really intent on upsetting Boston College and getting into that championship game.
"We knew BC would be off to a fast start. We had a poor first shift and that kind of translated into a couple of shifts and eventually a goal against our first line, and then two power-play goals.
"But the emotion was great. It wasn't the same team that played two months ago when we were struggling. We had a lot of life and jump, and there was no quit, obviously. We needed good goaltending and we had that goaltending. We needed to put our chances in and it didn't happen."
Berenson showed his appreciation for his club's character — that was clear. But for the players, especially the senior class, it wasn't about happiness.
No, sir, it was about pride.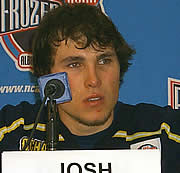 "I'm proud to be a part of this [senior] class," said Josh Langfeld, fighting back tears. "We worked really hard. Everyone had counted us out earlier in the year and a lot of people counted us out along the way.
"But we handled the adversity great. I think we showed up in the last part of the season to lead this group of guys. I hope they've learned from it and [the seniors] have earned a lot of respect."
"We got behind the eight ball a little bit, giving up three goals," said Langfeld's classmate Geoff Koch. "We tried to get back in the game, but that's the way sports are sometimes."
Six seniors skated Thursday for the Wolverines; all will be lost next season. Those six players accounted for 183 points this year, and include two career 100-point scorers in Langfeld and Mark Kosick.
"Our seniors are a big factor in our team, and they could have been a big factor tonight," said Berenson. "They had the puck … and had some quality chances.
"It will be a big turnover year for our team, losing eight seniors."
But losing seniors won't be the only concern for Berenson.
"There's always the possibility of losing another one of your top underclassmen [to the pros]. We lost Mike Comrie last year. He was our leading scorer, and probably would have been again this year, too.
"But we've got a big freshman class coming in and that will be fun for the coaches. It'll change the team a lot, but we've got some solid players coming back."
The departing seniors were instrumental to the program, but Langfeld showed that something left behind will make this team continue to set high goals.
"Tonight's game showed a lot about the character on our team," said Langfeld, who proved how difficult it will be to remove the Michigan jersey from his back, wearing it to the press conference more than 30 minutes after the game's end. "It showed a lot about the friendships we've made. There isn't a guy who wouldn't go through the wall for another guy. It's the most closely-knit group of guys I've ever played with.
"Tonight our team battled back and we showed a lot of character. But that's part of being a Michigan Wolverine. I'm proud to be sitting here wearing this jersey."