For Scott Clemmensen, the goaltender of record in every one of Boston College's NCAA tourney games in his four years there, that monkey was probably a little more like a gorilla — a ten-thousand pound gorilla.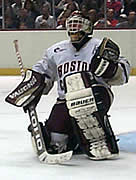 But in the aftermath of BC's victory in the national championship, which his teammates commemorated by piling up along the far boards, Clemmensen talked about his own postgame celebration: trying to skate to the other end after sophomore Krys Kolanos scored the game-winning goal in overtime.
"I was so tired, I barely made it down to the other end of the ice, my legs were so sore," said Clemmensen, maybe showing signs of fatigue from carrying the large monkey. "I don't even know who I grabbed first. They were all flying faces."
All joking aside, Saturday's win gave Clemmensen the opportunity to show the press, the fans, and all who may have doubted his ability that Scott Clemmensen is a big-game player.
Ask North Dakota's Bryan Lundbohm. Clemmensen robbed the All-American not once, but twice. The first time was early in the game, a remarkable glove save to keep the game scoreless through one period. The second time was with a little more pressure added — early in overtime, realizing a goal then would end the game, and Clemmensen's career with the ultimate title.
"I just wanted to get a glove on that shot," said Clemmensen. "I wasn't sure if it was heading to the top corner, but I knew I couldn't take a chance in overtime."
Old Memories Die Hard
It was three years ago when Clemmensen played a similar overtime game, deadlocked at an identical 2-2 score against Michigan for the NCAA title. That night, an unexpected shot from the stick of Josh Langfeld slid slowly along the ice between Clemmensen's right skate and the post, ruining a stellar performance by the then-inexperienced freshman.
And Saturday night, as North Dakota spoiled Clemmensen's shutout late and then buried the tying goal to send the game into overtime, one can only imagine what went through Clemmensen's head. This was worse than deja vu. This was a downright nightmare.
"You think about [1998] going into overtime, but ultimately, we have another shot at it. We took advantage of it this time around."
Clemmensen, who alone among the seven BC seniors did not wear a captain's letter, would be the first to admit that he's not a vocal leader. But once the game was destined for OT, "Clemm," as his teammates affectionately call him, decided maybe it was time to speak up.
"I told them it's very important that we go out there and attack and stay on our toes and not play just defense," Clemmensen said of his overtime speech. "[North Dakota] was taking it to us and we had to come out and attack. I think we did that."
Certainly the Eagles did attack, and when Krys Kolanos scored at 4:43 of overtime, the championship became BC's and Clemmensen's.
"God, when I got that trophy, I held it up so high," Clemmensen said wearing a smile the size of the Massachusetts Turnpike that he and his team will ride back to Chestnut Hill. "I couldn't hold it up high enough. It's great for my teammates, for our program, for our fans."
One for the Record Books
Over his career, Clemmensen has not been immune to setting records. As a junior, he already had broken the Boston College record for shutouts. Earning his last one in this year's Hockey East quarterfinals, Clemmensen finished his career with 13 blankings.
Entering the Frozen Four this weekend, Clemmensen needed just 31 saves to pass Harvard's Grant Blair for the all-time record for saves in NCAA tournament play. Clemmensen didn't even need to reach Saturday's final for that. He made exactly 31 in a 4-2 win over Michigan on Thursday, meaning his 34 on Saturday night was nothing more than gravy. The new mark is Clemmensen's 356 stops.
And after tying Michigan's Marty Turco, ironically the winning goaltender opposite Clemmensen in the 1998 final, Thursday for most career wins, Saturday's win gives Clemmensen the all-time mark with 10.
But that still won't change the humble senior's perspective.
"I'm not too much for personal accolades. It's a team sport and we needed every single one on the team to win it," said Clemmensen. "I just tried to make save [after] save and keep it close."
Eagles head coach Jerry York, though, isn't as modest when talking about his goaltender.
"Scott is a four-year goaltender for us who has never made an all-league team," said York. "But that's what I like about him — he doesn't let that bother him. He'll tell you, 'Personal accolades aren't part of my makeup.'
"But he's meant an awful lot to our program. He's won a lot of games for us."
To be exact, Clemmensen's won 99 games, which led York to joke, "Can't we bring him back next year to win number 100?"
Regarding Clemmensen's success in tournaments, particularly the NCAAs, York said, "His play in March and April is particularly very good. He's a special young guy who we're very proud of at Boston College."
What Lies Ahead
The city of Albany, N.Y., and particularly the Pepsi Arena, will now hold a special place in the heart of Clemmensen, a native of Urbandale, Iowa. But as quickly as the senior may leave the building, he could be returning.
Clemmensen was an eighth-round draft pick in 1997 of the New Jersey Devils, whose primary development team is the Albany River Rats, the AHL club that calls the Pepsi Arena home.
"Maybe I'll be back in the building someday; we'll see what happens," Clemmensen said. "I was drafted by New Jersey and all I want is a shot. So we'll sit down and see what they have in store for me."
Whatever the next step may be for Clemmensen, rest assured that he'll be successful. And if he happens to see any gorillas on his way through life, he'll know what to do to ward them off.
Because in case Clemmensen wins more big overtime games, he can't be tired when he's trying to celebrate.