Just a day a after participating in the 2001 NCAA championship game, North Dakota sophomore defenseman Travis Roche was in the line up for the NHL's Minnesota Wild.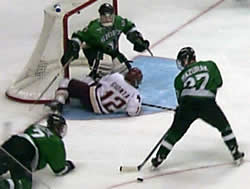 "We have signed a young free agent who should develop into a solid offensive defenseman," said Wild Vice President and General Manager Doug Risebrough. "We were impressed with his contributions to Dean Blais and the winning program at the University of North Dakota."
Roche wore No. 6 for the Wild in Sunday's season-ending 4-2 loss to Colorado.
The 22-year-old native of Whitecourt, Alberta, ends his college career with 16 goals and 57 assists in 83 games.
Roche was selected to this year's Frozen Four All-Tournament Team and was a West First-Team All-American.
Terms of Roche's contract were not disclosed.