With a goaltending duo hailed by some (granted, those with strong ties to the school) as the nation's best and a strong defensive corps, Denver can't be blamed for setting its sights not only on a top-five finish in the WCHA, but on a berth in the NCAA tournament.
But the Pioneers have some questions to answer between now and Selection Sunday. Can they be as consistent as is needed to be one of the league's top teams? Can they field a strong enough offense? Will they be able to survive a tough finish to the regular season?
For the Pioneers, the only answers can be yes, yes and yes. Maybes won't get them to the promised land this season. They have to prove time and again they have the talent to host a playoff series.
That's not in question at goaltender and defense. Offense is the sticking point this season.
While Denver returns top goal- and point-scorer Chris Paradise as a senior, a pair of solid scorers — Kelly Popadynetz and Bjorn Engstrom — have departed.
That's not to say the Pioneers don't have some punch up front. Put Paradise with Connor James, a solid go-to player, and they have one of the best connections in the WCHA.
"I think Paradise and James complement each other well," Pioneers coach George Gwozdecky said. "Both have great strengths as far as their offensive game is concerned. We'll probably look at those guys together, at least in the early part of the season, and go from there."
Paradise and James aren't the concern. It's the rest of the offense. The Pioneers feature a handful of forwards with promise, but that promise must translate into production this year.
Gwozdecky said he's counting on goals from Matt Weber, Kevin Doell and Greg Barber, to name a few.
"You always have other guys who have maybe been in the shadows in the past," Gwozdecky said. "You give them a little more responsibility and they seem to thrive on it.
"There's no question that Chris [Paradise] is going to be the guy at the start of the season everyone is going to be aware of and point toward. You want to allow him to get a good start. But I think there's others that are going to help him carry the load."
The line combinations may be a case of trial and error early in the season, as Gwozdecky tries to find the pairings that will get his team some goals.
"The biggest thing you try to find is the good combinations of two," he said. "You don't worry about trying to fit three together, you try to find two guys who fit great together. Two guys usually are the things that make it click. Panzer-Lundbohm. Heatley-Reinprecht. You just go back and forth. If those guys click, it makes it easy for that third guy to move in and make it a real powerful line."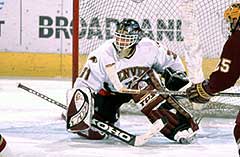 If the Pioneers' offense gets rolling early in the season, that should put the whole package together. Defense and goaltender are the positions of least concern going in.
There are good reasons for that. Their names are Wade Dubielewicz, Adam Berkhoel, Bryan Vines and Ryan Caldwell.
Dubielewicz and Berkhoel will battle for the top job at goaltender, but Dubielewicz holds the upper hand.
The junior was the WCHA's goals against leader last season at 2.24.
"Wade's statistics from last year speak for themselves," Gwozdecky said, "and he was only a sophomore."
But if Dubielewicz is No. 1, then Berkhoel is 1-A, Gwozdecky said.
Coaches appreciate having goaltenders push each other to get better throughout the season, but Denver's situation is much friendlier. Berkhoel shows promise to be just as capable as Dubielewicz.
"Berkhoel had a chance to sit on the sidelines and watch, and when he got his chance in the second half of the season he played really terrific," Gwozdecky said. "He won a big game for us at CC in a thriller.
"I think both guys are not only great goaltenders, but they're very supportive of each other and team goals. They understand that only one guy can play. It makes it a lot easier to make the decision knowing that they both are supportive of each other."
The talented goaltending duo lets the defense relax a bit. Not that they do, but for defensive players like Caldwell, it opens up the offensive possibilities.
Caldwell tied for the team lead with 20 assists last season, and essentially has the green light to push the offense.
"The reason he's here is because he's such a gifted offensive player and he can create offense from his position," Gwozdecky said. "We're bound and determined not to change that. The area that he wants to improve on, to make him more of a complete player, is the defensive aspect of the game. With his offensive skills and capabilities, there's certain things you want to be able to allow him to do, and that he can do. He's got that attitude and that confidence to be able to do it."
Vines, a stay-at-home defenseman, will lead that part of the blue-line corps. The senior captain has emerged as one of the team leaders in plus-minus (he was plus-13 last season).
The Pioneers will also expect big things on defense from fellow seniors Jesse Cook and Erik Adams.
Denver missed out on the Final Five last year after being swept by Wisconsin in the opening round of the playoffs. The Pioneers are bound not to let that happen again, and that starts by getting the playoffs in their building.
"The thing that has pleased me tremendously is the preparation our athletes have made over the past six months," Gwozdecky said. "They're in excellent shape, strong and determined and eager. When you're prepared, it builds confidence.
"There's no question that that first-round playoff loss to Wisconsin still sticks in a lot of people's craw."
The Recruits: Limited Numbers
With few spots to fill on forward, only one in the starting lineup on defense and none at goaltender, the Pioneers' recruiting class was small.
Jeff Drummond, Luke Fulghum, Jon Foster and Kevin Ulanski enter with a chance to get in the starting lineup if they can put points on the board.
Nick Larson, a 6-foot-4, 200-pounder from Dubuque of the United States Hockey League, is the lone defenseman new to the program this year.
The Schedule: Week to Week
If the Pioneers are going to be fighting for a high finish late in the season, they'll have their work cut out for them.
The last three weekends of the regular season consist of series at Wisconsin, at home against St. Cloud State and at North Dakota. If they get a home playoff series, they'll have deserved it.
But Gwozdecky wants to make sure his players aren't looking too far ahead on the schedule.
"I don't think you can ever approach a season saying we need to prepare for this series or this stretch," he said. "I think we would be fooling ourselves if we felt we were in a position to prepare for those last three [series]."