The same people that aren't giving North Dakota much of a chance to win a fifth WCHA regular-season title in six years probably also didn't give the Sioux much of a chance to force overtime late in last year's national championship game.
Say all you want about Minnesota and Colorado College. Talk about the high level of talent on the Gophers' and Tigers' rosters. Say they're the teams to beat this season.
But don't rule out tradition.
North Dakota has won the MacNaughton Cup so many times in recent memory that the school could consider making a permanent statue outside the new Ralph Engelstad Arena out of it.
It is now a tradition that commissioner Bruce McLeod hands over the hardware to Dean Blais at the end of the season. It is for that reason, if absolutely nothing else, that the Sioux have to be listed as one of the favorites this season.
It's a yearly occurrence that roughly coincides with the tradition of the North Dakota coach underselling his team and its chances before the season. By now, everyone knows what to think when Blais says the Sioux are in a rebuilding year.
"Don't believe him," said Minnesota-Duluth coach Scott Sandelin, one of Blais' former assistants.
Blais speaks cautiously this year, though, making no bold claims of championship prowess or certain shortcomings.
He'll let his team do the talking. He may be as interested as anyone to find out what the Sioux have up their sleeve this year.
He says youthfulness is the word of the season for North Dakota. The Sioux will have to take their time with many new faces.
"Patience is the key this year, especially with the schedule we have," Blais said. "We have Minnesota in the Hall of Fame Game, and then Colorado College, Wisconsin and Maine our first three series here. They're tough opponents and we don't have a lot of time to get ready."
The Sioux are going to have to be patient because, at least at the beginning, they won't have the firepower of years past on offense. Jeff Panzer graduated and Bryan Lundbohm, a free agent, jumped ship early — "Sometimes when the money's there, you have to take it," Blais said.
That's the league's top two scorers from last year suddenly missing. That's 150 points gone from the lineup, and thinking that others will simply step into those roles is lunacy.
The Sioux will have to craft a different way to get things done with the players they have. Ryan Bayda is the only member back from the nation's top line last year, and he's more of a playmaker than a goalscorer.
"We're counting on him to be one of the top players in the WCHA up front for us," Blais said. "He's capable, certainly, of scoring between 20 and 30 goals."
For the third season in a row, Bayda finds himself working with a new pair of linemates. In the national championship season two years ago, he was paired with Lee Goren and Jason Ulmer, making one of the nation's top lines. Last season, he set up Panzer and Lundbohm.
Blais said he isn't sure with whom Bayda will play this season, but some safe bets would be Jason Notermann, Kevin Spiewak and Tim Skarperud.
The Sioux offense, while packed with NCAA experience, is young in years. The Sioux list only one senior forward on their roster, Adrian Hasbargen, who scored only four points in 25 games last season.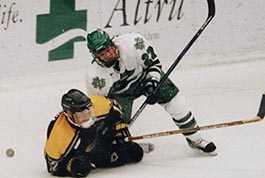 Bayda, a junior, will be charged with the leadership role up front, and with helping the Sioux freshmen — who could number seven on any given night — get into the swing of things.
"Ryan should know what it takes," Blais said. "The only thing that beats experience is talent, and I think we do have talent. It's going to take some time for the freshmen to get into the heat of the battle and feel comfortable. We could take a beating until Christmas, and after Christmas, they'll come along."
The defense will also lean on some freshmen, possibly three in the lineup of six. When Travis Roche stepped off the ice after last year's national championship game, he was as good as gone, and signed a pro contract days later.
That leaves some spots to fill, and newcomers Nick Fuher, Matt Jones and Andy Schneider should see a good deal of minutes. Senior captain Chad Mazurak has the ability to lead this group, and will be called on to do so. Aaron Schneekloth, David Hale and Chris Leinweber will be the other mainstays on the blue line.
"Not flashy, but effective," Blais said of his defense. "We'll work them hard. But we're not going to change anything. We're not going to play a one-man forecheck, we're still going to play the same hockey as we always have, win or lose. That's the only way the kids improve."
It's a defense that may once again be centered around its goaltender, an interesting development considering that, on most other teams, the loss of Karl Goehring would be the top story.
But Andy Kollar has been waiting for this situation for two years. He's seen his share of key action — winning the 2000 Final Five, for instance — but hasn't been a day-to-day goaltender in college.
Blais said Kollar, a senior, will play 80 to 90 percent of the games.
"Andy's had a tradition of being a clutch goaltender," Blais said, "and it'll be a good test for him to see if he can play most of the games this year."
The Sioux have to beware of the new-home disease. WCHA teams in new arenas have had difficulties putting up wins in their first season. It happened to Wisconsin, Colorado College and Denver, but Blais isn't too concerned about it happening to his team in the new Ralph Engelstad Arena.
"Thank goodness we can play Minnesota in the Hall of Fame Game, and that won't count," Blais said with a laugh. "Not that we're going to lose, but you never know."
The Recruits: An All-Star Group
Anyone familiar with the United States Hockey League will swear they're seeing the Junior A league's 2000-01 all-star team wearing Sioux jerseys. That's not too much of a stretch.
North Dakota sports the USHL's player of the year, forward Chris Fournier, as well as highly touted recruits Jake Brandt (a goaltender) and Brian Canady (a forward).
"Yeah, but they're freshmen, too," Blais said. "Bryan Lundbohm was a first-team all-star and came in his first year and had two goals. Steve Johnson, who was an all-American here, had two goals his first year. Lee Goren had four. That's some pretty good players with not great stats.
"We're going to need some production out of those freshmen. I think they have the capabilities to score, but it's going to be a test of if they're ready or not."
The Schedule: True Strength
With a bit of luck, if you can call it that, North Dakota could face nothing but 2001 NCAA tournament qualifiers in its non-conference schedule.
The Sioux play Minnesota in the Hall of Fame Game; a pair against Maine at home; two on the road against St. Lawrence; and Michigan and possibly Michigan State in the Great Lakes Invitational.
"I don't know, maybe in the future we'll back off a bit," Blais said in jest. "Our fans want to see us play the Michigans, the Michigan States, the Maines."