A mere seven months after sending a record five teams to the 12-team field of the NCAA tournament, what could the WCHA possibly have left to prove?
After 50 years of hockey, 31 national championships, the likes of Mariucci and MacInnes, of Brooks, Gasparini and a guy named Badger Bob, what can the conference do this season to show it is still strong?

In a season that will start with the christening of the new palace of college hockey and end in another equally awe-inspiring arena, for what, other than the pursuit of the national championship trophy, can the league collectively strive?
The password is resiliency.
It was hard not to notice the WCHA's pervasive presence in last year's NCAA tournament — almost half the field wore a WCHA patch on its shoulder. It was also hard to notice that a league team didn't win the national championship and that only one of the five teams made the Frozen Four.
That's a 3-4 record in the regionals, and 4-5 overall in the tournament.
"I think if you ask the coaches, they're not disappointed … but maybe if you ask some WCHA fans, they would be."
— CC coach Scott Owens, on the WCHA's 4-5 showing at the NCAA tournament last season.
That's enough to make the league blush.
"I think if you ask the coaches, they're not disappointed," Colorado College coach Scott Owens said, "but maybe if you ask some WCHA fans, they would be."
Said Denver coach George Gwozdecky: "I think it was a little bit of a surprise, considering the success that we had throughout the season against nonleague opponents."
But oftentimes with embarrassment comes a challenge. This year, for this league, it is this:
Prove last season wasn't a fluke.
It won't be easy, given the losses — planned and otherwise — that have touched every WCHA team. Some of the most prolific scorers, the toughest defensemen and the winningest goaltenders won't be back this season, leaving behind a winning tradition and questions.
Consider the losses of:
Jeff Panzer, Bryan Lundbohm and Karl Goehring at North Dakota;
Dany Heatley, Jeff Dessner, Alex Brooks and Graham Melanson at Wisconsin;
Tyler Arnason, Duvie Westcott and Scott Meyer at St. Cloud State;
Paul Manning and Justin Morrison at Colorado College;
Erik Westrum at Minnesota.
The six forwards on that list were responsible for 157 goals last season, more than all but three WCHA teams — North Dakota, St. Cloud State and Minnesota being the exceptions.
But preseason claims of a loss of firepower have often been met with results to the contrary. Maybe it won't be necessary to replace Jeff Panzer or Dany Heatley or Tyler Arnason; maybe their respective teams will find offensive solutions without them.
North Dakota always seems to have some offense waiting in reserve, no matter whom the Sioux lose. They had three of the top four league scorers last season, and although only Ryan Bayda is back, they'll have plenty of players waiting to make a move.
CC's Peter Sejna has his work cut out for him if he's going to improve upon his rookie-of-the-year 2000-01 campaign. Although he arrived at school heavier than usual, it's all muscle. Few doubt he has the ability to crack the 30-goal mark this year.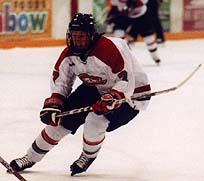 With Sejna, Mark Cullen (the coaches' preseason MVP pick) and Alex Kim, the Tigers' offense could make significant strides this season, if consistency doesn't become an issue.
With Arnason leaving for the pros after his junior season, Mark Hartigan becomes St. Cloud's top returning scorer. He'll get help from Jon Cullen and Joe Motzko.
At Wisconsin, there's work ahead if the Badgers are going to stay in the upper half of the league this season. Heatley was the only Wisconsin player in the top 30 in points in the league last season, leaving veterans like David Hukalo, Matt Hussey and the gritty Andy Wheeler to lead the charge this season.
And then there's Minnesota. With only one major loss, the Gophers have as good a chance as anybody to win the regular-season title. That's if star forward John Pohl can play the season injury free and if the Gophers can win the big games, starting with the first one of the season.
The Gophers and the Sioux open the new Ralph Engelstad Arena in Grand Forks, N.D., with the Oct. 5 Hall of Fame Game. Minnesota has the added pressure of hosting the Frozen Four, April 4-6 at the Xcel Energy Center in St. Paul, Minn. Getting there is the goal for every team, but that gets magnified when it's in your town.
Elsewhere:
Denver is advertising itself as having the best goaltender tandem around — Wade Dubielewicz and Adam Berkhoel — and that might not be too much of a stretch at this point. The front lines will have to produce, though, to take some pressure off the defense.
Minnesota State-Mankato has to base its run at a top-five finish around forward Tim Jackman and goaltender Eric Pateman. Then, if the Mavericks get some help in the lower offensive lines and on defense, they'll have a shot at another Final Five run. Otherwise, you're looking at a two-man team.

Minnesota-Duluth isn't starting over again, but it may feel like it at times. Scott Sandelin's second season has prospects to go better than the first, but his team has a lot of growing to do in the meantime.
Mike Sertich gets a full season with Michigan Tech, important because he was thrown into the fire early last season after Tim Watters resigned. With the entire season ahead of him, Sertich will be able to continue molding this team his way. The lack of talent, though, may be more than he can overcome.
And Alaska-Anchorage gets a fresh start with new coach John Hill. Not that Hill's anything new to the area — he played at UAA and went to high school in Anchorage. As with most first-year coaches, there will be plenty of bumps; how Hill and the Seawolves react to them may be the telling statement of this season.
A quick look at the WCHA's teams follows. Click on a team's name to see its preview. Teams are listed in their predicted order of finish.
North Dakota
Coach: Dean Blais, eighth year overall and at UND
2000-01 overall record: 29-8-9
2000-01 WCHA record: 18-4-6
2000-01 WCHA finish: First, 42 points
2001-02 predicted finish: First
Quick hit: With the possibility of 10 freshmen seeing action in any game, the Sioux could take a while to get going. But don't underestimate the tradition North Dakota has built in the WCHA's regular season. "It's going to take some time for the freshmen to get into the heat of the battle and feel comfortable," Blais said. "We could take a beating until Christmas, and after Christmas, they'll come along."
Colorado College
Coach: Scott Owens, third year overall and at CC
2000-01 overall record: 27-13-1
2000-01 WCHA record: 17-11-0
2000-01 WCHA finish: Fourth, 34 points
2001-02 predicted finish: Second
Quick hit: It's tough to top experience, especially when the vast majority of your team went through the NCAA experience last year. With some key contributions on defense, this team could be the total package. "We think that we really grew a lot last year as a team, especially getting to play the postseason games," Owens said. "We return many of those players, which is the key for us."
Minnesota
Coach: Don Lucia, 15th year overall, third at UM
2000-01 overall record: 27-13-2
2000-01 WCHA record: 18-8-2
2000-01 WCHA finish: Third, 38 points
2001-02 predicted finish: Third
Quick hit: The Gophers have the talent to win it all this season, but the questions surround their ability to win the big games. "I think, preseason, we'll be ranked up there, but we still have question marks like everybody else does," Lucia said.
St. Cloud State
Coach: Craig Dahl, 21st year overall, 15th at SCSU
2000-01 overall record: 31-9-1
2000-01 WCHA record: 20-8-0
2000-01 WCHA finish: Second, 40 points
2001-02 predicted finish: Fourth
Quick hit: Dahl's team can build off the pain of watching its best shot at a Frozen Four go awry last season, but a number of losses will hurt the effort. "I've been doing this for 24 years," Dahl said, "and this year's team came in in the best shape, and certainly they've been all business."
Wisconsin
Coach: Jeff Sauer, 31st year overall, 20th at UW
2000-01 overall record: 22-15-4
2000-01 WCHA record: 14-10-4
2000-01 WCHA finish: Fifth, 32 points
2001-02 predicted finish: Fifth
Quick hit: Losing a star goaltender and their top two defensemen means trouble for the Badgers. Having seven senior forwards, though, could save this team. "I think people will underestimate us because of the fact that we did lose the meat of our scoring and our goaltender," Sauer said. "But I think we have a good group of players returning and I think we're going to be right in the thick of things before the season's over."
Denver
Coach: George Gwozdecky, 16th year overall, eighth at DU
2000-01 overall record: 19-15-4
2000-01 WCHA record: 14-11-3
2000-01 WCHA finish: Sixth, 31 points
2001-02 predicted finish: Sixth
Quick hit: The defense and goaltenders aren't in question; the offense is. Can the Pioneers find enough scoring power to crack the top five? "It's just a matter of putting things together now," Gwozdecky said.
Minnesota State-Mankato
Coach: Troy Jutting, second year overall and at MSU
2000-01 overall record: 19-18-1
2000-01 WCHA record: 13-14-1
2000-01 WCHA finish: Seventh, 27 points
2001-02 predicted finish: Seventh
Quick hit: The Mavericks don't have a ton of talent, but with forward Jackman and goaltender Pateman, they have more than others. "We'll be young, but I like the skill level of our young kids and I like the summer we've had," Jutting said.
Minnesota-Duluth
Coach: Scott Sandelin, second year overall and at UMD
2000-01 overall record: 7-28-4
2000-01 WCHA record: 3-22-3
2000-01 WCHA finish: 10th, nine points
2001-02 predicted finish: Eighth
Quick hit: The Bulldogs need to generate some offense while the defense comes along. "The players, just with knowing us and us knowing the incoming freshmen because we recruited them, that's a big step," Sandelin said.
Michigan Tech
Coach: Mike Sertich, 20th year overall, second at MTU
2000-01 overall record: 8-24-4
2000-01 WCHA record: 6-19-3
2000-01 WCHA finish: Eighth, 15 points
2001-02 predicted finish: Ninth
Quick hit: Sertich holds his first training camp with the Huskies, hoping a new attitude can help the team climb the league ranks. But the talent is still questionable. "We'd like to believe we're capable of moving up in the standings," Sertich said.
Alaska-Anchorage
Coach: John Hill, first year overall and at UAA
2000-01 overall record: 7-24-5
2000-01 WCHA record: 4-20-4
2000-01 WCHA finish: Ninth, 12 points
2001-02 predicted finish: 10th
Quick hit: Hill, a former Seawolves captain, is stressing his team will play an up-tempo game, a new concept in Anchorage. "I think our kids can relate to the message we're trying to get across to them as to what it takes to be a Seawolf and what this program is going to be about," he said.