Early-Season Battle
When the ECAC finally gets its regular season underway this weekend, many eyes will be turned eastward, waiting to see what this year will bring for the league that is always the last one out of the gate. While teams like Rensselaer and Union have shown signs of potential, others such as Colgate and Vermont have faltered.
Oscillations in the national rankings notwithstanding, there is no doubt that many are curious as to what will transpire when two of the best teams in the ECAC — as predicted by the coaches and media — take to the ice this weekend in an early season battle for league supremacy. The only two teams consistently ranked in the Top 15 through the preseason, No. 15 Dartmouth and No. 11 Harvard, face off on Sunday night in an unusual early in-season contest.
"The rivalry with Harvard is a good one," said Dartmouth coach Bob Gaudet. "It's been like this over the course of time. But we understand that anything we read or is said during the preseason is tempered by the fact that we know that the game is played on the ice and that is where it will happen."
The Harvard-Dartmouth showdown will take place on Sunday at Bright Hockey Center. And while the anticipation is high on both ends for that game, there is one major roadblock standing in front of the Crimson — Brown. The travel partners will open their seasons the night before in Cambridge.
"To be honest, we haven't even talked about Dartmouth. We have to focus on Brown," said Harvard coach Mark Mazzoleni. "Brown will play hard from the time the puck drops till the end of the game. Look at last season, where they lost a lot of one-goal games. If you start to win some of those, it breeds confidence, and then you can go on to win a majority of those. They are a very strong and big defensive team. And I think that [Brian] Eklund is as good as anyone in our league in net."
The two got an early taste of each other one week ago when the Crimson traveled to Providence for an informal scrimmage. Traditionally, Harvard has used Dartmouth and not Brown as a preseason scrimmage partner. This year, with the schedule pitting the Big Green and Crimson against each other in two of the first three regular season games, both Gaudet and Mazzoleni felt it would be best to save the first encounter for this Sunday night.
Mazzoleni and Grillo then used the open slot and favorable geography to set up a meeting last Wednesday evening. Dominated by situational play, the two teams ended up splitting the two halves of play. And considering the emotional and psychological contrasts of first- and last-ranked teams, the result was a confidence boost for Brown and a reality test for Harvard.
"It went as I expected," said Mazzoleni. "We won the first half and got smashed the second half. The one thing that any coach will tell you is that you can try to convey a message to a team, but nothing speaks louder than experience. Our guys had their eyes [opened] when they played Brown. Brown is a good team and their record the past couple years is not at all indicative of how they play."
"We had [the Harvard scrimmage] and an exhibition game on Friday as well," said Grillo, whose team walked over St. Francis Xavier, 5-0, last Friday night. "I thought that our guys looked good in both games. I was pleased with what I saw and happy with how the older guys have returned and made step in right direction. I think that the attitude is excellent. We went through a frustrating season last year and the guys are excited to get back into it."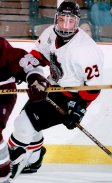 Brown will surely be a good test for Harvard. While the Bears do not possess the speed, skill and offensive depth of the Crimson, they do have something that the team from Cambridge doesn't at this point — a big, strong defense (anchored by veteran Josh Barker) and a seasoned goaltender in Eklund. Now no one expects Brown to contain the high-flying Harvard offense, but if they could sneak in a few early goals to rattle the young Crimson defenders and goalie, Grillo believes that anything could happen — especially when this is Harvard's first game of the year.
"I think that there is certainly a good deal of talent on that team," said Grillo about his travel partner. "Where they were rated in early season was certainly justified based on the performance of the young guys last year. It's a team that needs to be respected, and we need to come out and play our games. In the early part of the season, you can't worry about the other team. We need to worry about playing our game.
"I think that certainly if you look on paper, we lost some of our key scorers last year. Realistically, the young guys that played as much as they did have developed and come long way. I think that we are going to be a well-rounded team and will surprise some people."
And then the Big Green heads into town. Dartmouth has had the luxury of one exhibition contest against McGill and one versus Moncton. In both contests, the Big Green was able to pepper the opposition with a boatload of shots (a total of 105 in two games) … not all of them found the back of the net, however. More importantly, Gaudet used the McGill game to get a good look at his younger players as all his senior forwards took on the role of spectators that evening.
"I think that we are getting there, but we need to be sharper," said Gaudet. "It's been a good preseason for us. Everything happened so quickly. We need to be prepared against an outstanding and highly touted Harvard team. Our preseason has helped us in our preparation, but we will go into Cambridge with a lot of respect for their team."
Youth won't be as much of a factor for Dartmouth this year as their core of talent are upperclassmen. In fact, the Big Green is hoping that the experience up and down the roster will help them avoid another slow start like they experienced last year, when they began the regular season with a 1-4 ECAC record.
Harvard, on the other hand, will be rusty. A very young team across the board, the Crimson coaches have been trying to prepare their guys on a number of levels.
"We've really put an emphasis on teaching," said Mazzoleni, who had both of his assistants delay recruiting trips until after the first three weeks of the season so that the team would have a full complement of coaches on hand at practice. "[As a coaching staff] we want to focus our energies on our team. We have a lot of youth in our team — 17 out of the 26. So there are a lot of basic things that we need to get through and not take for granted."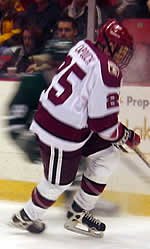 The health of captain Peter Capouch is still a question mark as well. Capouch, who will need to shoulder much of the defensive burden left from the retirement of fellow senior Graham Morrell, sat out of the Brown scrimmage last week. And there is the matter of all the hype. After finishing fourth in the league last year and without even stepping onto the ice this year, the Harvard players have been inundated with media requests and national rankings. On paper, their nationally-ranked team is facing the worst team in the league on Saturday night. What is a coaching staff to do?
"I think that's something that I knew would be a challenge," said Mazzoleni about the hype. "We are able to recruit kids with good press clippings coming in. A number-one challenge for our staff has been to develop humility with the team. We continue to preach that everything is team, first and foremost before any individual thought. Our team is a work in progress.
"I think the kids are more excited than us. You can only play against yourself in practice so much. [Come Saturday] it will have been three weeks since we started playing."
And the answer to the question that everyone is asking — Will Crothers is scheduled to get the start in the Harvard net come Saturday night.
The North Country Battle
One of the most storied rivalries in all of sport renews itself this weekend as St. Lawrence travels to take on Clarkson in the ECAC opener for both squads. This is the earliest that these two have battled and the intensity, as always, is high.
The two teams have played four games each, each only winning one of the four. Clarkson has tied one, giving the Knights a 1-2-1 mark, while the Saints have dropped their other three, going 1-3-0 to start the season.
Clarkson opened at home with a win over Miami, then dropped game two of the series.
"We had a lot of fortunate bounces [Friday] night, and we made the most of them," said Knight head coach Morris. "Momentum is a big determining factor in college hockey. Give Miami credit, they corrected a lot of mistakes, and they played with more heart than we did. A lack of discipline was the key to our downfall.
"These next two weeks are very important for our team right now as we try and get healthy. We are expecting we can do some healing at this point. The rash of injuries that we have suffered in the first couple of weekends has been extraordinary. We are hoping to use this time to tighten up defensively to get ready for league play."
Meanwhile, the Saints won their first game of the season that same Friday against Lake Superior State before losing game two of the series. The first four games are a learning experience, according to head coach Joe Marsh.
"We know what we have to work on, and we have some time to do it and refine parts of our game," he said. "We used these first four to see a lot of guys in game action, and now we can start defining our lineup and getting ready for the league season. We'll have kind of a mini-training camp to work on conditioning and try to work on some of the finer points that take a little more time to perfect. I think we got what we wanted out of the first four games…we tried a lot of different combinations and had the chance to see the new guys under game conditions against tough competition."
So the rivalry returns, and as always in the North Country, towns, and even families can be split apart by the intensity.
The Big Red Start
Cornell begins its season with a pair of nonconference games against Alabama-Huntsville, looking to reverse last year's fortunes. The Big Red started last season with two losses, but from the looks of the 8-1 thrashing of Wilfrid Laurier in an exhibition last week, things are going to be different.
"These guys came back in great shape," said head coach Mike Schafer. "We're a lot further ahead than we should be at this time of year. We're off to a good start."
These two teams have never played each other and the Chargers are in for the Lynah experience.
A Tiger of A Time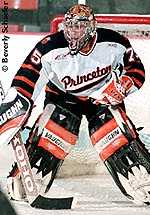 Princeton was the second team to beat St. Francis Xavier this past weekend, by a score of 2-1. In such a low-scoring affair, you point to the net, where all three goalies — Dave Stathos, Nate Nomeland and Trevor Clay — played a period.
"I was pleased with our goaltending," said Tiger head coach Len Quesnelle. "I have confidence in all three of them. Certainly Dave Stathos leads the way, but Nate is hardworking and has played well when given the opportunity, while Trevor has a lot of potential."
It is likely that two of the three will see action when the Tigers take on Niagara on the road this weekend.
If It's So Easy, You Try It
Well, the Iron Columnists are back, ready to slice and dice through the ECAC competition this season.
Now, the Iron Columnists are not immune to groveling, so we've decided that the groveling of Vic Brzozowski was enough to have him back for his last shot.
If memory serves us right, Vic was soundly defeated in the very first Iron Columnist challenge last season. We see that he is back for another beating. So, Vic Brzozowski, bring your skills into USCHO Stadium and try to take down the Iron Columnists — something you could not do before. Whose picks will reign supreme?
The Picks
Fri.-Sat, Nov. 2-3
Alabama-Huntsville at Cornell
Vic's Pick — Only reason this is close is because Huntsville has played six times to Cornell's one. Cornell, 3-2 and 4-2
Becky and Jayson — Cornell, 5-2 and 4-1
Bemidji State at Union
Vic's Pick — After a long bus ride, the Beavers need one game to get the kinks out. Union, 3-2, then Bemidji State 4-3
Becky and Jayson — Union, 6-2 and 3-1
Princeton at Niagara
Vic's Pick — It may be wishful thinking on my part that Princeton splits. Niagara, 4-2, then Princeton 3-2
Becky and Jayson — Niagara, 4-1 and 2-1
Saturday, Nov. 3
St. Lawrence at Clarkson
Vic's Pick — I never pick against the Knights. Clarkson 4, St. Lawrence 2
Becky and Jayson — Clarkson 4, St. Lawrence 3
Brown at Harvard
Vic's Pick — Closer than most people think. Harvard 4, Brown 2
Becky and Jayson — Harvard 6, Brown 4
Iona at Colgate
Vic's Pick — 'Gate can't be as bad as Minnesota made them look. Colgate 5, Iona 2
Becky and Jayson — Colgate 5, Iona 4
Sunday, Nov. 4
Dartmouth at Harvard
Vic's Pick — Could be a preview of the Lake Placid championship. Harvard 3, Dartmouth 2
Becky and Jayson — Dartmouth 4, Harvard 2
And remember that if you are interested in putting your money where your mouth is, drop us an email to be eligible to be chosen when Vic bites the dust once again.