Early-Season Tests
The ECAC seems to change week in and week out; this week, Cornell is the up-and-comer, making it to No. 11 in the USCHO.com poll. The Big Red are 4-0 on the season after an ECAC season-opening sweep of Union and Rensselaer.
Two major factors have gone the way of the Big Red thus far — special teams and the goaltending of Matt Underhill.
"He did his job and that's where he shows his maturity," said head coach Mike Schafer on Underhill. "Special teams are doing the job for us too. It's always a good reason for success for a hockey team; that's to be strong on special teams."
But a test awaits the Big Red as they hit the road for the first time this season and travel to Harvard in one of the fiercest rivalries in college hockey.
"We're an older hockey team and these guys are looking forward to going on the road," said Schafer. "There's a certain pressure playing here at Lynah, certain expectations, and a lot of times on the road, those expectations are lifting. Our guys are looking forward to going down to Harvard and Brown, and then to Boston University.
"Harvard's next and our guys are looking forward to it. Our guys will definitely have a little extra step in practice this week."
If one looks at Colgate, one can certainly see a progression for the Raiders. A decision over Iona got them in the win column two weeks ago, and last week a pair of 2-1 games saw the Raiders do some good things.
Against Rensselaer last Friday, the Raiders lost, but came on strong in the third period and just missed tying the game several times. The next afternoon in the Silver Puck game against Union, the Raiders took the win, but also had their hearts skip a beat as the Dutchmen missed an empty net with just seconds left in regulation.
"There's a very fine line in this league between winning and losing, and we all know that," said head coach Don Vaughan. "You have to guard against putting undue pressure on a young team, but they have to know that. A small error can be the difference; learn from it and move on."
The fact that Harvard earned only one point from a series last weekend at Dartmouth and Vermont quickly became the side story after the coaching staff announced the sudden departure of Jesse Lane. The freshman blueliner, who was reportedly benched on Saturday night for taking too many penalties during the Vermont contest, was part of the highly-touted defensive corps brought in by the coaching staff this season.
Lane officially announced his decision to leave Harvard to suit up with the Hull Olympiques of the Quebec Major Junior Hockey League earlier this week.
"This was a decision that was made by Jesse and his family. We certainly wish him the best," was the official word released by Harvard Athletics and coach Mark Mazzoleni.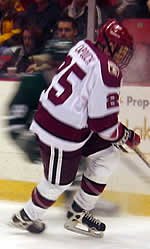 The loss of a player is always disruptive to a program no matter how much forewarning one might have had. The loss of Lane hurts Harvard on a deeper level because it levels a blow at an already-depleted defense. Senior captain Peter Capouch dressed on Saturday night, but his prognosis remains day-to-day.
The bigger question here is, how much did all this affect Harvard last weekend? The Crimson was let down by special-teams play Friday night — a 5-1 loss to Vermont in which the Catamounts tallied four power-play goals — and then barely managed a tie against Dartmouth the next evening. It's a heavy toll for a team that entered the season nationally ranked.
"I'm proud of the way we played against Dartmouth," said Mazzoleni. "It was very important that we came back the way we did."
When speaking about the Vermont game, Mazzoleni was candid.
"We didn't come out and play with the focus and discipline we needed on the road," Mazzoleni said. "We lacked a competitive instinct and took some unnecessary, undisciplined penalties."
This weekend won't be any easier for the Crimson. Although they have the luxury of facing off with fresh legs against Cornell — the tougher opponent of the two road partners — on Friday night, the team will have to do without much fan support. The majority of Harvard fans will be en route to New Haven that afternoon for the annual Harvard-Yale football battle on Saturday. And did we mention that the Harvard football team is currently undefeated and will be looking to close out a perfect season that day?
Come Friday night, the Crimson hockey players will be facing two formidable foes: a tough Cornell squad on the ice and a sea of red in the stands.
On the flip side, Brown has relished a role opposite that of the Crimson — an underdog. The Bears have pieced together an impressive early 2001-02 campaign by collecting four quick points in the league race. Following an upset over the Crimson the week prior, Brown took down Vermont on Saturday night in an good showing that featured a two-goal performance by Adam Saunders.
"We went through a tough season with some young guys last year," said Brown coach Roger Grillo, "but some of the young guys who played a lot a year ago are a little older and a little wiser."
Saunders is certainly one who falls into that category, but so do the likes of junior defenseman Paul Esdale and senior goaltender Brian Eklund — two players who have been critical to the Bears' early success. Esdale has posted three assists already, while Eklund maintains a respectable 2.68 goals against average.
But as much as Grillo talks about the experience gained from the last few seasons, the Bears still show moments of weakness. In the loss to Dartmouth, the Bears were called for 12 minutes of penalties and allowed the Big Green to take control of the game in the second period by scoring three goals to make it a 4-2 contest heading into the final 20 minutes of play.
"I give our guys credit for hanging in there toward the end and making it a one-goal game," Grillo said following the 6-3 loss on Friday night. "But overall, I think we're much better than we showed tonight. I'm disappointed with the way things turned out."
That weakness, along with a lack of proven depth, may be what keeps Brown away from the top echelon of teams heading into the mid-season swing. Regardless, the fact that the Bears are challenging for a single-digit spot in the standings is a far cry from what they were faced with last season.
More Tests
It's been a little up and down for the Big Green of Dartmouth to start the season. The Big Green opened the season with a loss to Harvard and showed that it wasn't quite ready to begin the season. This past weekend, the Big Green seemed to get untracked with a 6-3 win over Brown and then a 3-3 tie against Harvard to take three points in the ECAC and get the ship righted.
The Big Green controlled play throughout Friday's game and pulled away at the end of the third period against the Bears, then had a battle to come back and tie the game against the Crimson in Saturday's contest.
"From a fan's standpoint, it was an entertaining, exciting game," said head coach Bob Gaudet. "We would have liked to get four points this weekend, but we'll take the three. That was a losable game. When we went down, we could have let it get away. But we fought back. I was happy with the performance overall."
It will be an interesting weekend for the Big Green. After last weekend, many believe that the Big Green team that was favored in the ECAC is back and just getting ready to roll.
Meanwhile, Vermont got into the win column last weekend as well with an upset victory over Harvard on Friday evening, 5-1. The Cats had an outstanding game, outworked Harvard and made their special-teams play count in the win.
But the next evening against Brown, the Cats lost any momentum that they may have gotten against the Crimson as they dropped a 5-1 decision to the Bears.
"They outworked us, they outplayed us," head coach Mike Gilligan said after the Brown game. "We didn't win any battles on the boards and we didn't stick our noses in where it had to be done."
Gilligan hopes his youngsters learn a little something from this weekend, too.
"They've got to figure out that wins aren't just given to you, you've got to take them," he said. "They can't be satisfied with a two-point weekend, especially at home."
The Cats head to the road this weekend and look to find the chemistry and the play that vaulted them to an impressive win over Harvard.
One team that is going to have to unearth some added energy this weekend is Princeton. The Tigers, already hit by injuries to key contributors, will host Vermont and Dartmouth this weekend for their first ECAC homestand of the season and first trip back to Hobey Baker in more than three weeks. Although Princeton typically uses the time away from New Jersey to bond and grow as a team, the miles and accompanying fatigue have no doubt been a factor.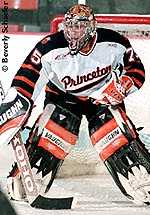 In a tough series against Clarkson and St. Lawrence, the signs were already starting to peek through. After the Tigers forced the arguably tougher Clarkson team to a one-goal decision on Friday, the team struggled the next night in a disappointing 5-1 loss to St. Lawrence. More telling, perhaps, was the fact that Princeton goaltender Dave Stathos was forced to make more than 30 saves again, stopping 38 shots in the 5-1 loss to the Saints.
"We played real hard and I was very proud of our team," said Princeton coach Len Quesnelle. "Friday night took its toll. We were forced to play with a short bench and we just ran out of gas."
Princeton will struggle this year, especially if top guys like Brad Parsons, Scott Prime and Matt Maglione are consistently stuck on the sidelines with injuries.
Contrary to its road partner, Yale has been cruising through the first part of its season. After a convincing preseason and an almost-upset against nationally-ranked Boston University, the Bulldogs took out St. Lawrence and then almost upended Clarkson last weekend to maintain its stake as the potential surprise team of the year. The Bulldogs hope that this continues into this weekend as they host Dartmouth and Vermont.
"The Dartmouth-Vermont weekend is always a great weekend here," said head coach Tim Taylor. "Dartmouth has been one of the top teams in the ECAC and returns almost everyone, and we have the most respect for their work ethic; no one works harder. We were fortunate to beat them twice in two hard-fought games last year. They went on to get home ice in the ECAC's and played well in Lake Placid. They are one of the watermark teams in this league. We hold Dartmouth up as a standard.
"Vermont is another team that has been through a lot as a program over the last few years, they have a great coaching staff and great quality kids on that program. They have performed below expectations at this point, [but] they have a young defense and they have given up a lot of goals. We know that won't continue."
Although Yale will contend that its depth across all lines has been the main factor in its early success, one guy who has stood out thus far has been freshman Chris Higgins. The impressive first-year forward has netted a point in each of the first three games, including his first collegiate goal against St. Lawrence. Higgins has been a great complement to his upperclass linemates, Luke Earl and Nick Deschenes.
"[Higgins is] a fortunate freshman in the fact that he has come into a Division I program and been assigned a responsibility to play with two of the leading scorers from last year's team," said head coach Tim Taylor. "He's playing with a 17-goal scorer on his left, and a 13-goal scorer on his right — not many freshmen get that luxury. He has still played with the maturity and consistency beyond his years. We knew he had talent, but we didn't know how soon it would emerge. It has emerged, and at an early stage.
"So far this year, we have had one line that has been strong offensively [Higgins, Earl and Deschenes], and they have won the majority of their shifts this year in terms of on ice positioning, territorial advantage, shots on goal. They've just had a terrific start. It's nice to have that line after the loss of Ben Stafford and Jeff Hamilton's line. They've filled that well and been a question answered for us and made a huge difference in our start.
"We had terrific size improvement on defense and are able to roll six defense over the boards. They've played soundly and defensively in all three games we've played. They've been a real pleasant surprise and been an answer to another question.
A Programming Note
We will be back in two weeks time, as we need some time to recuperate and heal. We hope that everyone has a Happy Thanksgiving! See you in two weeks.
If It's So Easy, You Try It
Vic Brzozowski has been banished. He fell one prediction short of taking the Iron Columnists to another week for overtime. We are gracious, though, as we congratulate Vic for a well-played two weeks. Unfortunately for him, he was just another victim.
Our challenger this week has been transplanted to Hanover, N.H. So, Ben Flickinger, bring your skills into USCHO Stadium and try to take down the Iron Columnists. Whose picks will reign supreme?
The Picks
Friday, Nov. 16
Cornell at Harvard
Ben's Pick — A good matchup, but Harvard continues to struggle. Cornell 4, Harvard 2
Becky and Jayson — Cornell 5, Harvard 2
Colgate at Brown
Ben's Pick — Brown brought back to reality and the .500 mark. Colgate 5, Brown 2
Becky and Jayson — Brown 3, Colgate 2
Clarkson at Colorado College
Ben's Pick — CC takes out its early-season frustrations on Clarkson. Colorado College 4, Clarkson 1
Becky and Jayson — Colorado College 4, Clarkson 2
Saturday, Nov. 17
Colgate at Harvard
Ben's Pick — Crimson won't be swept at home. Harvard 3, Colgate 2
Becky and Jayson — Harvard 4, Colgate 3
Cornell at Brown
Ben's Pick — Da Bears are back under .500. Cornell 4, Brown 2
Becky and Jayson — Cornell 5, Brown 1
Dartmouth at Yale
Ben's Pick — Boucher continues to struggle, but the Big Green manage a win. Dartmouth 5, Yale 4
Becky and Jayson — Yale 3, Dartmouth 1
Vermont at Princeton
Ben's Pick — Which Vermont team will show? Well, Princeton stays winless. Vermont 3, Princeton 2
Becky and Jayson — Vermont 4, Princeton 2
Clarkson at Colorado College
Ben's Pick — Clarkson manages a split in the Rockies. Clarkson 4, Colorado College 2
Becky and Jayson — Colorado College 5, Clarkson 2
Mercyhurst at Rensselaer
Ben's Pick — The MAAC has to prove it can win consistently before I'll pick them. Rensselaer 4, Mercyhurst 1
Becky and Jayson — Rensselaer 5, Mercyhurst 2
Sunday, Nov. 18
Vermont at Yale
Ben's Pick — Yale pulls out a weekend sweep at home. Yale 4, Vermont 1
Becky and Jayson — Yale 6, Vermont 3
Dartmouth at Princeton
Ben's Pick — Boucher wakes up, and finally holds the opposition under three goals. Dartmouth 3, Princeton 1
Becky and Jayson — Dartmouth 5, Princeton 1
Tuesday, Nov. 20
Yale at Princeton
Ben's Pick — Princeton gets on the board against its travel partner. Princeton 2, Yale 0
Becky and Jayson — Yale 4, Princeton 1
Boston University at Harvard
Ben's Pick — Possible Beanpot preview doesn't go the ECAC's way. Boston University 5, Harvard 3
Becky and Jayson — Boston University 3, Harvard 2
Providence at Union
Ben's Pick — Tough one to call, but the flip of a coin reveals… Union 3, Providence 2
Becky and Jayson — Providence 4, Union 2
Holy Cross at Dartmouth
Ben's Pick — Hopefully homerism doesn't cost me. Dartmouth enters the holiday season on a five-game unbeaten streak. Dartmouth 6, Holy Cross 2
Becky and Jayson — Dartmouth 6, Holy Cross 2
Vermont at UMass-Amherst
Ben's Pick — Not really sure here either, so here's another pick for the conference. Vermont 4, UMass-Amherst 3
Becky and Jayson — UMass-Amherst 6, Vermont 4
Wednesday, Nov. 21
Brown at Maine
Ben's Pick — Brown makes it a fight but can't get the W. Maine 4, Brown three
Becky and Jayson — Maine 7, Brown 3
And remember that if you are interested in putting your money where your mouth is, drop us an email to be eligible to be chosen when Ben bites the dust once again.
---
David Sherzer contributed to this column this week.