Every CCHA and WCHA fan knows that Thanksgiving means it's time for the annual College Hockey Showcase.
This is the ninth year of the event that features Michigan, Michigan State, Minnesota, and Wisconsin, and it all started a decade ago when Minnesota owed a couple of games to Michigan.
It was a contractual thing, said Michigan State head coach Ron Mason.
"I wondered if the time if we could renew some sort of relationship with Minnesota," Mason said. "Between [then-Minnesota coach] Doug Woog, myself, Red [Berenson], and Jeff [Sauer], we worked it out."
Mason said that the foursome was careful not to make it a Big 10 tournament "because Ohio State would feel left out," but he and Berenson were determined to renew a relationship with the WCHA, where both Michigan and Michigan State resided for a number of years.
You'd think that with four Big Ten schools competing in a premier event, there would be at least a little television coverage, but, said Mason, "Hockey is not a great television sport if you don't know [the game]."
A Preview for Minnesota?
Minnesota, as the No. 1 team in the nation, is on course to be one of the top two seeds in the West Regional in this year's NCAA tournament, although that's a long way away.
That would put them in Yost Ice Arena in March with its season on the line.
Things aren't nearly as dramatic this weekend when the Gophers will enter the Ann Arbor, Mich., arena for a game Friday against Michigan before heading down the road for a game against Michigan State.
Downplay it all you want, but Gophers coach Don Lucia is going to look back on this weekend if his team is faced with a win-at-Yost-or-die situation later this season. Familiarity is something that could help the Gophers at that point.
"The bottom line is if you are in the West Regional, more than likely you're going to have to play Michigan or Michigan State," Lucia said. "If Michigan gets in they'll be there. Michigan State will be a top seed in the West and be there. The one thing you know is if you're staying West, if you want to get to the Frozen Four, it goes through Michigan or Michigan State."
Still, the Gophers can't afford to make this weekend the end-all, be-all determinant of their season for two reasons. One, it doesn't count for WCHA points, and, two, with St. Cloud State and Denver on the schedule for the two weekends in the future, there are more tough games ahead.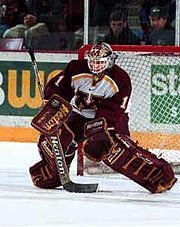 "It's a long season, and we're looking at it more as another weekend of games," Lucia said. "We don't want to get too jacked up this weekend and then, lo and behold, we have St. Cloud and Denver the next two weekends. We're looking at it more as we have a three-week stretch as difficult as any team in the country is going to face this year, especially with five out of the six on the road.
"We're ranked first just because we haven't lost yet, but we have [numbers] two, three and four coming down the chute."
Watch the Gophers' goaltending this weekend. Adam Hauser played in both games last weekend, but only because Justin Johnson got yanked in Saturday's game. Johnson allowed three goals on seven shots against Minnesota-Duluth, which took a 3-2 lead over the Gophers.
Minnesota rallied, however, behind Hauser to remain the nation's top team with a 5-3 win. Hauser, Johnson and freshman Travis Weber have each been pulled from one game this season.
Wisconsin Out to Break the System
On most night, Wisconsin coach Jeff Sauer is the senior bench leader in the arena. The one exception comes Friday night, when Sauer's Badgers play Ron Mason's Michigan State team.
Between the two legendary coaches, there are 2,572 total games, 1,550 victories and 67 years in head coaching.
The fact is, though, in one regular-season game, those numbers don't mean much. The Badgers are just trying to figure out how to keep up with the system Mason has the Spartans running to perfection.
"He's been very successful with a basic system the last few years," Sauer said. "The rink's designed for it, his team is designed for it. We're sitting here trying to figure out ways to break the system. Those are the things that are fun from a strategy standpoint."
To say the Badgers have been less than stellar in the College Hockey Showcase would be an understatement. Their record — 2-13-1 — is downright bad. They've won just one game against each opponent this weekend, plus a tie against Michigan.
UW, however, has a one-game winning streak at Munn Ice Arena in East Lansing, having claimed its only CHS victory over the Spartans there in 1999.
And while the Badgers don't have Spartan supergoalie Ryan Miller, Scott Kabotoff has played very well in the last two weeks, earning the WCHA's defensive player of the week honors in both.
That's part of the reason Wisconsin is optimistic going into the weekend.
"I'm looking forward to it," Sauer said. "We seem to play at the level of our competition, which this weekend is very good. We've got small ice surfaces, which has been conducive to us this year. We're going in with a good attitude and we're pretty healthy."
Spartans Turn Up Offense
Everyone thinks of State as a defensive team, and why not? Ryan Miller — who regularly defies the laws of physics — sets a new collegiate shutout record with every blanking he delivers. He did just that again last weekend, twice, when he shut out the Miami RedHawks 3-0 and 2-0.
The 2001 Hobey Baker Memorial Award winner currently leads the CCHA in overall goals against average (1.49), and boasts a .937 save percentage.
But Miller is often accused of being the beneficiary of a particularly stingy defense.
That may have been the case a couple of seasons ago, said Mason, "but it's pure bunk" now. Miller has made 237 saves in 11 games this season, and while that's certainly not the most of any CCHA netminder, gone are the days when the Spartans limited opponents to 14 shots per game.
Thinking of the Spartans as a defense-only team is a serious mistake, and not just because it undermines Miller's accomplishments. Even though not a single Spartan sits atop — or near — the scoring leaders for the CCHA, Michigan State is the most offensive-minded team in the league, averaging 3.73 goals per game.
"When you're going to play outside the league, it's nice to play top opponents."
— MSU coach Ron Mason
How do they do it? How do the Spartans do nearly everything in the post-York, post-Horcoff, post-Weaver era? By committee, and co-chairing that committee are defenseman Brad Fast (4-7-11) — whose career-high five-game point streak was snapped in MSU's second shutout of the RedHawks last weekend — and rookie forward Jim Slater (3-8-11).
Through 10 contests, the Spartans' leading goalscorers are Adam Hall (6-4-10), and Brian Maloney (4-4-8), Joe Goodenow (4-3-7), and John-Michael Liles (4-3-7).
The Michigan State power play is clicking along at 23.6 percent (second in the CCHA), and the Spartans lead the league in all other categories — goals per game, goals against per game (1.55), penalty killing (.919) , and fewest penalty minutes per game (10.73).
In short, it's as complete a package as you're going to get in this league — and a few others.
Mason said that this year's Showcase means more than wins and losses for the teams involved; for the Spartans and Wolverines, at least, it's a chance to play well against the best conference in the nation.
"When you're going to play outside the league, it's nice to play top opponents," said Mason. "And let's face it; we've got something to prove."
That's "we" as in "we, the CCHA."
Young Wolverines Look Ahead
At 5-4-2, the Wolverines haven't made much noise this season, yet.
With a roster that boasts 11 freshmen, Michigan is the youngest team in the league, but what youth there is.
This Thanksgiving, the Wolverines can be thankful for players like Dwight Helminen (3-2-5), Eric Nystrom (5-2-7), Jason Ryznar (5-3-8) — all future household names in the CCHA. Michigan's rookie class accounts for 43 percent of Michigan's scoring (15-22-37).
Ryznar, who leads that talented class in scoring, is riding a three-game goal-scoring streak into the Showcase, the longest goal-scoring streak for any Wolverine this season. Ryznar has also scored first for the Wolverines four times this season, more than any other player on the roster.
With the notable exception of Michael Woodford (7-14), the Wolverine rookies are a disciplined bunch. Milan Gajic (0-0), David Moss (0-0), Helminen (1-2), Nystrom (1-2), and Ryznar (2-4) have each played at least eight games and have combined for eight total minutes in the box.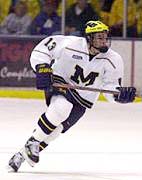 Michigan's numbers are indicative of a team a shade above .500, but one with plenty of promise. The Wolverines are tied for ninth in the CCHA in goals per game (3.00), fifth in goals allowed (2.55), ninth on the power play (.115), fourth in penalty killing (.879), and seventh in penalty minutes per game (18.00) — but it's November. There isn't a coach in the league that expects Michigan to be just a hair above even in February.
Along with a talented bunch of newcomers, the Wolverines have arguably the best forward in the league in Mike Cammalleri (7-7-14), the kind of player who can simply make things happen, as well as a slew of players familiar to every CCHA fan. It's true that Josh Blackburn (2.53 GAA, .897 SV%) is struggling, but when his team settles down in front of him, Blackburn will prove to be more than .500 too.
After being swept at home by Northern Michigan (Oct. 26-27), the Wolverines have gone 3-0-1, sweeping Alaska-Fairbanks on the road (Nov. 2-3) and taking three of four points from Nebraska-Omaha in the Bullpen last weekend.
Michigan is 61-44-7 against Minnesota in Ann Arbor, 30-13-5 against Wisconsin in Yost.